Biking is not just the wheel throttling or racing league, it has chosen novel routes for its survival. The thing that changed the face of biking and the helmet-clad bikers is the group rides or biker groups with fancy names and goals and weekend ride plans to strike it right. If going on bike rides absorbs you more than your sleep on the weekends, and you are on the verge of marrying your bike as you are passionate about it, you will relate to these 7 brakes! The spirit of every biker is spectacular, and however awesome this sounds, being humans, they all deserve a break once they complete 100kms.
Beach Please

Beaches are briny yet calm, easy yet deeply thought-provoking and sunny yet shaded by a hundred different tones of life. When you take a 100km biking plunge, the beach is a great stopover. The biking routes chosen by different groups differ but the aim to chill and relax and soak some nice breeze and bask in the glory of your passion. The famous beaches like Taarkarli beach Konkan, Aare Ware beach Konkan, Kashid beach Alibaug and much more are chilling spots and make a good excuse to hog over some piping and delicious 'bhurji pav' which is a locally famous delicacy.

Point to Remember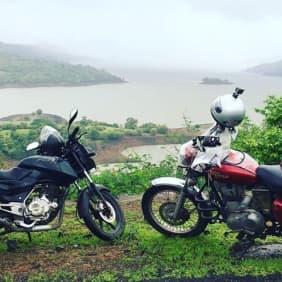 Biking is truckloads of legwork,  and to relax and unwind your legs there is no better place like the scenic tourist points that are absolutely calm in the mornings. These otherwise tourist points that are buzzing in the day, usually welcome the sun with a sheer breeze and calm and the view from the top is breath-taking. Bikers can take a walk, hear the birds chirp and breathe some better quality of oxygen which is a rare phenomenon in the noisy city life. The notorious corn on the cob, a few monkeys enacting humans and lush green nature are memories you can surely take home for free. Tiger's point, Arthur's seat, Lion's point are a few names often mentioned by travelers.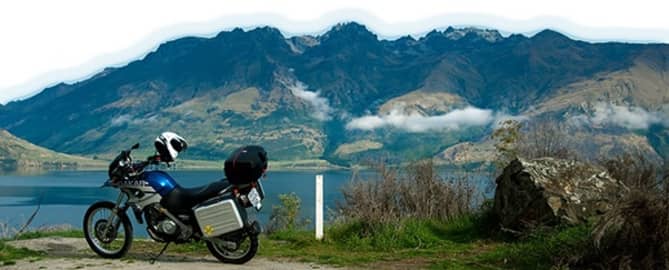 Lakeside points are usually famous for food and relaxation and are an ideal stop for the You can safely park your bikes, avoid a lot of crowd in the morning and put your feet up on a chair to think about your next bike goal. The still water at lakes, the early morning breeze, and the fresh tea served at Lakeside is paradise in a cup.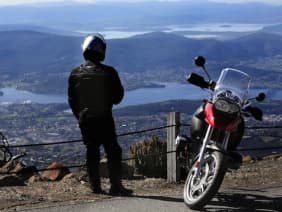 Valleys are deep and inspiring and they are a perfect hangout point for bikers. One such invincible place is paradise café located in Mulshi, where with masala chai you can gasp nature at its best. Riders usually click pictures, enjoy breakfast, walk around and luxuriate in the beauty of the place and get inspired by the mountains that look so humongous.
Read Also: 4 Honeymoon destinations on a shoe string budget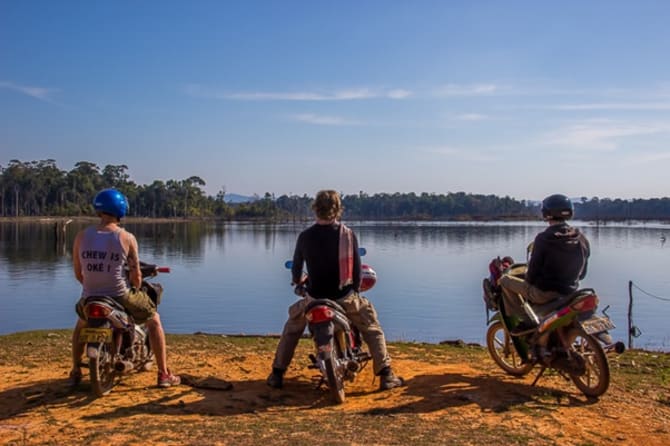 Bikes parked at the riverside, sitting on rocks, throwing pebbles in the river when it is calmly flowing its way, such a gorgeous scene! Most rider groups like chilling at the riverside. There is safety for bikes and a cozy spot for the group to have unperturbed fun. The cafes overlooking the river are great for breakfast and washing your face with a dollop of water from the river charges you up for the upcoming journey. The picturesque spots also make great selfies and photos to make your ride memorable.
Like the beast 101 high way of United States, is the NH17 that starts from Mumbai to Kerala in Trivandrum. You can complete this in one non-stop ride, or either take a break at cool and lush green stop on the way. You will cross beautiful beaches and constantly keep touching the mainland coastline of India. An unblemished sight of the beaches will give you all that you are looking for. When you decide to take a break, your bike will choose the Maravanthe beach on the highway to chill for a while and once you are there you'll know why!
A palette of colors with more than four colors mixed by an artist looks fabulous, and so does the east coast of Tamil Nadu does! The seashore temple at Mahabalipuram, the churches at Velankani, the pink flamingos dancing with zest at Pullicat lake is such a resplendent sight to look at. You will have awesome social media pictures; great food stops to drool over and this culture-rich ride will make you a 'made to order' memory.
Motorbiking journeys are not just plain rides but are discovering a place and its culture. The perfect weather, the armed gear, the cool bike mates and a lovely route steals the show and makes it worth riding. The possessiveness you have on your bike, the unexplainable love you share and the roads that call you close are things only a true biker at heart can decode. Somebody aptly said, "Riding a bike on a journey is like a first date without an awkward silence"!