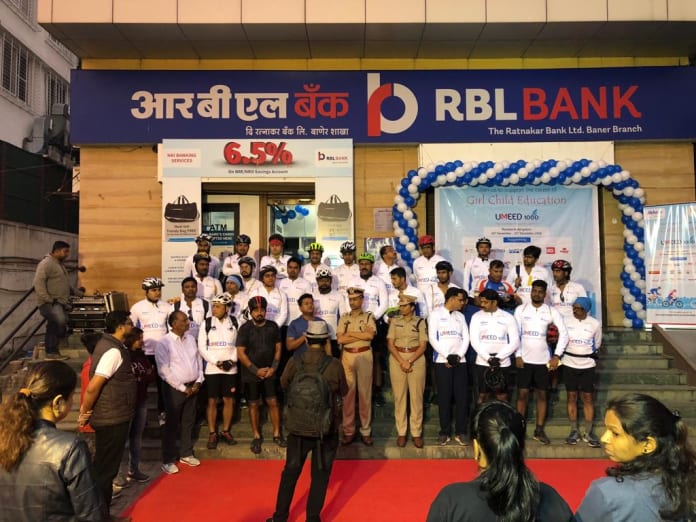 RBL Bank has a strong presence across the country offering specialized services under six business verticals such as – Corporate & Institutional Banking, Commercial Banking, Branch & Business Banking, Agri Business Banking, Development Banking and Financial Inclusion, Treasury and Financial Markets Operations. RBL Bank is India's fastest growing private sector bank with a 5.33 million customer base as it believes in understanding the customer's needs thus being able to provide the best in class products and services. It's quick response to customer queries leaves the customer delighted. The bank has a network of 268 branches, 213 banking outlets and 382 ATMs across 20 Indian states and territories.
RBL Bank is A Recognised & Awarded Bank
It is listed on the NSE and the BSE.
Some of the various national and international forums that have recognized RBL Bank are CNBC IBLA Most Promising Company of the Year (2018); CNBC ASIA's India Talent Management Award (2017); India's Best Bank for five consecutive years (2012 – 2016) in the mid-sized segment (Growth) by a Business Today – KPMG Study; Business World's 'Fastest Growing Small Bank' consistently for five years (2013,2014,2015, 2016, 2017) and recognized by the World Economic Forum as a 'Global Growth Company' (GGC).
RBL's Vision and Mission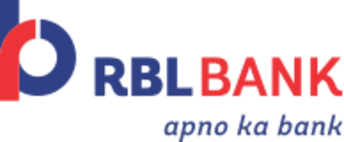 The bank believes in working on programs that will help uplift not just society but also empower women along the way. It is their endeavor to create socially responsible citizens of tomorrow. Some of their CSR activities are: promoting education to the under-privileged, preventive health care, women empowerment, sustainable livelihood.
RBL Bank has a vision to be the most admired, compassionate and respected organisation delivering value to all stakeholders through equitable and inclusive growth and all of their CSR activities.
UMEED 1000 a CSR Activity
UMEED 1000 is one such CSR activity that they launched in 2014 for the first time. It is a 1000 km Cyclothon. Ever since they have been supporting the Udbhav School.
This year RBL Bank has volunteered to support IIMAAA Hyderabad Chapter Charitable Trust in-order to support another under-privileged school in Fatehnagar. The kids from the urban slums go to the school for their education. The banks belief is that when you educate girls you empower them and they are able to gain for themselves equal rights.
The Purpose behind the Cyclothon
This year the cyclothon began on the 30th of November and will continue till the 10th of December 2018, with focus on Girl Child Education and Nutritious Meals.
It is a 1000 km from Mumbai to Bengaluru…to raise funds to build a new school for the girls.
The 5th edition Of Umeed 1000 was flagged of in Mumbai on the 29th of November, 2018. As mentioned earlier the team will ride from Mumbai to Bengaluru to raise funds and awareness for the education of the less privileged girl child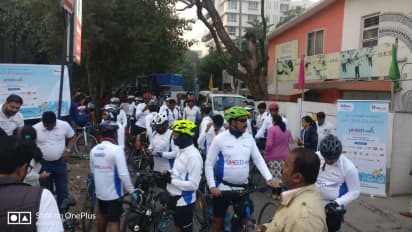 Prof. Srinath Jagannathan from IIM Indore was present. The cyclothon was flagged off by him. He said, "IIM Ahmedabad Alumni would like to provide every child with the same opportunity that they got when they were young. We are very delighted that RBL Bank Ltd has chosen IIMAAA as a partner, and Udbhav school as the beneficiary."
The Cyclothon will cover Pune, Satara, Kolhapur, Belagvi, Hubli, Ranenennuru, Chitradurga and Tumkur.
This initiative is led by Jasmeet S Gandhi, a cycling enthusiast. He believes in  RBL's philosophy of educating the girl child. 30 other RBL bank employees are also a part of the cyclothon.
The Police's Contribution 
50 police officers from Karnataka are participating and will ride all over Karnataka to create awareness and raise funds for the cause.
The Karnataka Police and the Police of Maharashtra have extended their constant support towards this cause and will keep vigil through all the 10 days.
Shanta Vallury Gandhi Head CSR and Internal Branding and HR head at RBL Bank has always stated and maintained, "My aim is to unify the organisation by doing meaningful work through our highly respected, aligned, motivated stakeholders and partners who believe that CSR is not a program but a way of life to create a larger ecosystem of socially responsible citizens of tomorrow."
You can support the cyclothon in the following manner:
Rs. 500 – sponsor the class topper to buy books of his or her choice.
Rs. 1,000 – sponsor annual Teaching Learning Aids and Stationary costs for class 1 to 5 students
Rs. 2,500 –  sponsor a set of Wikipedia for the school library
Rs. 5,000 – sponsor a sanitary kit for the girl child including sanitary pads as well as puberty education and menstrual hygiene management instruction manual
Rs. 7,500 – sponsor healthy balanced and nutritious breakfast for a student for an entire year and help him her to focus and perform better in classrooms.
So far till date RBL Bank has through Umeed 1000 Cyclothon raised INR 4 crores for the benefit of NGO's such as Iksha Foundation, IIMPACT and Udbhav School.
you can go on to the link:    http://bit.ly/2KnUML9
https://umeed18.letzchange.org/?utm_source=social&utm_medium=facebook&utm_campaign=Umeed2018
The video will give you more of an insight into the Umeed 1000 Cyclothon.
Umeed 1000 – RBL Bank Cyclothon 2018

After helping many children over the last 4 years, #RBLBank #Cyclothon2018 is going to kickstart its 5th year with 30 cyclists who will travel across 2 states and brave a journey of 1000 Kms. Armed with sheer will & determination, they look forward to gift education to young underprivileged girls. Help us #GoAnExtraMile & join our cause to gift a girl child a better future with Cyclothon 2018. #AbManzilDurNahiPlease donate for the cause on : https://bit.ly/2FdbWfM

Posted by RBL Bank on Monday, November 12, 2018