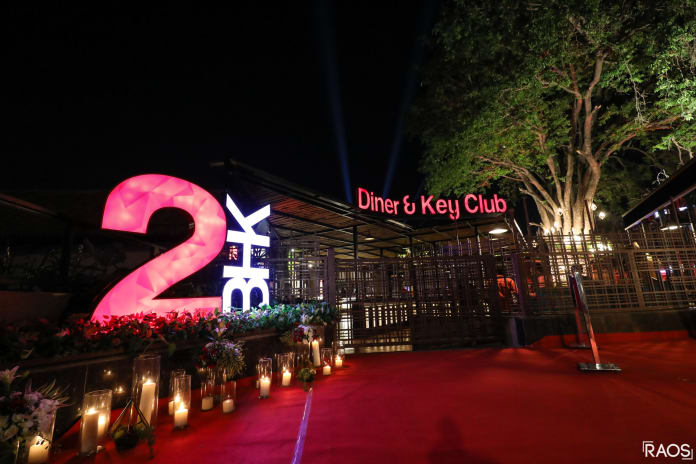 Pune's evolving party and hospitality scene has a new superstar, 2 BHK Diner & Key Club at the recently opened- The Mills, at Raja Bahadur City Center.
2BHK Diner & Key Club is a beautifully designed space with a myriad of offerings across food, al 'fresco grills and vibe. Building on the amazing popularity of 1BHK Superbar in Baner comes a grander version of this super successful brand.
Opulent decor with wooden panelling, mirrors, water bodies, epoxy mirror like flooring, regal gold, bronze, rose gold and dark blue colour hues and a multi-purpose bar that stretches from the interior to the exterior, the bar is a perfect place for multiple affairs like speed dating, fashion show (ramp), corporate network evening and lots more. The space boasts of an HK audio Germany (Finland wood) sound system which is the first of its kind installation in Maharashtra and only the 3rd in India. The outdoor section showcases an al' fresco which will be a live station for meats, seafood and vegetarian fare, all made ala minute. Cosy seating with greenery and open air as well, indoor options of a fun bar vibe or lively diner and then the exclusive and members-only Key Club are elements that set this space apart.
It has been established that 2BHK Diner & Key Club is home to some amazing features but here's one that really stands out. Welcome to a new concept called the Key Club, an exclusive members-only area unlike any other which is only accessible with a 'Gold-Plated' key. Members will include a few loyal patrons of their existing brand 1BHK Superbar as well as exclusively invited patrons who can purchase membership/ keys! The key holders can enjoy a special DJ, an exclusive bar, their own service staff along with a personal bottle locker with biometric access.
Impressed? There is more, 2BHK Diner & Key Club takes pride in their menu which is centered around the theme "Comfort zones of the World". Guests can enjoy a variety of 280 dishes along with freshly baked in-house bread and a bakery counter. Favourites from around the world and speciality dishes from different world cuisine are the norms at this stellar new space in Pune!
A special feature is a memory lane and wall of 1BHK Superbar with lots of framed images from the brand's journey, celeb visits, city socialites and so much more, try and spot yourself if you've enjoyed this superbrand!
Few of the must-have dishes from this larger than life extensive delicious menu are  Veg Pothley Pothli, The Italian Polenta, Khudar Machuya, Very Mexican Burrito, Chicken Laung Latta, Cottage Cheese Steak with JD sauce, Aubergine Roulade, Chicken Chimmi Changa, Nasi Goreng, Chicken Balinese Kebab on Lemongrass Sticks with a homemade sauce. Sip on some signature swag cocktails while you relish the flavourful food.
"We wanted to redefine Pune's dining and hospitality scene with a quality offering created keeping in mind our experience and success with 1BHK Superbar. Our menu is curated from popular 'feel good' food from around the world, with something for everyone. Our decor is classy and elegant and creates a beautiful backdrop for every situation," Heramb Shelke, Rajat Grover, Vijay Shinde, Consociates, 2BHK Diner & Key Club.
Place – 2BHK Diner and Key Club at The Mills, Raja Bahadur City Center behind Hotel Sheraton Grand.
Landmark Pune Station – 411001
Time – 12 noon to  1 am
Reservation number – 7620929999