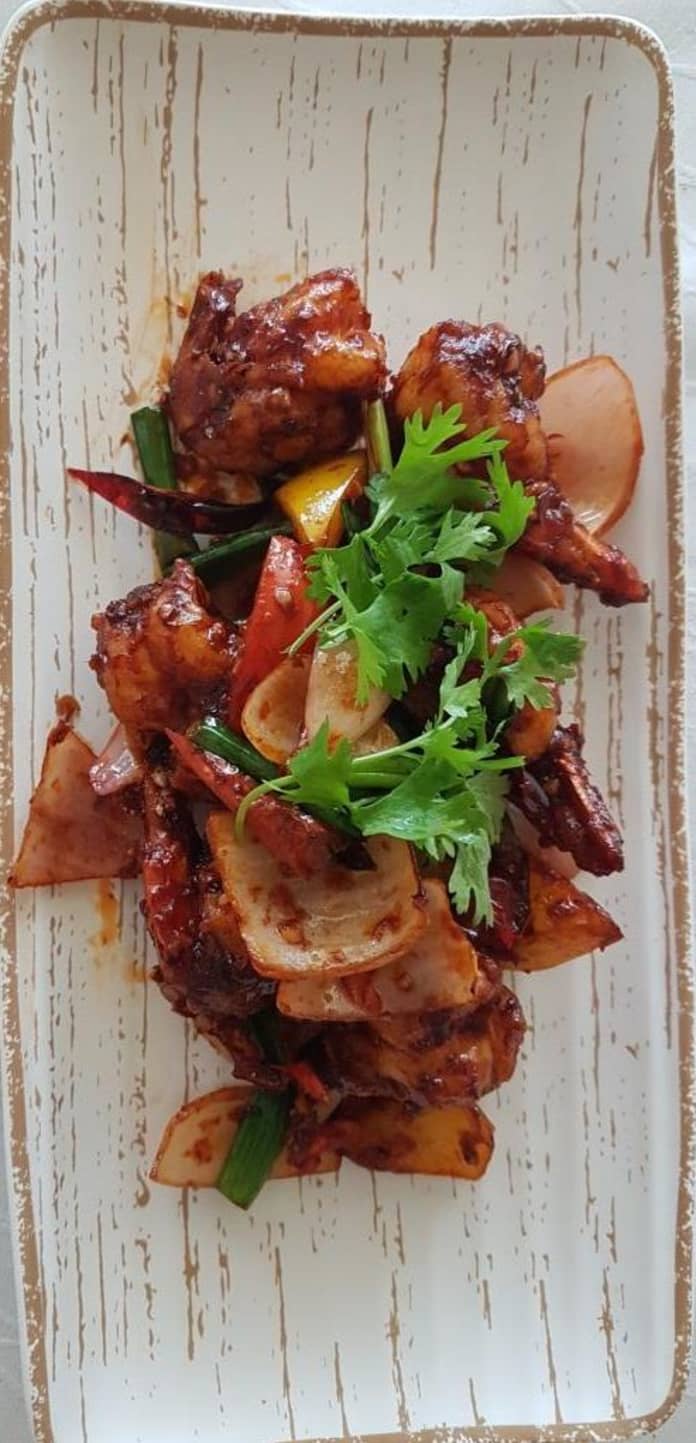 Orient: regions of the Far East. My fascination with their respective specialties have persistently motivated me to travel to these lands some-day. The Korean obsession with reenacting crime scenes and human blood types determining personalities; the beautiful Japanese cherry blossoms, spaceship like loos and their trains; The Great wall of China, and the adorable Pandas of Chengdu (tops my list!) and finally Vietnam with its late night pedicures and underground Cu Chi tunnels. I've forever looked forward to experiencing all this and more just as many other attractions across the globe. However a common thread that binds my love for all these countries is their food. I can savor oriental for breakfast lunch and dinner. And so it was only the best weekend plan for me when we were invited at The Westin Pune for a journey along Me Kong with their celebrated Chef Ho Chi Ming.
Chef Ming is from another of the illustrious Marriott group of hotels. He is based out of the Sheraton in Hyderabad and delights guests at their outlet Zega with his creations. After putting in immense thought behind the culture of Pune and the availability of fresh produce while not compromising on authenticity, he has curated a menu that takes you through a story. He spoke of how in Hyderabad his key demand was spice, whereas in Pune he had to be careful of catering to a large vegetarian audience. Hence leading to veggie versions of some iconic dishes which he managed to make as exemplary. For example the famous fish cakes which have been now reinvented. Corn cakes which are a part of the south East Asia grill on the menu. Bulgogi beef, which one could have never imagined without the meat is now a 100 percent vegetarian option made with tofu. However as mentioned above, with zero compromise on taste and authenticity. I tasted both, the corn cakes and the tofu. Must I say, with such options I may consider letting go of non-veg… well may be for a while at least!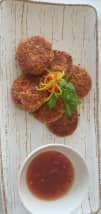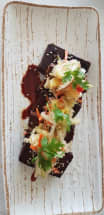 So let me tell you then of this dance of flavors in my mouth. They swirled and rose and dropped and played hide and seek too. At times subtle and demure, surprising me the next minute with a bold punch. And I just sat there waiting for more. The ambiance at Palette – understated and classy with soothing music that was perfect for this fine dine experience. We were welcomed with warm hospitality and Chef took time out as well from his prep to greet us. The skill display had begun. Our first starter after a well pickled cucumber and chilly salad was Tofu and birds eye chilly with peanuts, all tossed in a Hoisin sauce. The dish successfully converted me to a Tofu lover. I could not stop raving about it till the end. It had just the right spice; don't let the bird eye chilly mention make you doubt its comfort on your tongue. Next were delectable New Zealand lamp chops, beautifully marinated in classic Thai herbs served with the most wonderful dip of coriander and other loveliness that I couldn't quite decode. I kept going back for more of this mix of sweet, tang, spice and salt. The chops had the perfect bite and I was smiling away. Grilled chicken cooked with cilantro and lemon grass was next. Chicken lovers… this is your dish; juicy despite the grilling. And the herb jam that one can spread on every bite is the perfect accompaniment. The corn cakes I mentioned above then arrived with a sweet chilly dip and corn my friends never tasted better. I would have liked a slightly less oily aftertaste but it was something one could easily overlook compared to the yumminess. A childhood favorite came in next. Crispy fried vegetables. Well cooked. And well enjoyed by us. Grilled Tofu in a sweet Korean soy sauce garnished with kimchi came in looking pretty pretty. This is the Bulgogi beef's vegetarian option and trust me when I say that sauce was delicious. Anything coated in that sauce would surely leave an imprint on the one eating. How I would have loved some meat served this way. I was stuffed by now and almost stood up to go take a walk however the plate gliding toward us sucked me back into my seat and I waited to be served. Hakka prawns… simply yummy in all our tummies and cooked like only a pro can. The walk could wait!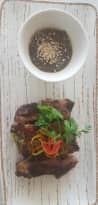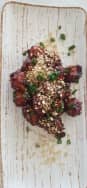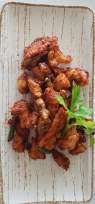 We were then served 2 soups.  A turmeric and fish broth with dill and steamed fish. Fresh with clean flavors, very true to its roots; however, not to my taste as it is a bit of an acquired aroma I would think. It was the next that made me go all fuzzy and the grin wouldn't leave. Their crab and asparagus soup. The most subtle yet most flavorful broth with egg and crab and bits of asparagus. If I'm served this soup I'd gladly go on a diet. By now I needed that walk and after a short break resumed the lavish spread. The main course was as follows… a fragrant Jasmine rice, a flavorful Thai green curry, steamed fish in black bean sauce and representing Singaporean street food were the noodles. The Thai curry was spot on in its consistency. Not too runny neither thick. All the flavors so beautifully balanced. A mix of veggies like corn, broccoli, water chestnut etc. it left us very satisfied.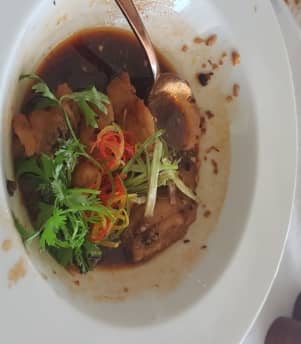 Every master has one. And Chef Ming has great regards for his mentor who taught him this next dish which is a specialty of his. You can see Chefs eyes twinkle as he speaks of the learning process and his teacher. I'm speaking of the steamed fish in black bean sauce. Not thickened with starch as most 'Indianized' gravies are, this black bean sauce and the cook on that snapper were pure genius. This, was my pick of the day. Finished with hot sesame oil, it paired up with the Jasmine rice beautifully retaining both individual aromas yet amalgamating perfectly. The noodles reminded me of a good Pad Thai; I guess the street food connect as also similar ingredients. They were very tasty, wholesome and a dish by itself. My pick if you intend to wrap your main course in a single dish.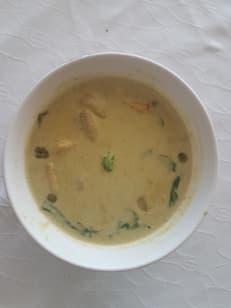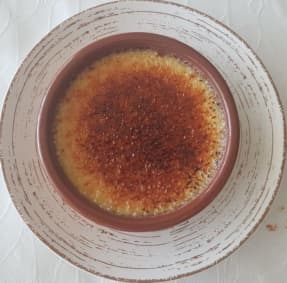 If all this was not enough to send us into some kind of food coma, chef asked us with the sweetest smile whether he should send out our dessert. We looked at each other and laughed. Two delights were placed before us. The Banana toffee with vanilla ice cream and a Coconut Crème Brule. The toffee a sticky crunchy joy and the custard tropically yum. The ice cream despite being sweet itself cut down the toffees sugar so please do eat them together in every bite, a match made in heaven. A special mention to the caramelized top on the Brule. It had the perfect tap. Could be the granulated sugar that chef torched as opposed to the powdered sugar most do. That and the coconut flavored custard. Simply heaven. All I needed at the end of this meal were running shoes. Cause I felt like a sloth. Stuffed and like I couldn't even crawl however happier than ever. Satiated and thrilled. It sure was a beautiful peak into the regions that have captivated me for as long. If this is what eating there would be like then god knows I can't wait!