When you hear the name Hard Rock Cafe the music that comes to mind is Rock and Roll, Rhythm and Blues, Hard Rock, Soft Rock, Heavy Metal…and that is what you get at Hard Rock Cafe. Well, I am someone who can digest a bit of Rock, Rock and Roll may be some Soft Rock…certainly not heavy metal. I could maybe listen to it for a few minutes…any longer and I guess I would be banging my head against the wall!
But what really got me to visit Hard Rock Café, Pune, a couple of years ago was its Motto! The Hard Rock International Mottos!
A reflection of Selflessness at Hard Rock Cafe
'Love all – Serve All'. 'Take Time To Be Kind'. 'Save The Planet', and 'All Is One'.  After having read on this I was determined to go and visit this café that had donated millions to causes such as autism, human trafficking, hunger, drought, cancer, and disaster relief.
The decor at Hard Rock Cafe captivates 
What greeted me then as I entered was sheer grandeur in its size, architecture and decor. Something I least expected. The Memorabilia from Hard Rock's collection kept me transfixed. Items from contemporary stars and legends adorned the walls of the café.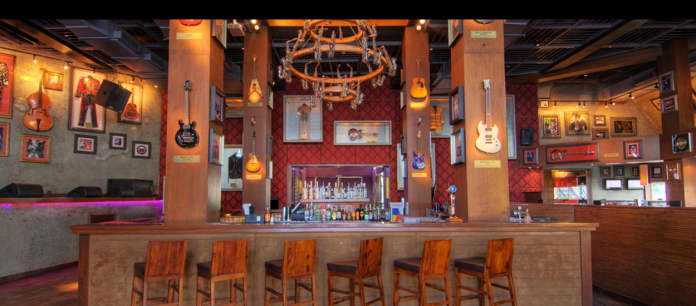 A black leather jacket that was worn by Bob Dylan, a Welson Hollow body guitar signed by Bono and The Edge of U2, and an Elton John's denim patch coat were strategically placed.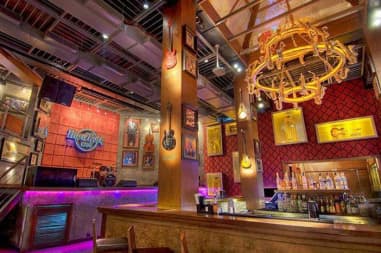 The energy surrounding was fantastic. It was energizing and kept you connected to the place. I wanted to stay longer.
The hugeness of the place kinda kept me confused as to where should I sit. So the Hard Rock Café in Pune is an 8,500 square foot café with three distinct sections…a 120 seat restaurant, bar area and an 80 seat open courtyard as well as Hard Rock's signature Rock Shop.
I toured the entire place and then chose a comfortable table right in the centre close to the bar. The rumble in my belly began and I was forced to order from the menu.  I enjoyed every morsel of the burger I ate. The cuisine is American, with its burgers and french fries, onion rings and lots of appetizing dishes on the menu.
Being a lover of music I actually began to enjoy the music that floated, all those presumptuous notions and feelings began to vanish. I was being healed by the power of music.
The Hard Rock Heals Foundation
Incidentally Hard Rock International created a Hard Rock Heals Foundation in 2016, a segment that champions the message that music is power. They also provide grants to people whose goals is to heal through the power of music. They have donated 1.3 million to charitable causes and community music programmes, in fact, 100 percent of their revenue is given back to the community where hard rockers live and work! Very benevolent indeed!
AGNEE THE 'HINDI' INDIAN ROCK BAND
On the 10th of this month the band Agnee was playing at Hard Rock Cafe. It has been a while ever since I had seen them perform. A week before I kept hearing of the event. Tempting it was. It was quite a while since I had visited Hard Rock Café and a long time since I had listened to Agnee. What a treat! The mind was made up. A couple of calls and I got myself a table that looked directly at the stage where Agnee was to play. Could I ask for more?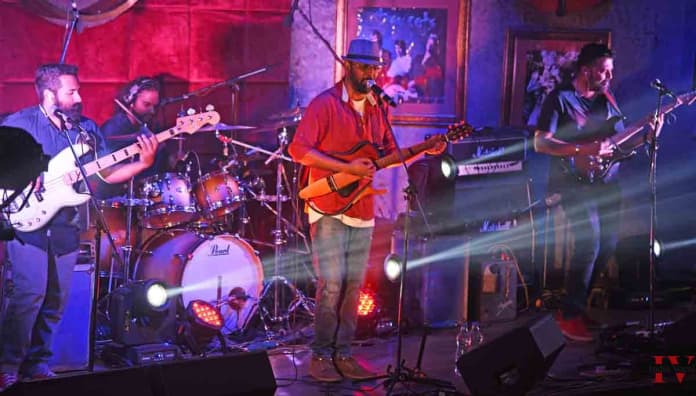 The place was packed with Agnee fans, most of them crowding the stage. Patiently waiting for the band to start. A few minutes' delay to the actual time and boy was the band powerful!
Agnee is one of the rock bands in India that is making some serious waves in the ocean of music, with over 50 million views on youtube and over 5 lakh likes on facebook.
Agnee is 'fire' in Sanskrit. And do they burn the stage when singing! They sure lit the stage up on the 10th as they took to the stage! There is a strong Vedic Carnatic and Hindustani classical influence to their music, which has gained popularity among the fans. Their genre is anything from folk, rock, Pop rock, to Pop!
Rock is influenced by blues, country, folk. You can say it's a mash of it all. However, rock was being redefined all along especially since the 1940's and 50's. It is a genre that sings about hope, love, rainbows, and sunshine.
Agnee brings it all to its band! A perfect fusion of genres formed by each member's distinctive style of music has been this band's USP over the years.
Koco the lead guitarist with his blend of Classic Rock, blues and Indian influences, and Mohan the lead vocalist with his Carnatic Hindustani classical influences bring to their compositions magic and dynamism, that has received much acclaim.
Agnee has won the most prestigious awards such as MTV Video Music Award, GIMA Award, Spikes Asia Award and Goofiest 2013. 
Having released more than 50 songs since their debut album 'Agnee', they were the first to release their music for free on an Internet-based distribution model. The passion for music is fueled by their fans and they truly exhibited this when they became the first band to involve Agnee enthusiasts in creating music with them as a part of the 'Create with Agnee initiative'……. They have also been featured on MTV Unplugged and the Dewarists.
They have in their band now Chirayu Vedekar on the bass and Varun Venkit the brilliant percussionist. He drummed power and spirit into the audience.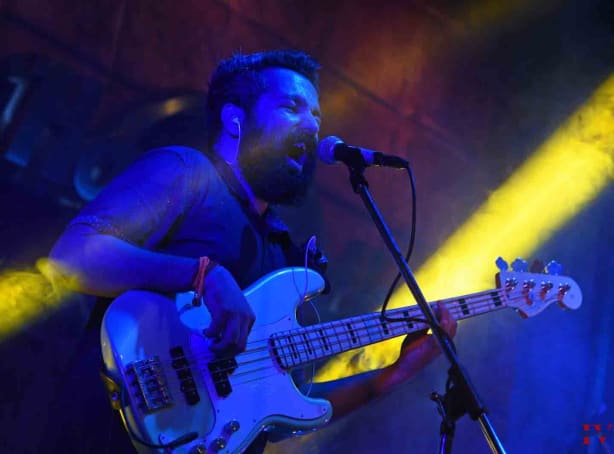 They belted out some of their best numbers …
Aahatein being one of them. What a soulful ballad. Loved the guitar patch in between. It propelled my love quotient.
Kabira is a very philosophical song and I can draw a comparison to the great Saint Kabir who spoke of life very philosophically in his 'Dohe' (couplets). Life has been described metaphorically to a game of snakes and ladders. The ups and downs of life. The song draws a comparison among the 5 elements, the 5 senses, and the 5 main 'swaras'.
I believe ….it speaks of being courageous in love. 'Ho Pyaar Mein jab honsla, kadmo pe tere ho Jahan'…  It speaks of faith… 'I believe in the rain even though I see no clouds in the sky'.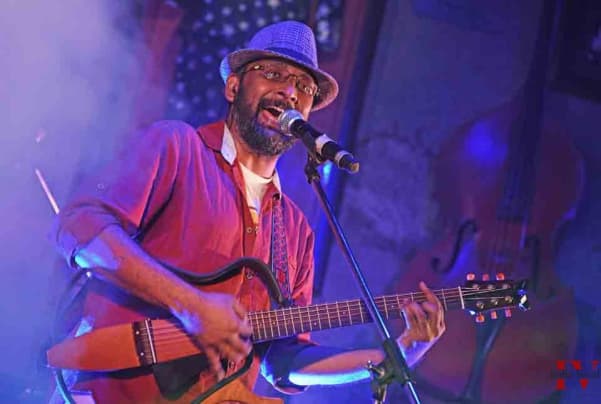 They sang a host of their numbers. We had a few moments of playful competition…call it 'jugalbandhi', or 'entwined twins' between Varun and the guitarist, Varun and Mohan the vocalist. It left you wanting more.
The crowd must say left satiated and mesmerized as they would at any Agnee show.