20 odd years in commercial cinema. And now a sudden shift in making revolutionary films. Films that speak of relevant social causes. Causes that we in India have to pursue to make India a better country to live in. Akshay Kumar once upon a time a Khiladiyon Ka Khiladi is now playing on topics that are close to his heart.
Akshay Kumar says if women are strong the country is strong.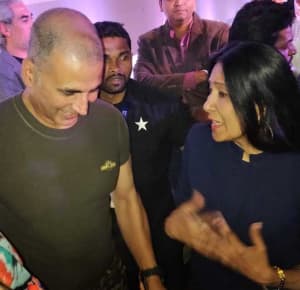 I say this with much conviction as I was fortunate enough to be a part of the panel discussion at Symbiosis Campus, and at the press conference at Seasons Mall that Cinepolis held to promote the film, Pad Man. The passion in his voice was enough evidence.
Here was a man with a genuine heart.
A man who makes his money through commercial cinema to allow him to make movies like Toilet ek Prem Katha and Pad Man, to change the thought process of our people of the nation.
A paradigm shift in the thought process is the only ingredient that can bring change.
He has taken on a large social cause that has been a "sh sh" affair for generations not just in India but the world over. Pad Man, we all hope will revolutionize the discouraging and depressing thoughts behind a woman's menstrual cycle, which in fact is responsible for our birth!
Akshay Kumar was honest enough to let the audience know about his ignorance of the subject till he was 19. And that he had touched a pad only 2 years ago.
I posed a question at the press conference. He answered…
Listen in.
Read also: Lokmat and Mr. Vinay Aranha of Rosary School with Akshay Kumar