Here's a peek into Akshay Kumar's interactive session ahead of the release of his upcoming film Padman
When the Khiladi walked up on the stage, everyone in the auditorium were lifted up in the air, literally. That's the craze of this 'Padman'. Akshay Kumar still reigns in the hearts of women. Why leave the men behind though? For Akshay has been an inspiration for all.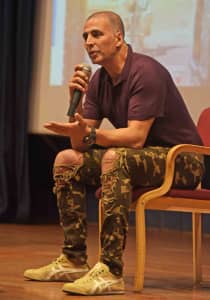 As this jaw-dropping robust actor, dressed in a tight purple t-shirt and ripped military pants, came in sight the youngsters went gung-ho. His recent bald look only makes him look more charming. Akshay was at Symbiosis International (Deemed University), Viman Nagar for an interactive session with the students. The topic for the discussion session – Cinema as a medium of Social Consciousness and Cultural Transformation- aroused everyone's interest.
The teasers and trailers of his upcoming film, Padman, directed by R. Balki, have created a buzz already. The film, scheduled to release on January 25, is a biopic on Arunachalam Muruganantham, an activist who brought in a revolution in the rural parts of Tamil Nadu by making sanitary napkins available to the women there. Muruganantham is also known as 'India's Menstrual Man'. Nearly about 82 percent women in India do not use sanitary pads; instead opt for sand, ash, straw, and cloth. It was Akshay's wife, Twinkle's idea to make a film on his work.
A witty man
In the hour-long discussion session, Akshay was witty, funny, and honest. He spoke of his stand on being a part of socially-relevant films, his interesting line-up of films in the last few years, and his fitness.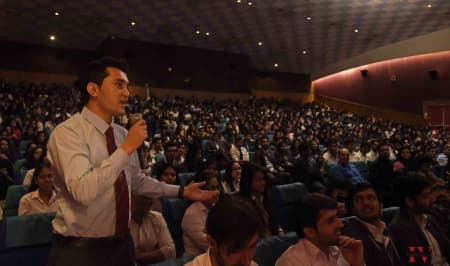 The 50-year-old actor was honest enough to admit that for years he was ignorant about the details of menstruation. It was not until he turned 19 that he started understanding the natural cycle of menstruation properly. Akshay said, "You cannot be strong until the women of this country are strong. There's nothing to feel ashamed about menstruation. We were born because of it."
Coming from a conservative family, it was a hushed topic while Akshay was growing up. He was oblivious to the pain that women go through during those five days every month. So, two years ago when he held the sanitary napkin in his hand, it was a humbling experience for him.
Free for all
The GST issue on sanitary napkins, which was ultimately taken down, did surface in his talk. He quipped, "Sanitary napkins should be available free of cost, especially in rural areas. Governmentka jitna paisa defense me ja raha hai, usmese thoda idhar do (The government should invest some share of money on this need, instead of spending so much on the defense)."
Making relevant films
In the last few years, Akshay has given some stellar performances. His films have not only been critically acclaimed but also been a hit at the box office. To name a few: Airlift, Toilet: Ek Prem Katha, and OMG- Oh My God! Talking about his film choices, he said (laughing), "When I entered the film industry I entered as an actor. I made enough money in the last five to six years to produce my own films. That's when I started making such films."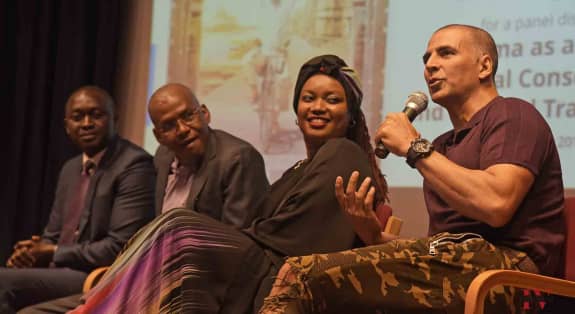 In between the session, the Ambassador of Gambia, Her Excellency Jainaba Jagne walked up. Akshay invited her to join him on the dais. Impressed by his work, she remarked, "The message that he is trying to send out is a problem for every lady across the world. It's a natural phenomenon, which should actually be a part of everyday conversation." She was generous enough to promise Akshay that she would love to screen Padman across theatres in Gambia.
Read Also: Human Trafficking- Is there hope for them?
Becoming a responsible citizen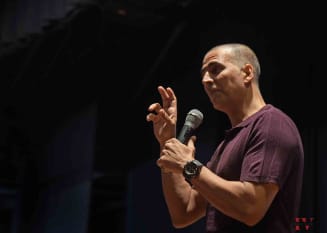 Explaining how government cannot be blamed for everything, Akshay expressed, "Hum hamesha sarkar ko bolte hai (We always blame the government). But what do we do? I stay on the beachside in Mumbai. So I make sure at least the 100-meter area in front of my house is clean. That's what every citizen of India needs to do. It is about time we did things ourselves and only then we will see a change."
Stand your ground
It has not been a smooth ride though making such socially-relevant films. There were many who advised him against making a film like Padman. So what made him stand his ground? He quipped, "It's my own belief and conviction that helps me stand my ground."
His success mantra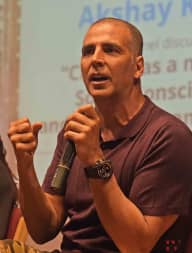 He shared the mantra behind his great physique- he sleeps at 9.30 p.m. and wakes up by 4 a.m. In short, he has never missed a sunrise. And without fail he chants the Gayatri Mantra in the morning. Akshay is a family man. And here's why we say so. His parting words to the young were: Main jab bhi gharse nikalta hoon, main apne maa baap ke pav padhta hoon (Before stepping out of the house, I always touch my parents' feet). Just do that because there's some positive aura about it."
The others present for the discussion were Dr. Vidya Yeravdekar, Pro-Chancellor, Symbiosis University, Dr. Ruchi Jaggi, Director, Symbiosis Institute of Media and Communication, and Rajiv Yeravdekar.