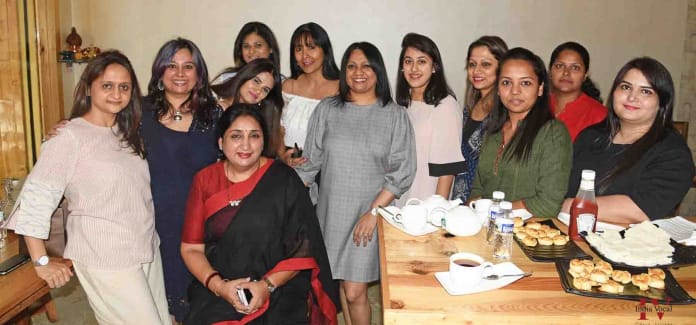 A special treat it was at Forennte…Afternoon Tea!
Afternoon tea is a quintessentially British Tradition where you make time to sit down and enjoy an afternoon with your friends. Afternoon Tea need not be a daily affair, but yes it becomes a very enjoyable affair when you are meeting friends over tea, sandwiches, cakes, and desserts.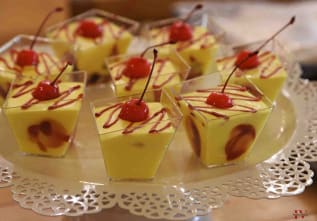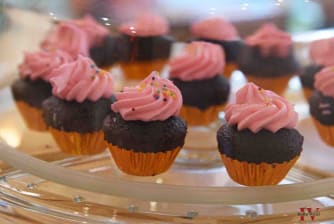 In Britain Tea is served in the afternoon at around 4 pm. The culture initially started as a bridge between meals, as in the earlier days dinner was had at 8 pm. Later it became a social event.
The Afternoon Tea culture is yet practiced in Britain, and one of the famous places where Afternoon Tea is in demand is at the Ritz Hotel in London.
In Pune at Koregaon Park, an afternoon treat waited for us at Namrataa's  Forennte. An array of mouthwatering savories and tempting desserts was laid on two tables for us friends.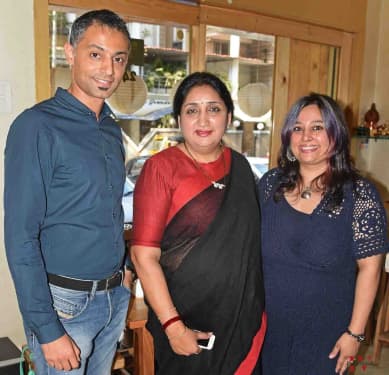 Chanda Patil who is the brand manager for Forennte found a creative way of bringing together some of the very powerful and elite women of Pune.
She invited them over to Forennte for an evening of talk and laughter over some Afternoon Tea. And what better way to connect than to chat over some hot tea in the afternoon and savor some tempting bites.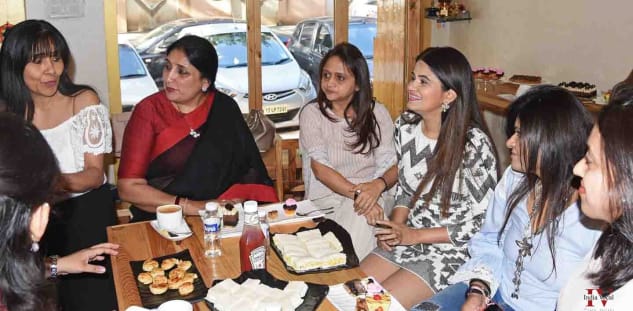 Talks that mattered
An unpretentious face to face gathering with friends that led to talks that were educational, promotional, talks that were of social and charitable concerns which built a beautiful community feeling. A variety of ideas were exchanged.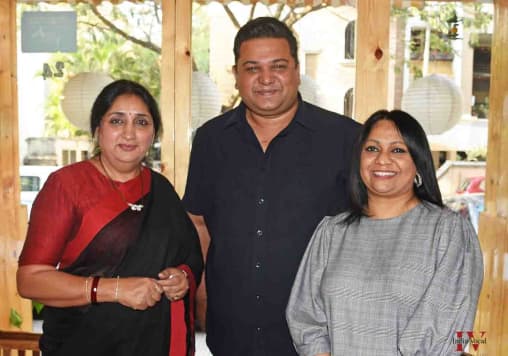 Amidst all of the chatter we were served some scrumptious sandwiches, and a variety of desserts. The tiramisu was to die for. The passion fruit looked so radiantly beautiful…the custard in yellow with a splatter of red. The cupcakes just melted in your mouth. All of this was washed down with some hot dip tea.
Among us ladies, to name them- Monika Chordia-designer of the label Praan:t, Radhika Apte-Regional Head (West) Deutsch Bank, Aarti Buxani-the artist known for her Shree Yantra, Deepti Aranha-who helps her brother Vinay Aranha in running Rosary Schools & Colleges, Manali Bhilare who heads the women's wing for the NCP, was the lovely SUNETRA PAWAR. Sunetra Pawar is the founder of the NGO- Environmental Forum of India. She chairs the Baramati Hi-Tech Textile Park Ltd. She was the Think Tank member of the WORLD ENTREPRENEURSHIP FORUM, FRANCE, since 2011.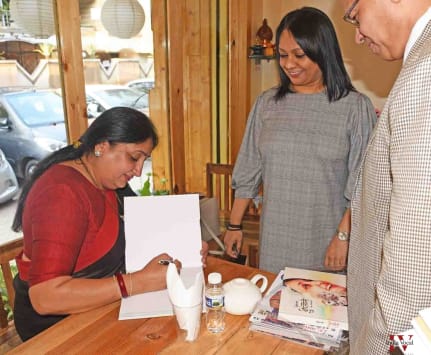 The radiance and glow on the face of Sunetra Pawar reflect the beauty of her heart. Her book Deep Jyoti so rightly named speaks more of her journey. Sunetra Pawar with her inner radiance transforms the lives of many in her district Baramati.
The evening ended with Sunetra Pawar handing over to each one of us a copy of the book.