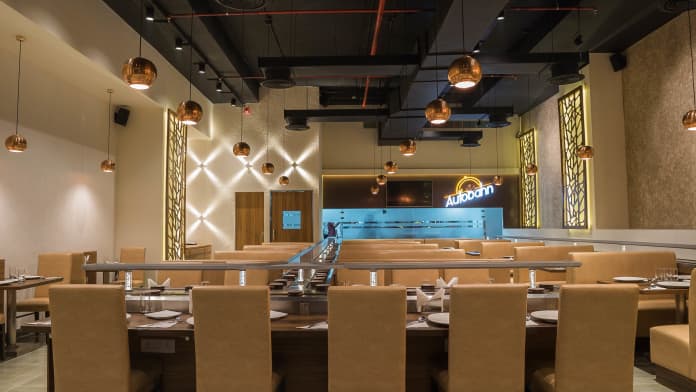 We live today in an 'experience' driven economy; making it a business differentiator for achieving customer loyalty and a competitive edge. One of the major reasons for this shift in the consumer's behavior and their perceptions is undoubtedly digitization. Never before has the world been so close and so accessible. All the accumulation and analyzing of data having been done, making choices and trying new things is a matter of seconds. For the aware and curious for more customer, it has become more about the experience they want to share with others, and the experiences they want to receive in their life that ultimately impacts their decision-making. Let's not forget those photos for social media! So it's no surprise that in an industry that has truly been representing globalization, innovation and technology are key. Latest in Pune is Autobahn: a dining experience enhanced by technology, adding fun and flavor to your outing.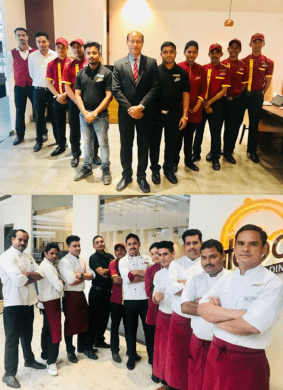 The technology used here has been devised by Innobliss Solutions pvt ltd.  And what brings your food literally to your table is 'Devourin' their end to end restaurant automation platform. It is an integrated eco system where all the required tools are made available under one platform, making the life of restaurateurs much easier. With only one vendor needed for all software needs post Devourin, operations requirements are met while controlling cost, quality, and wastage. Low upfront investment, lesser training time all resulting in an increase in service levels, customer delight and customer loyalty.
From night clubs and pubs such as Penthouse & Millers to bar and cafes such as Incognito, Iron Bar & Grill, Arbour and Coco, Devourin has been successfully managing their operations. Even popular Pune eateries, the long standing Flour works, Sassy spoon and Sassy tea spoon to the recent Bike Waiters are happy Devourin customers. Let's not forget the rest on the list which have become favourite hangouts like Raasta café and Wicked China.
http://www.devourin.com/ you can go on to the site and check it!
I visited Autobahn a few weeks ago expecting futuristic food and fused flavors on hearing the name.
And was I in for a pleasant surprise! We were seated right at the head of conveyor belts carrying food in color coded bowls. I wondered if I was to pick one when suddenly, what seemed like a remote controlled tray served some yummy food to a table in front of me.  My interest now heightened I began my delicious evening. They have two delivery courses – see on the move and a la carte. Both arrive on the conveyor belts. The latter works like any other restaurant, while the former allows you to choose from five different colored bowls, red for non-veg, yellow for paneer, grey for chaat, and salads, green for vegetables and blue for desert.
One can directly pick and eat. The food, totally fresh. If you wish for an item, you need to place the order on the tablet and it comes to your table. With a user friendly screen, the concept keeps the customer engaged and in a few minutes your order will be riding down the belt. Hence Autobahn – like the German motorways.
The menu on the tablet has tempting photographs which compel you to order everything you lay your eyes on. However, to assist you in your choice, descriptions of the items have been mentioned and trust me they are pretty precise. Just place the order, select whether you want veg or non-veg, add the item to your order, go to the card option, and confirm it. That's it… your order is placed. Then the order comes gliding down the belt and automatically stops in front of your table. This is the complete system.
If you want to place an order for a drink, press the beverage button from the drop down list. You can select between mocktails, cocktails, juices etc. Some of the packages in the unlimited a la carte are platinum platter and gold platter at 899 plus taxes where you can select 8 and 6 items respectively.  And as it says, you can have unlimited food. Also, these are available throughout the week.
The cuisine is Pan Indian and the best from each state across India has been selected. First up was the dahi bhalla and one of the best I had eaten in a while. A perfect combination of sweet, salty, tangy and spicy. How I love a good chaat!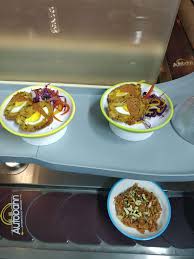 The Prawn koliwada – a Maharashtrian favorite, cheenmeen porichatu from south india – extremely fresh and well-cooked prawns made with onions, tomatoes and a lot of red chilies, betki macchi fry from Calcutta which melted in my mouth and I can't do justice to with words, and the ban galouti from lucknow.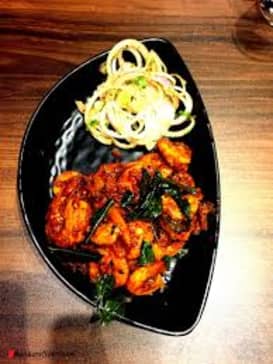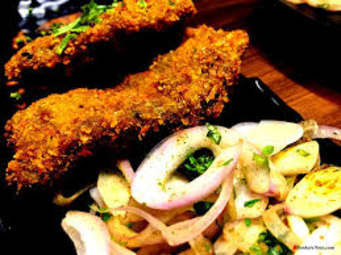 The classic Tandoori chicken and lasooni fish from north india, Malabar fish curry from kerala and the famous Goan prawn curry. Mutton pepper fry from the south and Chingaree mallei curry which is a mildly flavored Bengali prawn curry. The Fish fingers which were marinated with some chili, ginger and garlic were to die for. Deep fried and absolutely succulent. The mutton rogan josh Kashmiri style and the kori chatinadu from the south again. Not to forget the Chicken varuval.  The Star Anise chicken was a change in palate amidst the Indian spread however was made with a twist of curry leaves.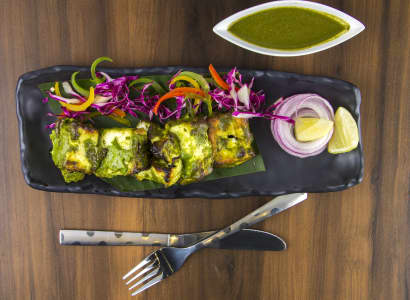 The mains were, a yummy panner kadhai, a delectable dal makhani which I must add was one of the few well-made ones served outside the north and a comforting delicious mutton kasa with luchi (mutton curry with pooris). A thick gravy, made of onions garlic green chili and red chili powder, dhania powder, cooked on slow fire and flavored with mustard oil.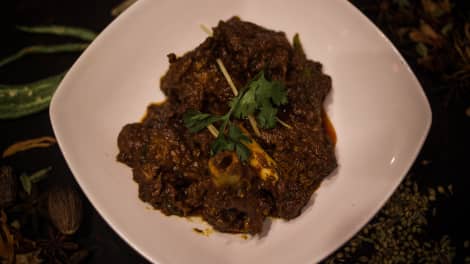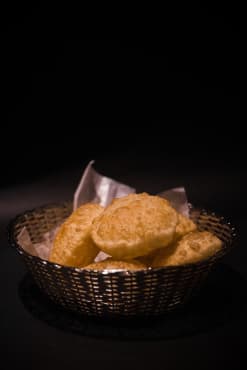 The dips – a sauce made of mayonnaise and parsley with the fish fingers, a balanced mint chutney and a mustard paste sauce that was served as an accompaniment with the betki, elevating it to a different level altogether.
Finally, the desserts. There was an array to choose from. But chef Das made the choice for us which was bring out most of them! A Gulab jamun cheese cake which is gulab jamun layered on a bed of mascarpone cheese and a biscuit crust. All blending well and not overpowering the other. The mal pua was made differently and served with a creamy rabdi. The rasmali was airy and light. The sweetness is just appropriate. This one has surely surpassed all other rasmalis and was my favorite of the night. And finally chef insisted that we taste the chamcham, a texture like none other. A noteworthy mention to the pina colada which we ordered late. After ages a cocktail that I enjoyed. Alcohol content, coconut cream and juice all extremely well-adjusted and perfect for this heat.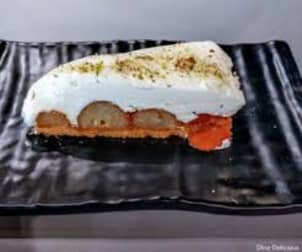 Though we went a la carte, all of the above is available on the 'see on the move' menu as well. The portions are substantial for two hearty eaters. Their motto is no wastage of food so when they purchase food, they purchase it in small amounts resulting in not throwing any food out. Makes me happy.
Sanjay Das, the executive chef of the restaurant was extremely warm and kept showering us with dishes to taste. Proud of his creations, and his spin on some classics he kept sending out their signature dishes that they would have liked for us to try. While the appetizers and mains arrived, chef served us some quick bites made of corn, cheese, chili and pepper.  Chef Das being Bengali himself, had some of the heroes of our evening from the land of Tagore.  All of the dishes at auto ban are his selection. His goal is to capture the essence of all the major cities in his food. And he sure has trained his team to cook well.
The restaurant started on the 26th of January; apt I must say after seeing the respect paid to the cuisines of various cultures across India. What a lovely and satisfying dining experience.
The reason I mentioned at the beginning that I was pleasantly surprised was because I went in expecting a modern spread that would mirror the technology they rode out on. However, what I received were whole-hearted, true to their roots and robust flavors that packed a punch leaving subtle notes in my mouth to reminiscence all evening. Autoban… Danke dir!!!
Most of the pictures have been taken from the restaurants site!