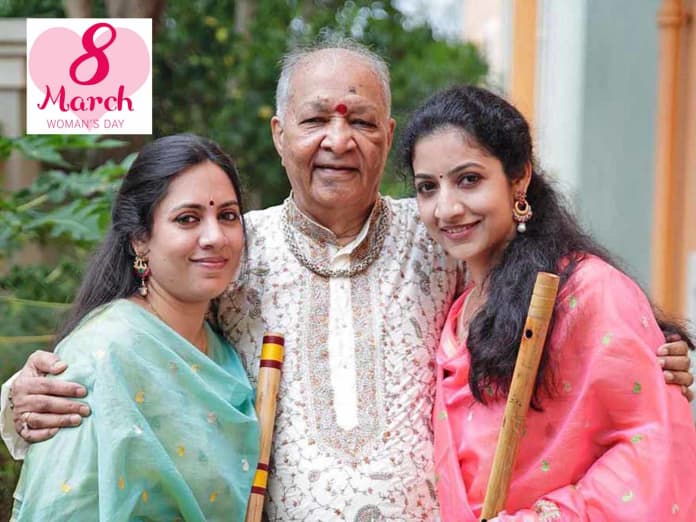 Anything we put our heart and soul into, and sincerely and courageously decide to pursue, we can do it. We have several extraordinary women around us who have proved it! On International Women's Day today, March 8, we speak to three such phenomenal women artists, who have won the hearts of many. Happy Women's Day!
Three well-known women artists wish you a happy women's day with their inspiring words
Let's celebrate ourselves! We women have all the strength, patience, and sincerity to do whatever we wish to do. Be it homemaking, academics, sports, arts, and more, women have made a mark in every other field. We know how to spread love and happiness and inspire others around us. Together with men, we have to move ahead.
Here are three women artists, who have held their head high, and walked the path they wished to in the sphere of arts. We have famous flutist Debopriya Chatterjee talking about playing an instrument, essentially associated with men. There's Pune-based Odissi dancer, Aparna Gandhi, telling us about finding peace and strength in art. And we have the stunning theater and film actor, Parna Pethe.

An inspiration for all- Debopriya Chatterjee
A disciple of Pandit Hariprasad Chaurasia, flutist Debopriya Chatterjee is renowned not only in India but across the world. Along with her elder sister, Suchismita Chatterjee, the duo – known as flute sisters – has performed at various esteemed music platforms, including Sawai Gandharva Bhimsen Mahotsav. Debopriya Chatterjee tells us about Indian Classical Music and having me time.
Treading a different path
"When we started playing the flute, we didn't think that we were about to do something very different. Gradually we realized that it was something different that we chose to do. People, especially women, do come up to us and say that ma'am we are inspired by you, and would love to play the flute like you. This instrument is not associated much with women. So, it definitely feels good. We wish to continue to do what we are doing, maybe some varied thoughts of work, and collaborating with other musicians. Basically, we just want to do everything with equal sincerity and dedication, hoping that it reaches the audience well."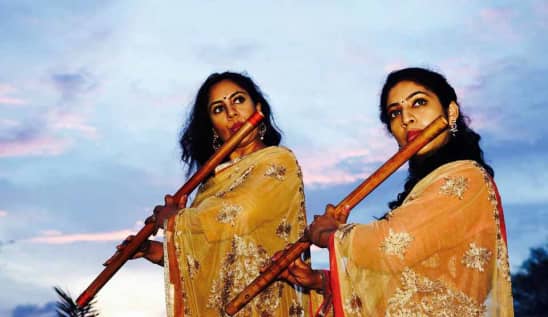 Finding harmony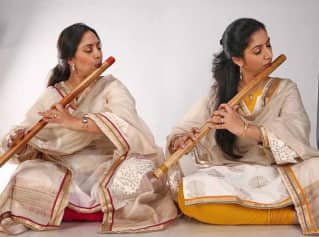 "Women do take a lot more from music than men. We are good with balancing things in life. We sisters are married, have families. So for us also to strike a proper balance is difficult. Both didi and I feel blessed that we have our music with us. These days we all have so much stress. Life is not easy for any of us. We all are running for something. Somewhere harmony is missing out in life. So, music definitely helps. Even when we go out to Spic Macay concerts in schools and colleges, we suggest the students that today you all are so young and you feel that only rock and jazz, and pop is good in life; and Indian classical music is boring. We tell them that in life you will have to face many challenges. So we advise them that you need not necessarily pick up music as profession. But even if you develop an ear for good music, that will help you immensely in life. This is applicable to all of us. Music reaches easily and quickly. But it could be any creative pursuit; whatever works as a stress-buster for you. It helps you connect with yourself."
'Me' time
"Homemakers are doing a wonderful work. It's not easy to be at home and work and take tantrums of others. However, you must pick up something creative. Thus, you have some me time. In case of women, when the 'me' time gives you happiness that will give you more energy to take care of your family. When we are ourselves irritated how do we expect to give happiness to somebody else? It could just be an hour every day, which is her time, when she does whatever she feels like doing."
Read Also: upcoming events in Pune celebrating international women's day
Dancing in glory- Aparna Gandhi, Odissi dancer
Pune-based Odissi dancer, Aparna Gandhi, is known for her unusual dance compositions. Be it Urmila or Harmony, along with her troupe and fellow dancers, she has brought forth various social issues, environmental issues, and other such meaningful and interesting works. She is a dance faculty at Artsphere.
A dialogue between audience and performer
"Endeavor of Artsphere is to bring forth various issues that are socially relevant- social causes, women's issues, child-centric issues, etc. At the same time we have a strong intent towards promoting Indian culture through music and dance. We believe there has to be a dialogue, an exchange of thoughts and ideas, between audience and performer. We have done dance productions like Urmila, Yatra, and Harmony. We are currently working on another production, Kollage. We are trying to promote our work to various audiences, in different languages, so we can reach out to more people, especially the young. In today's times they are exposed to world culture and world music. However, they must know about our own heritage too, because they are the ones who will take it forward."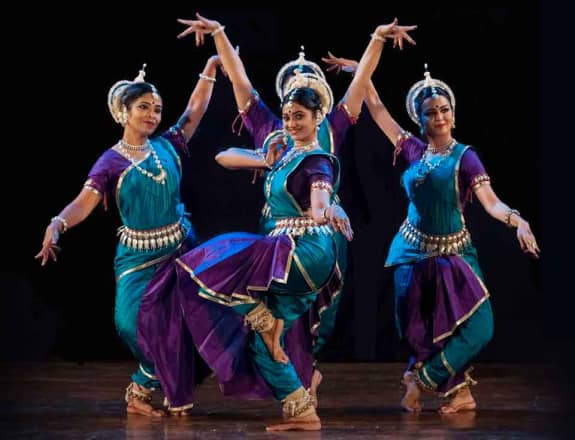 Strong women characters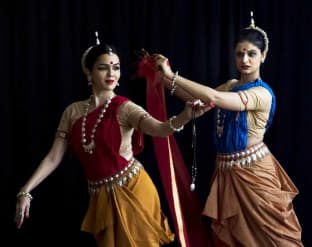 "In classical dance compositions, even when it's mythological based we have strong characters such as Durga and Draupadi. They are powerful women with strong messages. At the same time, we are also trying to question certain aspects through our compositions. We should be able to question society and our own thoughts and beliefs. Whether we should follow that or break away from that? In the process we should not disrespect anyone's sentiments. But, we must have logical reasons to question certain beliefs, to broaden our minds, and make sure that women get their rightful due in the society. We are trying to break the stereotype about topics we choose, language that we choose, music, and form of dance."
Pursue art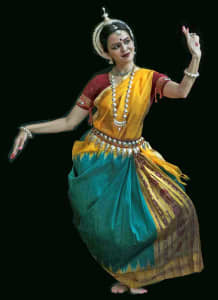 "I personally feel it is not a gender thing. In the olden days, if you read sutras, you will find that women were multifaceted, multi-talented. They could do thousands of things. Even today we multitask but we don't realize. Women have this incredible gift to multitask. And art is ingrained in them. It brings out our creativity, our courage, our voice. I know of dancers who are verbally not articulate but with their dance they speak volumes. Art has no language, no gender. Anybody can do what they want, to express themselves. Today audiences are also becoming open. So it's the best time to talk about various things that are happening in the society, highlight things that you haven't been able to speak about earlier. This is the time we need to really work on ourselves, try to change things, and move forward together."
Dynamic young actor- Parna Pethe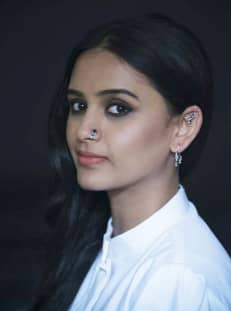 Pune's beloved theater actor is now being seen doing a wonderful job on the silver screen. Parna Pethe has had a long association with theater before she went on to do Marathi films such as YZ, Faster Fene, Rama Madhav, among others. She cherishes the fact that she has both the men in her life from the same industry- her father, theater director/ actor, Atul Pethe, and her husband, theater and film director/ actor, Alok Rajwade.
Right use of the medium
"We keep talking about women empowerment; there have also been campaigns like 'metoo'. But what is more important is that we give equal importance to both men and women. My work will support feminism. But not in any way degrade men. It will be about equality, giving importance to both of them."
Finding strength and peace in art
"Art is the greatest medium for expressing yourself. It helps in bringing about social awareness. It is extremely important in today's stressful times. We all have different kinds of pressures. So art also helps you vent out."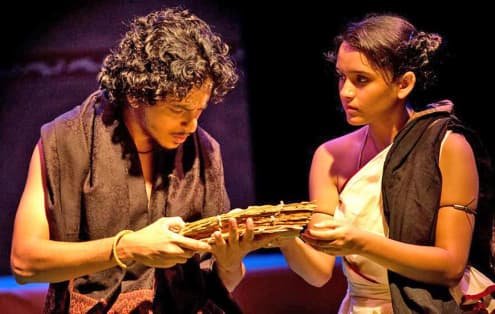 Family support
"It's difficult at times when you have such extremely talented and strong men in family. We all are in the same industry but their body of work has been different. They are known for their unconventional work. No doubt, I have their support always. But I do feel the pressure too. I have to live up to the kind of work they are doing. I feel responsible in a way. When we have discussions at home, we talk about different things. We can look at things from different perspectives. There is nothing stereotype or clichéd in our conversations."