The weekend promised an opulent experience! The recently concluded Aalmari Season 3 at Hyatt Regency Pune was filled with sheer elegance, stunning fashion, pretty faces, and remarkable people from the town.
Aalmari Season 3 at Hyatt Regency Pune was a grand affair
Aalmari Season 3 only became more grandiose with the fashion night and workshops in this edition. Aalmari Season 3- Fashion & Lifestyle Exhibition was held at Hyatt Regency Pune, Viman Nagar. The two-day affair on March 17 and 18 was packed with well-known fashion designers and brands showcasing their work in the fashion show. Pune's famous personalities attended the fashion night in huge numbers. In the daytime, on both the days, the fashion lovers, especially women, thronged the venue. Both young and old keenly observed the apparel, jewelry pieces, and more at the stalls, purchased some, and flashed their bright smiles. Here's a glimpse from day one, March 17, of Aalmari Season 3.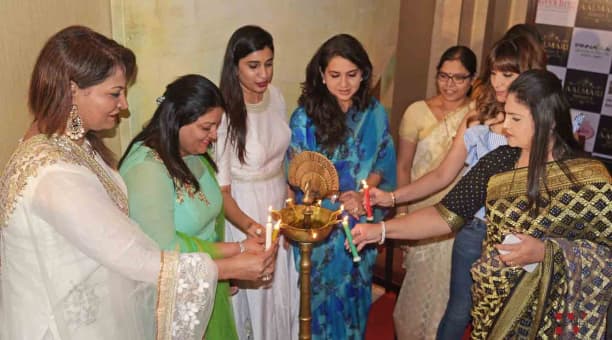 A great start
The chief guests for the inauguration ceremony were Michelle Poonawalla, Usha Kakade, and Shaina N.C. Fashion designer Sumit Dasgupta, and Kalpana Farande were present too. ACP Vaishali Jadhav dropped in as well, for a while. She took interest in taking a look at the collection at each stall that was put up.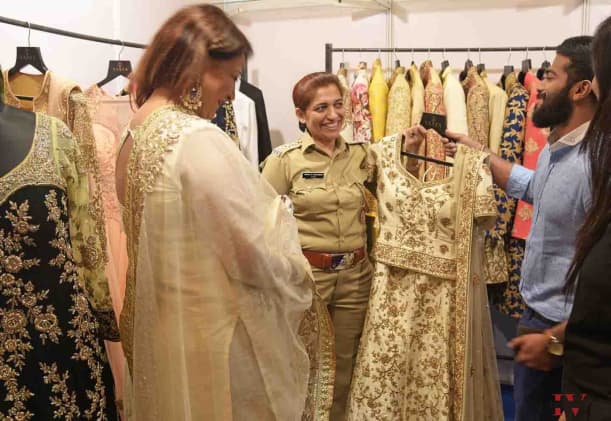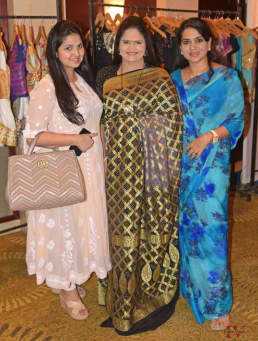 Aalmari aims to bring to Puneites high quality fashion, while bringing outstanding talents on one platform. On the first floor of Hyatt Regency Pune, an array of stalls was put up on the premise. Right from apparel, jewelry, footwear, and fashion products- there were exhibitors from Mumbai, Delhi, Jaipur, and Pune displaying their work. Some of the prominent personalities from fashion industry exhibited their work too, including Shaina N.C. and Salim Asgerally.
Later, Poonawalla, Kakade, and A.C.P. Jadhav were seen admiring the Indian ethnic wears by Shaina N.C. at the stall. In fact, these beautiful women tried out a few sarees that caught their attention. Kakade, especially like any doting mother would, helped her daughter Komal Kakade- Deshmukh drape the saree.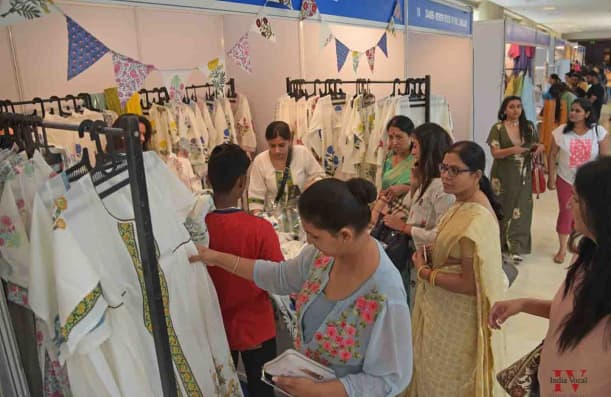 Get the look
Post lunch, celebrity makeup artist, Sonia Prasad, conducted a hair and makeup workshop at Hyatt Regency Pune. About 10 women participated in the workshop. Prasad shared basic makeup and hair techniques, giving a demonstration.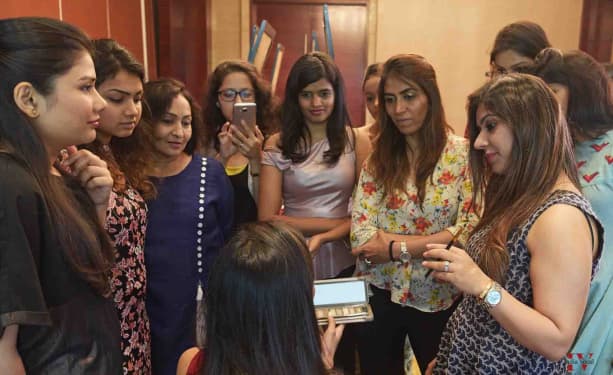 Taking up the day look, Prasad demonstrated the look step-by-step. At every step, she shared with the participants details about the beauty products they could use and how to apply them. The participants were seen taking notes of it all. If any doubts, they asked without any hesitation. Later each participant tried out the day look on herself, as Prasad and her team guided them.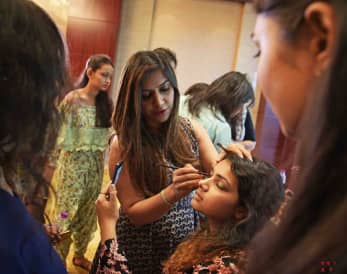 When asked what one should do for a good daily look, Prasad suggested, "For everyday makeup just use a good moisturizer and a bit of concealer. You can use kajal and lipstick too. If you use too much makeup every single day, your skin will be damaged. When you put makeup for an entire day, you don't let your skin breathe." She advised to try out home-care beauty products like yogurt, malai (milk cream), and honey. For young women here's her message- follow professional beauty bloggers who use genuine products and share the right techniques, like international makeup artist, Huda Kattan (label Huda Beauty).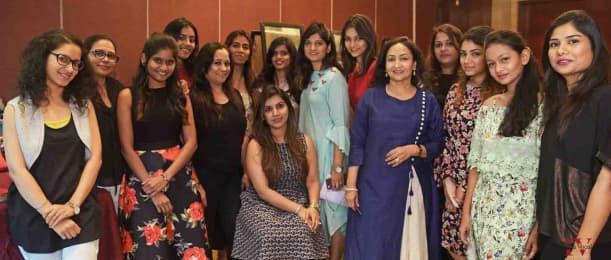 Little ones prepping up
Vevek Pawar, Grasim Mr. India finalist, is a known name in the fashion industry, with over 16 years of experience. His venture VIVZ Finishing School conducted a kids' grooming workshop on March 17, at Hyatt Regency Pune.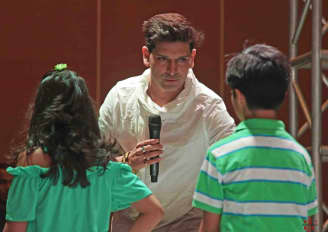 The lovely kids, accompanied by their parents, looked spirited attending the workshop. There were no less than 40 kids in the workshop. Pawar himself was seen training the kids to walk the ramp. Before Pawar started with ramp-walk training for kids, the parents vacated the ballroom. The kids lined up in two rows and walked the ramp. It was a cute sight to see them walk. Some looked shy, some were their cheerful best, all just keen on following every instruction he gave. Pawar and his team members handheld each kid while training on the ramp. If anyone went wrong, Pawar himself demonstrated the walk for them. 'Smile, look up, look straight, shoulders behind, stomach in' he instructed. And the kids followed him to a T.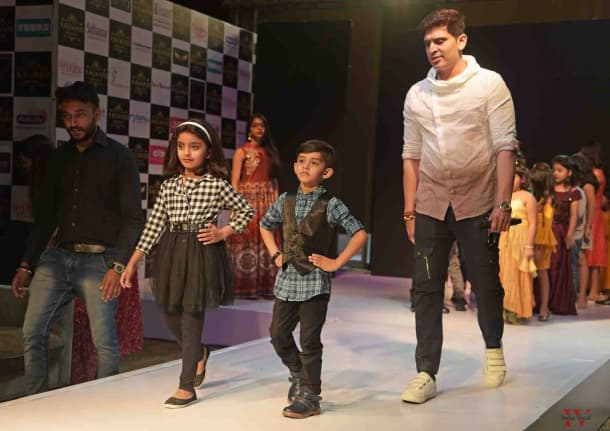 Glamor and glitz
Sumit Dasgupta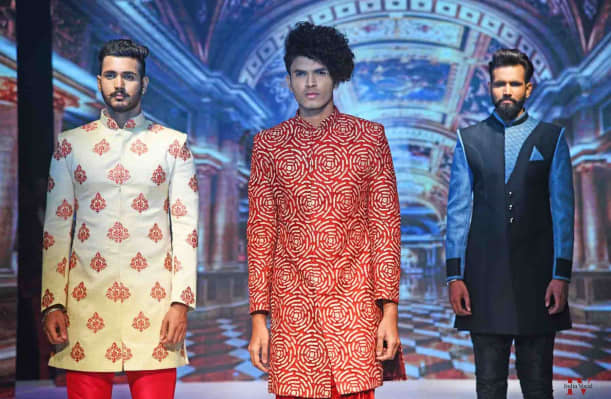 As the sun went down, the ballroom at Hyatt Regency Pune was buzzing with excitement. Women, dressed in splendid ballroom gowns and short cocktail dresses, and men in formal wears, walked in enthusiasm. Among them were the known faces from Pune. Fashion Night of Aalmari Season 3 on day one had an interesting lineup of fashion designers.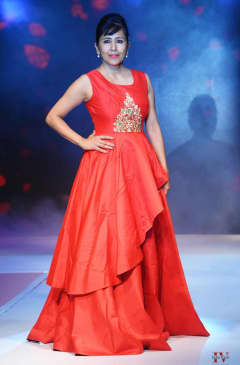 Fashion designer Sumit Dasgupta opened the show with his wedding, cocktail, and western apparel collection. Nearly 10 famous women from Pune, above the age of 40, raised the curtain. The walk was for a cause, with Aalmari charity partner Karishma Care Foundation. The elegant ballroom gowns, in red, peach, and more, had fine embroidery work. Followed by this, the models presented his work, which included beautiful Indian wears.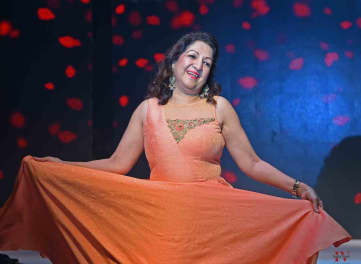 Talking about his collection, Dasgupta said, "I find Indian fabrics and textiles rich and full of variety. Our incredible India and nature are my sources of inspiration. As a designer, I would like to promote Indian handloom and fabrics like khadi and silk. I would like to tribute all my work to Nari shakti, the superpower, be it Devi Parvati or Goddess Durga."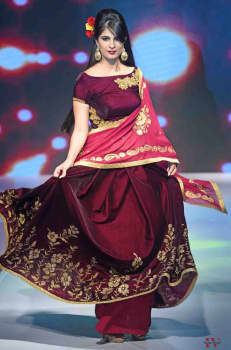 Models Sameer Qureshi, Varsha Rajkhowa, and Chahat Dalal walked the ramp for Dasgupta. The showstopper for his show was Jay Makhija. He looked spectacular in a blue sherwani suit.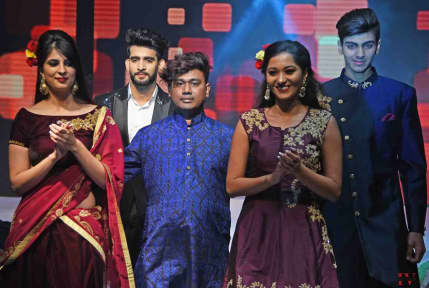 Shaina N. C.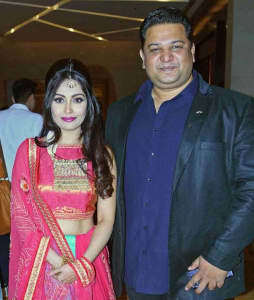 Next, it was the phenomenal fashion designer, Shaina N. C. presenting her ethnic collection for women. The vibrant colors, rich fabrics, detailed embroidery work made the apparel look rich and classic. Her collection signifies the beauty of traditional Indian wear. Actor Snigdha Akolkar, the showstopper, looked alluring in a pink ghagra choli by Shaina N. C.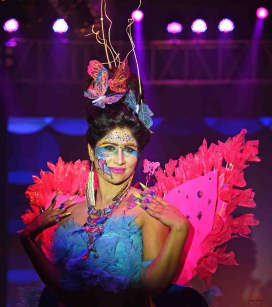 Fantasy world
Be it a vampire look or an exotic look, the fantasy theme makeup round was extraordinary. It took everyone by surprise. Right from the face and body paints, floral artwork, peacock feathers, to more- the models took everyone's breath away. Everyone was in awe of the creativity put in by the team. Bhakti Sapke's ISAS International Beauty School put up the entire fantasy themed makeup round.
Arsheen Sabherwal
The day concluded with the collection of Pune-based fashion designer, Arsheen Sabherwal. Her summer collection included gorgeous Indo-Western wears in pastels and metallic. Hand-woven delicate floral designs stood out in the apparel.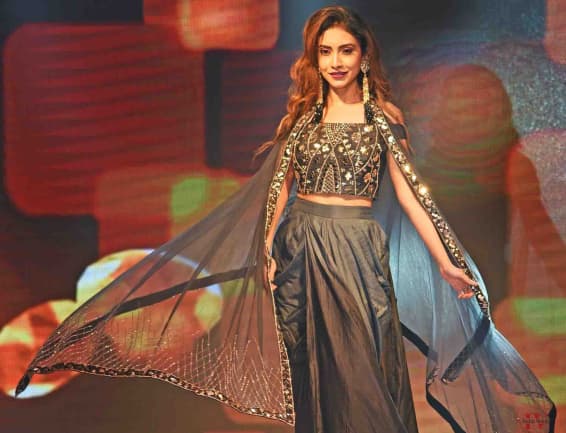 Talking about her collection, Sabherwal remarked, "We are completely into handwork. I personally like to bring in my work a variety of embroideries. Since it's the summer collection, I have included pastels and floral work. Also, metallic is something new and eye-catching."
As the day concluded, Aalmari organizers Kajal Makhija, Snehal Rudrawar, and Deepali Chordia felicitated the designers and others. The day could not have been complete if the food wasn't as delicious at Hyatt Regency Pune. Both for lunch and dinner, there was a huge spread of scrumptious food preparations- right from salads, soups, appetizers, main course, and dessert. It was a mix of cuisines like Indian, Thai, and more. Some of the desserts included ice-creams and gooey chocolate brownie, among other mouth-watering choices.