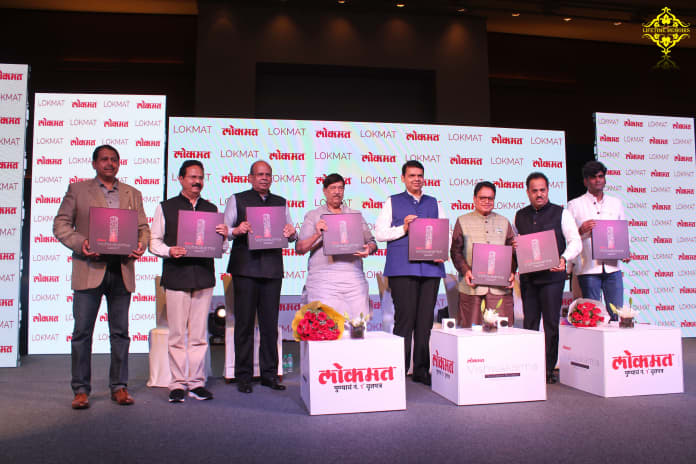 Winston Churchill said, "We shape our buildings, thereafter they shape us!" And that's all that kept playing through my mind as I attended a book launch on 23rd July 2018.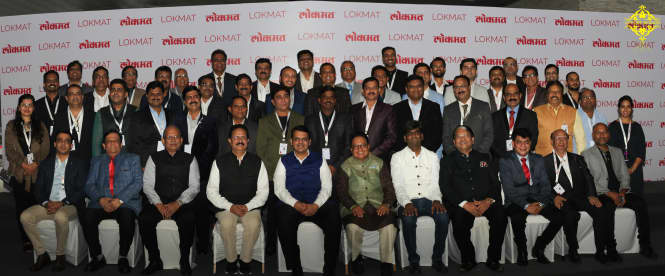 'Vishwakarma' – (The dream Builders – Maharashtra and Goa) by Lokmat; content by Ajinkya Deshmukh is a coffee table book that celebrates the authors of success stories about the real estate of Maharashtra and Goa. Seeing these 57 established real estate developers was indication enough that this was to be a brilliant occasion. I couldn't have asked for a more inspiring start to the week.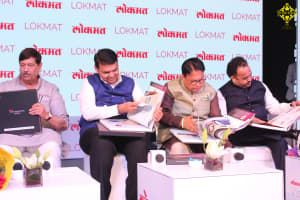 As the elegant Leena Saldanha, anchor for the event rightly put it when she addressed the banquet at the Westin Pune, "Yog lagto ashya diggajjana eka zagela yenya sathi" – it can only be cosmic intervention that can align the meeting of such legendary personalities under one roof.
After a discussion among the esteem panelists with audience participation moderated by Ms. Saldana, the launch commenced with an auspicious start. A graceful and mesmerizing performance symbolizing the Ganesh Vandana followed by the lighting of the ceremonial lamp.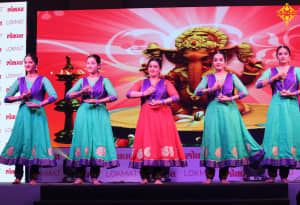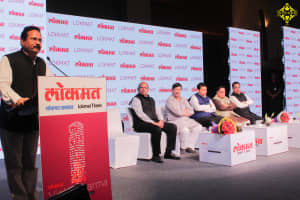 Mr. Vijay Baviskar, Editor Lokmat, welcomed an addressed the audience with his great oratory skills. He recited a few lines from Saint Dnyaneshwar's couplet in praise of our CM and the gathering held.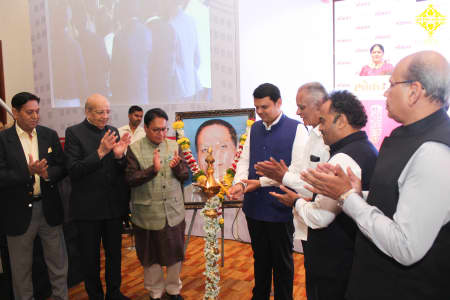 Chief Minister of Maharashtra Devendra Fadnavis addresses the audience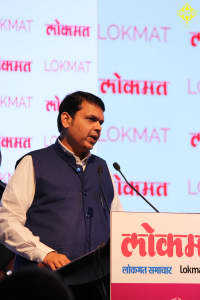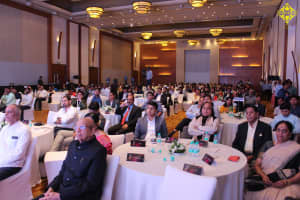 The evening was graced by Hon. Chief Minister Devendra Fadnavis who raised points that were a compilation of facts shared by the venerated panelists Mr. Satish Magar, Mr. Kakade, Amit Wadhwani, Gaurav Somani, Devanand Kotgire, and Vinit Deo. He spoke of the progress in the real estate and development sector. Gone is the time when the customer suffered dead investments as he/she paid 20% more in the form of interest levied when projects went on for 3 years. Today these are good to begin in 3 months.  He spoke of how happy he is and people are with RERA – The Real Estate Regulatory Authority in each state for regulation of the real estate sector that also acts as an adjudicating body for speedy dispute redressal. Thanks to their efforts the common man is not hiding under a blanket of trepidation, worried about their life's savings being wrongly invested. They now have a forum they can trust when they buy. He also touched on how RERA helps with the accidents that take place on site. How the overall efficiency has reached a new level. That the dream of rehabilitating India and providing homes to all doesn't seem farfetched anymore.  I am sure as a leader it must be very reassuring and acts as a testimony to his efforts as well.
CM talks about Lokmat and Mr. Vijay Darda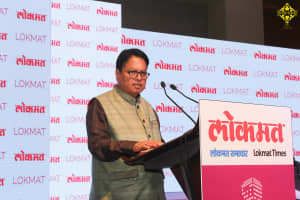 He also shared with everyone his high regards for Mr. Vijay Darda – Chairman Lokmat who he refers to as his elder brother and to the Lokmat family, now with a strength of 5000 reporters for having been there through his illustrious journey covering every embellishment religiously. On a lighter note he mentioned, that having been present at most Lokmat functions all across India, he realizes how this was his first event by them in Pune and that it comes at an opportune time with Lokmat assuming the position of no 1 print media publication here. He says, at this hour when connectivity is as important, by sharing knowledge Lokmat helps bridge the gap by building a strong network across the country.
Lokmat Maharashtra Leadership Award Recipients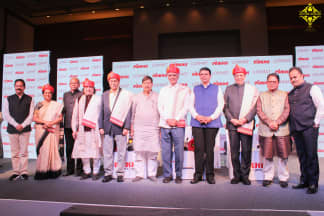 One of the most touching moments of the evening was the felicitation of 5 extremely accomplished yet incredibly humble individuals. They had a radiance on their face that can come only from pure selflessness and dedication with which they immerse themselves into their craft. The Lokmat Maharashtra award was conferred upon these dignitaries defining leadership in their respective walks of life. The esteemed coterie included:
Dr. Kantilal H. Sancheti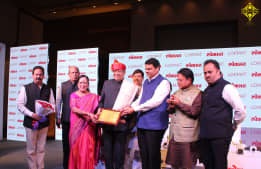 An orthopedic physician who invented India's first indigenous knee implant, the Indus Knee, and founder of Maharashtra's first orthopedic dedicated specialty hospital. He has been awarded the Padma Shri, the Padma Bhushan, and the Padma Vibhushan. He is also the recipient of the Maharana Mewar Award by the Maharana Mewar Foundation – 2003, Fellowship of the Royal College of Surgeons, Edinburg, United Kingdom, Lifetime Achievement Award of The International Medical Integration Council from the Government of Maharashtra, International Award for Medical Excellence by Harvard Medical School (USA), Jeevan Sadhana Gaurav Puraskar by Pune University. He has also organized over 500 health camps for handicapped children all over India.
Dr. Shantaram Balwant Mujumdar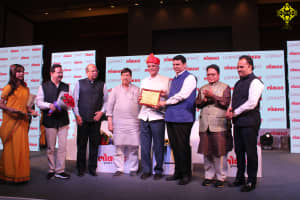 The founder and president of the Symbiosis Society, a multinational educational and cultural center, and chancellor of Symbiosis International University. He is the recipient of Padma Shri, Padma Bhushan, Punyabhushan, FIE Foundation Puraskar, 'Maharashtra Gaurav Puraskar', Top Management Club Pune's "Excellence in Education" Award, the Rotary Club of Pune's 'Service Excellence Recognition Award (SERA)', The Rotary Foundation of Rotary International Paul Harris Fellow, Giant International Life Time Achievement Award, Lion Gaurav Puraskar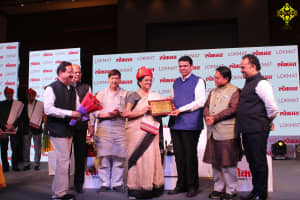 Kirti Shiledar 
A singer of Hindustani classical music and an actress on Marathi musical theatre. Shildar was elected as President of 98th Akhil Bharatiya Marathi Natya Sammelan (All India Marathi drama convention) in April 2018
Suresh Talwalkar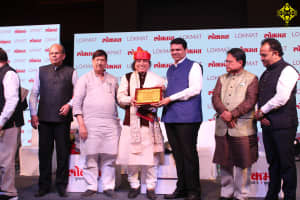 An Indian musician who plays the percussion instrument tabla. He was awarded the All India Radio Award in 1966, the Sangeet Natak Akademi Award in 2004 and Padma Shri in 2013.
Chandrakant Gulabrao "Chandu" Borde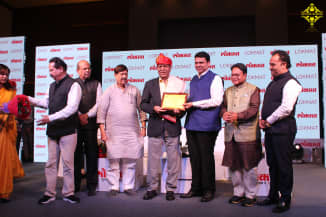 A former cricketer who was a member of the Indian team between 1958 and 1970. Following his retirement, Borde became a cricket administrator, serving as the Chairman of national selectors. He has received various awards from the Government of India for his contributions to cricket, on and off the field. Was awarded the Arjuna award, the Padma Shri, and the Padma Bhushan – India's third highest civilian award.
Collective Energy building a Promising Future
Well, everyone wants to feel inspired. And one can find that reason just about anywhere. From a child's smile to an adult's resolve, from nature's wonders to the cement jungle. Walking by a timeless structure that represents the essence of the land, the people, the culture and the era can be a very powerful experience that can leave one motivated. As I looked around during the vote of thanks given by Lokmat's Sr. GM Ninad Desai, I pondered on how to all it may have been a room full of people who build, who construct but if one saw close enough one would see the artists, the architects, the philanthropists passionately building first dreams and then homes. These people had that power to overwhelm and make a difference with their contribution to civilization.  However, these energies, creative thoughts, and business plans need a platform and channelizing to amalgamate. Let's hope the initiative of this meet does just that because the buildings we create, reflect who we are as a society!
Photos by