Being part of the food world has been the 'it' thing for a while now. A food critique, a restaurateur, a chef, or a mixologist make for very fancy introductions as creative professionals. However, all is not as glamorous as it seems! The glitz and fanfare have immense backbreaking hard work that leads to the fancy output on your dainty china. A week ago I attended the launch of a fine dine restaurant-lounge-bar that had in attendance an audience which seemed in sync with the opulence that this place is. Dressed in their best the evening saw the rich and the famous, the party lovers and the food connoisseurs relish every moment. I'm talking of Arth, the newest hang out at the Westin hotel, Pune that has reimagined food using the ancient charcoal range.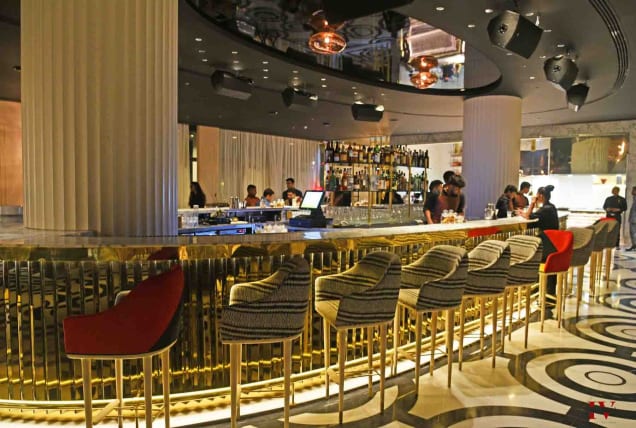 Their 1st outlet in India, the Arth in Mumbai is a favorite among the Bollywood stars for its novelty of a gas-free kitchen. The interactive open kitchen concept makes it very interesting to see food being prepared on an angithi. An ancient stove or a container to hold hot coal used to provide heat during winters and is also used for slow cooking of food on smoldering charcoal. The kitchen has a smoker where food is cooked for long periods of time lending the charcoal or woody flavor to some of their signature dishes. There is also a sand pit where food is covered with sand and charcoal off course, cooked for hours at 60 or 70 degrees Celcius. The ingredients are sourced from different parts of India. The technique is traditional and very skilled lending the perfect texture and flavor.
This contrast is such a treat, prehistoric methods in the most functional and modern setting. Just like the kitchen, the entire restaurant is minimalistic and classy in its visual impact. It's subtle yet striking, colorful yet very tasteful. These avant-garde interiors were crafted by none other than Bollywood's queen Gauri Khan.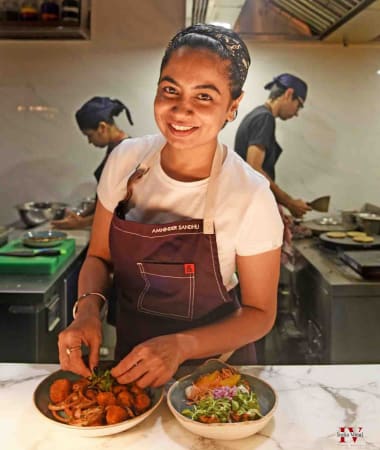 The executive chef Amninder Sandhu, a pretty woman and brilliant chef walked me through my gastronomical affair that evening. Don't be fooled by her petite appearance, she runs a tight ship there. She's worked at 11 properties of the Taj and brings with her immense experience. During this journey, she was fortunate to have met the granddaughter of one of the great royal families. They entrusted her with some age-old recipes and shared the details. That is where the idea of having a place that is gas free was born. Food in yesteryears was cooked on chulas. New inventions have led to this concept almost fading away. Chef Amninder has brought it back to stay.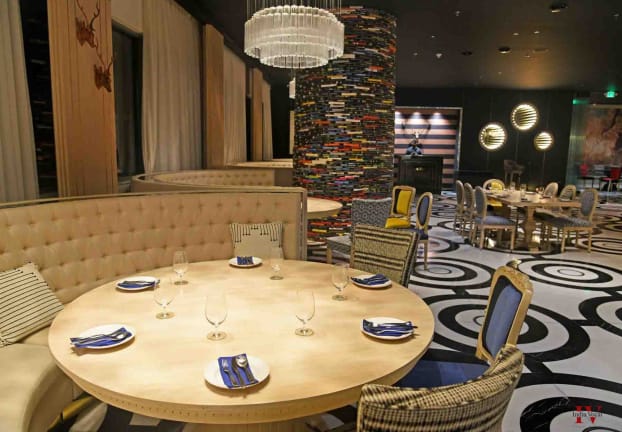 She narrated how the idea was described to the owners of the hotel during a discussion and one day at 2 am they called her and decided to go ahead with her concept. How wonderful is that! Well thanks to midnight musings and Chef, Puneites now will get to dine at ARTH and taste every divine morsel. It is the trust and conviction in her concept that made the owners of ARTH want to go ahead with the vision. In her words, it is time we take pride in Indian cuisine cooked the authentic way. She says, "I can spend a lifetime cooking Indian food with its varieties from the north to the south and east to west."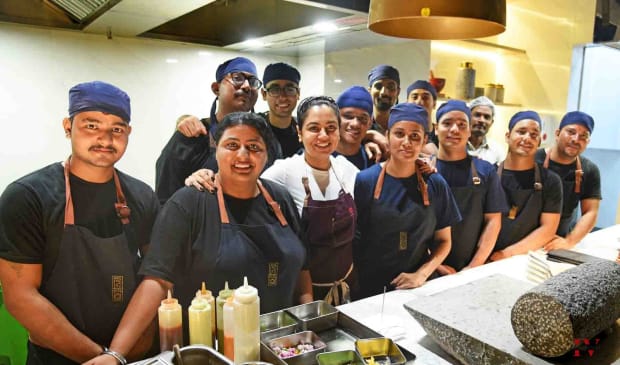 The Menu – Bound in leather, classy and resembling a book, has been well drafted leaving no room for doubt or wondering about which dish one should call for. The reason for the book like appearance is a long list of dishes that were requested to be on the menu.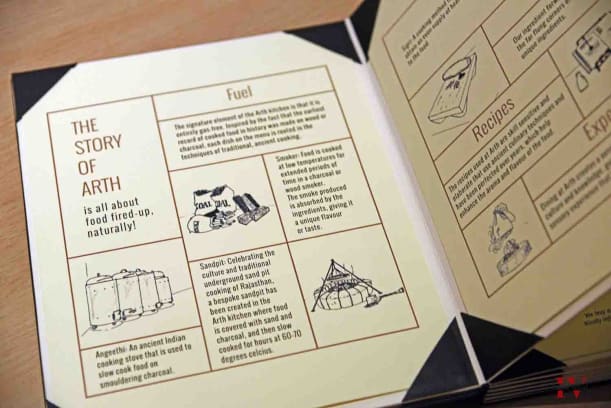 Let's talk a little about this famed food then. The Small Dishes: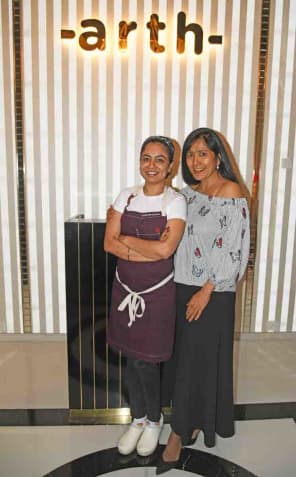 We were initiated into this feast with an Amuse-bouche – a starter that welcomes you and is amusing in its appearance and taste. Two large silver edible chocolate pearls served on a shell that was exotic looking thanks to the white pebbles around. This treat for the eyes quickly turned into one for the palate as the pearls burst open and I tasted pani-puri water. A total surprise…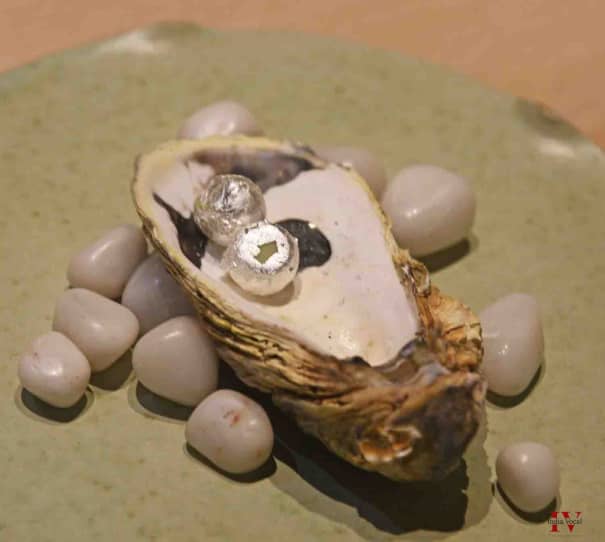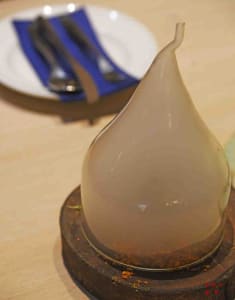 The other starter was made from Morels – expensive mushrooms sourced from Kashmir and Nagaland. Stuffed with smoked minced mushroom and served on Nachni and Walnut soil. They stood tall and strong on the plate, however, were very delicate when eaten. A little salty for my taste, however, a smart dish. It had what the Japanese refer to as 'umami' meaning deliciousness which is the intense savory flavor found naturally in certain foods.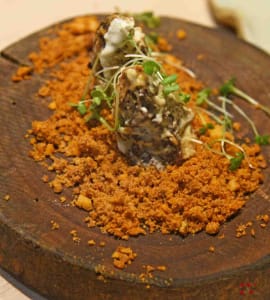 Followed a soft and succulent patty made again of mushrooms sourced from Nagaland. It had a slight tanginess and a mild flavor of spice. Served on a flat crispy bread so light to touch that it melts in the mouth.  Extremely delicate, serving it requires skill so that one can scoop it up in a single go. It is called the Naga Mushroom Gilawat.  I enjoyed every bite.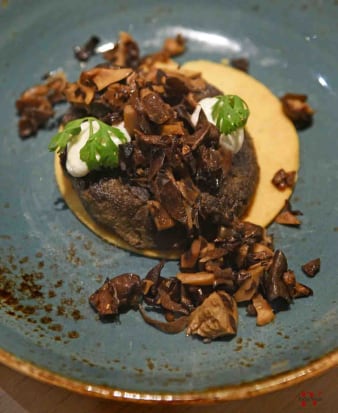 My poison for the evening was orange juice. If not slightly under the weather, I may have downed the delicious cocktails I was served towards the end which Arth is renowned for. I have chosen to write about them another time to justify those creations. One sip of the cocktail served was enough to tell me what is in store and needs to be spoken of.
We moved on to gifts of the ocean. Chunks of betki fish that were slow cooked on charcoal to the right texture. As I cut into the fish, moist, flaky and the perfect opaque. I could taste the marinade in every bite. I had to ask what made it so appealing.  Marinated in naga spring salt (Kezai Dui Salt) which is mellow and less sharp in taste as other industrial salts, it is sourced from Nagaland and is rich in minerals and vitamins. The marinade also contains red chili sauce, crisp magenta leaves, and Tenga Mora leaves which bring in the taste of Assam. Tenga Mora leaf or the Roselle leaf is normally used in fish curry in Assamese cuisine and has a tanginess to it. This plant has numerous medicinal values and is also used in calming the bad hangover you may wake up with. Well, I'd gladly have this fish for breakfast on a Sunday morning! Chef Amninder has an affinity to Assam; she hails from Assam. These dishes are her personal creations.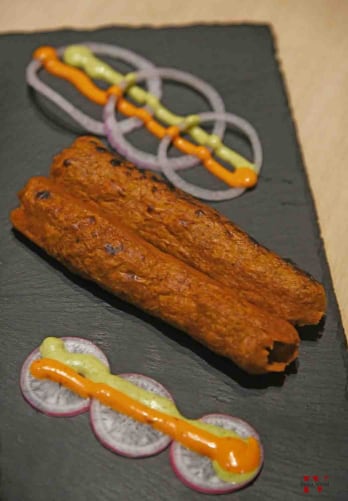 Next was the Mutton Kakori Kebab. Made scrumptious with the painstaking preparation of grinding kilos of meat on a stone grinder – the way one did in the good old days sans the fancy gadgets. This way of grinding apparently retains the flavor and no machine can grind meat to such a fine paste as the hand stone grinder. This dish is probably why the word 'foodgasm' was devised.  A burst of Kesar and cinnamon. None was overpowering the other and nor was the flavor on the whole overpowering. It left you feeling content yet wanting more.
The Chicken Makhmali followed, velvety in texture, befitting its name. Cutting into it revealed yet another perfectly cooked protein. Tender and moist. Topped with egg whites and a black truffle pate. A blissful fusion of flavors.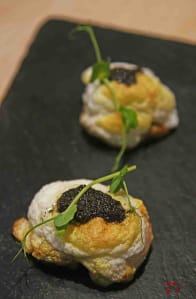 As I mentioned at the start, it's a lot of toil, and I must congratulate the chef for training her team so well and for serving us such exquisitely conceptualized dishes cooked to excellence. An arduous journey of trials and error over three months that is now reaping its rewards. A special mention to the brilliant squad serving us as well. Attentive, prompt, proactive, well trained and always smiling.
One dish that took me by surprise was made with jackfruit. Yes, you read that right. So I enquired about the unusual choice. Paneer is always served for the vegetarians and so she decided to be different. The jackfruit dish was delectable. I wanted more. The consistency was more like that of chicken. I felt it would be squishy. But no once again, cooked to precision. A sudden crunch, that of the jackfruit seed. A must try for the vegetarians. And where do I begin on this fruit and its benefits! It is used for flawless skin, is rich in protein and vitamin A which helps in promoting good eyesight and hair growth.  The seed, when applied to the skin, reduces wrinkles. Who says healthy food isn't tasty?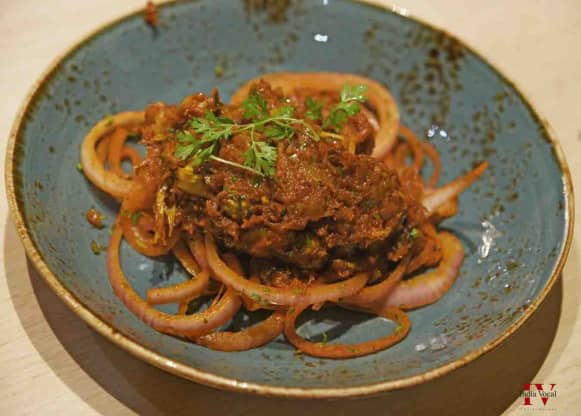 The Kurkur Arbi – colocasia roots, another vegetarian delight, was innovative and delectable. It had a tempura…ish batter around it, crispy and melted into my mouth.  served with tomato chutney with a hint of garlic.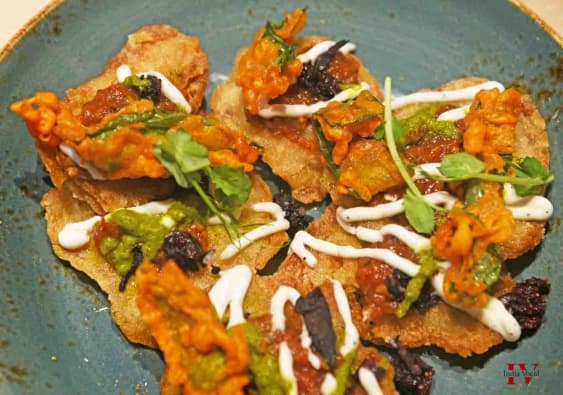 Next, the ……………I have never tasted mutton cooked to such perfection that it just effortlessly melted in the mouth. The flavors of the marinade had seeped right to the bone and every morsel was so flavorsome. It certainly was not heavy on the spices. The slow cooking at the right temperature had worked its magic.
LARGE DISHES
An interesting story behind the next bowl of deliciousness; Chef Amninder and her family every so often would go to this picnic spot Deomali in the eastern ghats and they would cook their meal there among the forest trees with birds chirping away. They would mostly cook in bamboos on charcoal while they frolicked around. Hence born the Deomali mutton. A curry cooked in bamboo and served with jasmine rice that is sticky. Yummy!!! It sounds simple however getting the technique right can either make or break the cook on the mutton dish. She has mastered this art.
Another vegetarian indulgence – Pearl potatoes. Mind you, I had never seen potatoes that were this size. They were almost symmetric. An inviting curry served with roti fermented in dahi(yogurt) and called dahi ki khamiri.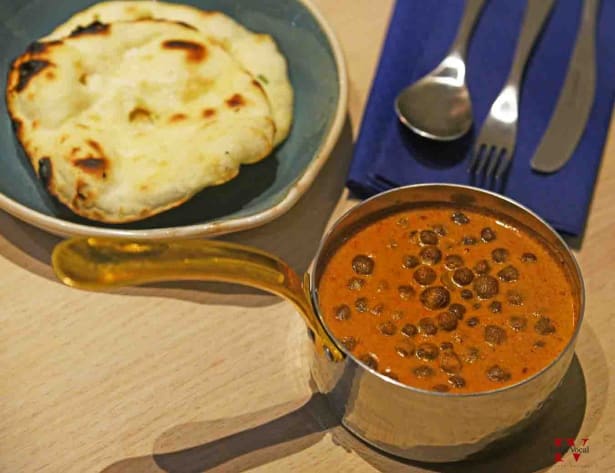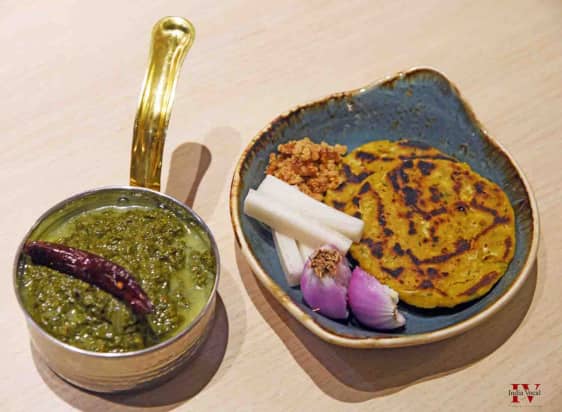 A popular classic up north, Sarson Ka Saag made by cooking down mustard leaves with clarified butter couldn't have been prepared more authentically. Served with 'makke di roti' it is sure to become a preferred pick with those looking for a taste of Punjab!
And finally the pièce de résistance, the Raan Biryani. Restrained like royalty, it arrived looking very regal served on a large platter. The mutton set on a bed of flawlessly cooked rice, glistened as it waited to fall off the bone. Every grain of rice moist yet loose and full of aroma. I was in food heaven.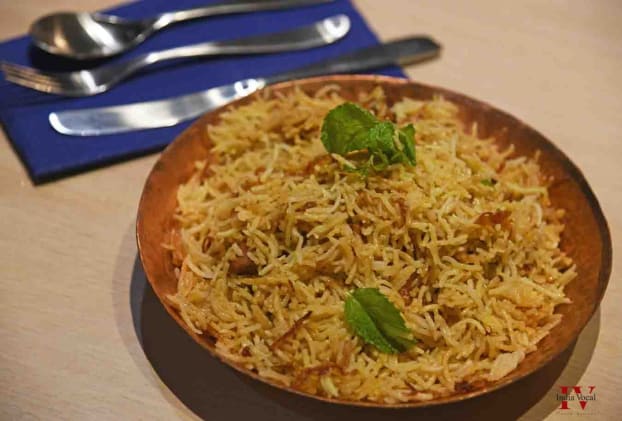 Arth has managed to make us realize that the northeast cuisine has many flavors to it.
DESERTS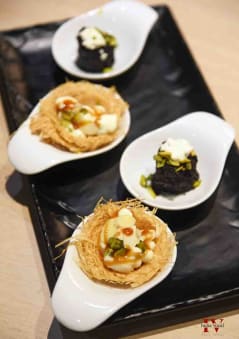 Who would have thought the favorite Indian desert would get a makeover as well? The Black carrot that grows only for two weeks a year in the north has been sourced by ARTH to make this very delectable gajjar ka halwa. Impeccable in its execution, which is the case with every dish here, the halwa melted in my mouth leaving behind subtle hints of cardamom. At first, I could not believe my ears when he said black carrot. It took a while to register. I would have thought I'm about to dig into a plate of velvety dark chocolate soil. Incidentally, you can get carrots in various colors besides black and orange…purple, yellow, and white. Black carrots also have a great medicinal value such as treating Alzheimer's disease, boosting cognition, reducing inflammation, optimizing digestion, and preventing certain cancers among others. The fruit is seasonal however the desert is not. You can enjoy it at Arth throughout the year.
Other honorable mentions are the Angoori Rabri made of cottage cheese and served on a bed of phyllo nest. Presented beautifully it was another favorite.
We ended this magical soirée with a little theatre that seemed in keeping with the extravagance the evening had been. We were served kulfi – a choice of mango, pista, and almond which was dressed with rabri, vermicelli, rose syrup and sabja or basil seeds. We chose mango and boy was it tasty. What stole the show, however, was the way it was assembled at our tables on the ice cream trolley and the preparation that ended with our server ringing a bell reminding us all of our childhood's beloved memory.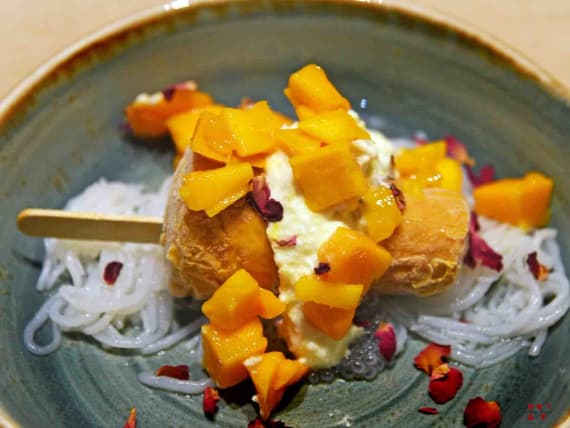 I've exhausted myself of adjectives to describe the yumminess that my experience there was. Time to discover your own! Make a reservation at ARTH soon!