In her small workspace, at home, the tools and beads and wires strewed the table. That's when an Egyptian brass wire necklace caught my attention. I could not help but imagine pairing it up with a deep neck, long black gown. What a pretty sight it was!
Egyptian wire jewelry
Let's delve more into the world of handmade Egyptian jewelry. Apoorva Karandikar, jewelry designer, founder/ owner of AVNI- Handmade Designer Jewelry, throws light on Egyptian wire jewelry, ahead of her workshop for the same.
Things you need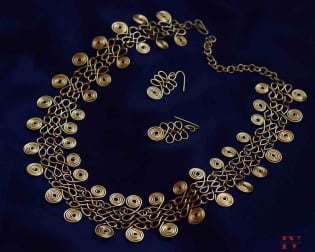 Egyptian wire jewelry that she makes is in dead soft brass or copper wire, of 20 gauge thickness. The necklaces are made of any of the two metal wires. However, the earrings are available either in plain metal wire designs or the combination of wire and colorful agates, especially in blues, reds, oranges, greens, and browns.
Minutiae of the craft
The brass and copper wires and the semiprecious stones are all easily available in the market. What follows in the craft is the crucial aspect of her skill in designing and creating the jewelry.
Apoorva Karandikar makes every jewel piece at home, without outsourcing any help in the making. With her three basic tools, she is set to put her imagination to work- viz. round nose pliers, jewelry pliers (also called flat nose or chin nose pliers), and a cutter. The pliers come handy in making the coils, and there is a jig which is used to make a cross pattern. She makes even the jewelry findings, viz. necklace clasp, and earring clasp, jump ring, etc. at home.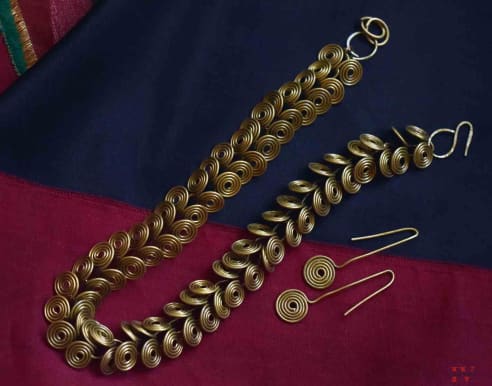 Twenty-seven-year-old Karandikar remarks, "Making such handmade jewelry takes time, so you need to be patient. I have the liberty to experiment with my techniques and designs." You may miss the mark in your experimentation though. She admits that at times the intricate designs, however impressive they may look on paper, are not easy to execute.
To make one necklace she takes nearly three days, working for about five hours at a stretch in a day.
Read about fashion: Talk of the 'Gown'
Teaching tales
She conducts two types of Egyptian wire jewelry making workshops- Basic Coiling and Jig. Like the name suggests, Basic Coiling workshop focuses on making wire coils. In Jig sessions, one can learn to make the cross pattern.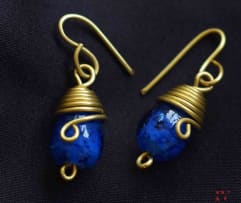 To make the workshops a more fruitful and exciting experience, she strictly takes only 10 participants per batch. Thus far in all her workshops, she has had people in the age group of 13 to 60. Like she puts it, "Anyone who is enthusiastic at heart, is welcome to my workshop. Even children who are able to handle the tools and other material can learn to make this jewelry."
In each workshop, along with learning the techniques, each person gets to make five pendants, five earrings, and one necklace in Egyptian wire jewelry designs. Speaking of the figures, for one lightweight necklace you need as much as 42 wires, all cut equal in size, to make the coils. The more precise your work, the more beautiful the jewelry will look.
In Jig workshops, you can learn multiple cross patterns. A jig is an open frame used to shape jewelry items made out of wire. To your advantage, to help you continue with your interest in jewelry making, every participant can carry a jig back home.
A peek into history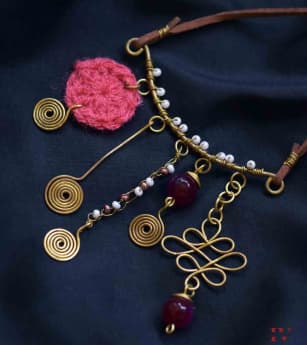 Egyptian art is famous for its coil designs, found in ancient pottery there. However, no such trace is found in their jewelry. Back in those days, their jewelry saw more of representational pictures of gods.
With time, especially in Second Dynasty Egyptian wire jewelry, a new trend of metal wire designs set in. Spirals or coil design, which is seen across various cultures in the world, is one of the oldest forms of jewelry designing. You will find metal spirals in Sumerian necklaces, finger rings, and bracelets. So technically speaking, Egyptian Coil did not originate in Egypt. But over the years Egyptian coil has been hugely used in necklaces, earrings, bracelets, rings, etc.
Varied pieces
Under her label AVNI, Karandikar has a variety of jewelry collections. Apart from Egyptian wire jewelry, there's Wire Weaving, Wire Crochet, and Beaded Crochet. All the jewel pieces are pocket-friendly, priced in the range of Rs 200 to 1000.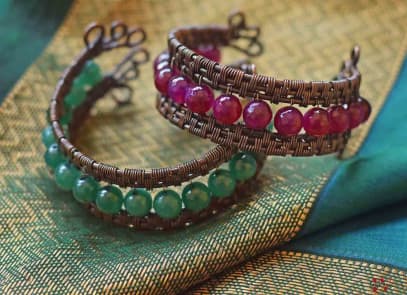 Workshop details:
Venue: Papertells, Shivaji Nagar
Date: January 6 – 7
Timing: 2.30 – 5.30 p.m.
Contact: 9881149080