LOVE, at first sight, it was for Mr. Vikaashh Kripallani when he went for the art exhibition…Namrataa's first solo art exhibition at Sun and Sand then called Holiday Inn. Shabana Azmi had attended the exhibition where creativity was at its best.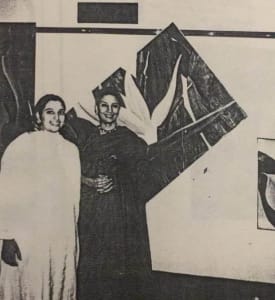 Namrataa Kripallani is born an artist, a natural. Creativity just flows.
It was not just the pretty face or the art at the exhibition that stole his heart; the icing on the cake was the peaches and praline cake that she baked for his birthday soon after that captured his heart and triggered the brain cells. The idea of starting a patisserie began to brew.
Inherent Talent in the 'Birdie'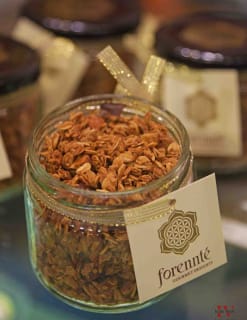 Creativity inherent in her, Namrataa would draw and paint as a child. Friends wowed her paintings and made her paint little creatives for them. Her aunt, that is her mother's sister held baking classes at home.  Namrataa's friends were a part of this activity. She would be around her aunt helping her. 'Birdie' she was called by her aunt as Namrataa came with loads of energy that needed to be contained.
"Birdie get me the spatula. Birdie please wash this bowl." Her aunt would get her energy channelized. In the process, there was something else that was being channelized. The Art of Baking.
"Then one fine day I just baked and everyone loved it!"
When Namrataa said these words you should have seen the joy in her eyes and the glee on her face. It told me that the passion lay not just in her art of painting but also in the art of baking. In fact, the extreme passion for baking was evident.
It was just a natural progression to her creativity.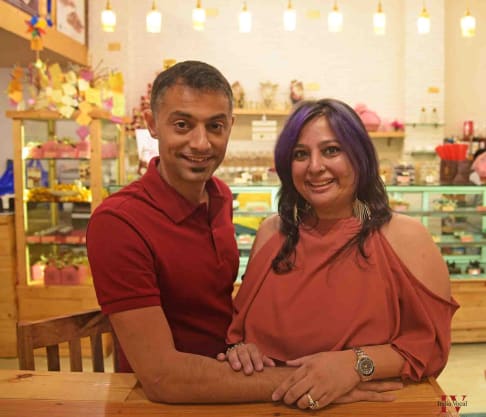 And so the journey of making a cake for friends and relatives for their birthdays or parties began. She was just a teenager then. Sometimes money given to her worked like the pocket money that any teenager would love to have and splurge.
Then of course later she would bake for the love of her life on a regular basis. Being the businessman he is he saw an avenue where Namrataa could let her creativity flow and also become an entrepreneur.
And so Forennte was born!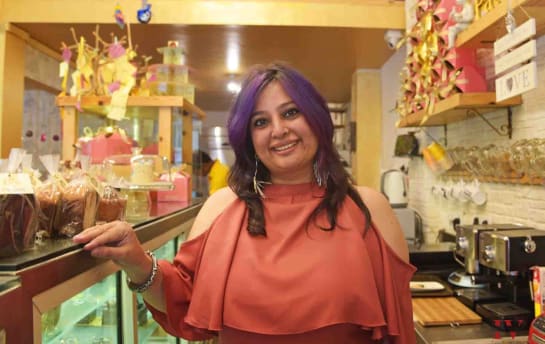 "Obviously it has been a process. I wanted Forennte to be a boutique, not the regular commercial place. I wanted to give it a very personal touch.
Walking the extra mile: the team effort
One thing is very true, if on a particular day if I feel my staff isn't feeling very good I can ask them to go home because it is food at the end of the day and your emotions translate into the food you are cooking. I wanted to recreate all that I believe in. I believe in recreating something that I eat with love and sharing it with the world. Not just make a commercial product and be known for it. There was a lot of thinking and a lot of thought process that went into Forennte. We wanted to create a proper brand. It is not just about me. Yes, Forennte has my energy but it is a lot of people together. it is a team effort. It is collective energy."
When Namrataa speaks of her staff I see love oozing out for them. She is very caring towards them. She may be a taskmaster when it comes to work but the very compassionate heart sees beyond. And the staff respond to it wholeheartedly.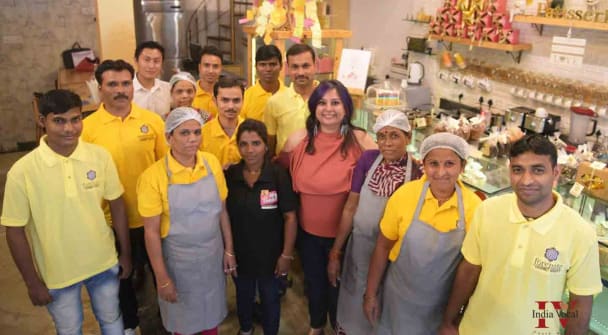 Read Aslo: Meet Vikas Bagul the winner of world chocolate masters!
Love for the Customer
"You will see my staff feel for the client. You will see they feel sad if the customer is unhappy. Or you see the joy on their faces when the client is happy. So I choose my people like that. So that is how I created Forennte.  It is the projection of me. I will serve you only something that I would eat. I am very particular. I prefer quality to quantity. Even at home, I do not give my servants the leftover to it. I don't wait for it to become a left over."
You made this one particular statement if your staff does not feel well or is not in the mood you don't let him cook. What happens on days when you are not feeling very well?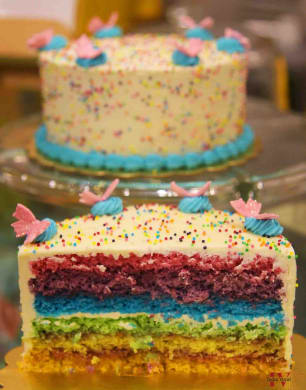 "I consciously do not cook, I am very vocal about it at home. There are times when I have worked all day and I can still come home and cook.
It has to come from inside. Sometimes you don't even know how to make certain things but then it the turns out good. It is the love that I pour into it."
Her face was full of passion, cheeks that turned red, eyes that became moist, breath that was irregular. You can see how much she loves her work. This love is what makes that creativity flow.
Don't you find cake baking a tedious task? Measuring, mixing, beating, baking, and then decorating?
"NO, not at all. For me it is meditation."
"For me working in the kitchen comes very naturally.  Even today when I make a meal for my husband or make a meal for people who are coming home I do everything from scratch and I do it all on my own. I prefer it that way. It helps to channelize the highly energetic me (she says with a childlike grin). I chill when I travel. Traveling as much as I love it can be tiring at times. So when at home and at work cooking calms me down. It acts as a therapy for me."
The Perfectionist
Namrataa loves to understand and study the ingredients she works with..be it the flour, the sugar, the butter, the chocolate used. As all the ingredients used in baking either enhance the product or can ruin it.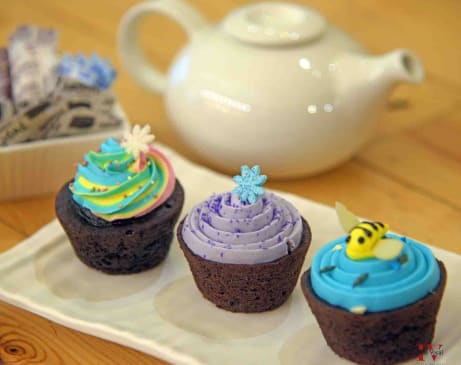 What flour works the best for certain products…wheat flour or maida? Should the sugar be light brown dark brown or just the regular sugar? As sugar can make the cake either light or heavy. The flavor of the chocolate. As cocoa beans come from different terrains carrying with them the flavor of that terrain. Altogether the end product should be so that the knife should cut through like butter. One should sense the porousness of the cake.
This reminds me of 'Master Chef'. Yes Namrataa is a perfectionist
The Intoxicant
She is self-taught. She has not attended any classes. Yet she spurns the magic of her creativity on her cakes. They are not only beautiful to look at but also very meaningful. She painstakingly curates them for her customers. She has a variety of customers some who walk in and buy cakes that have been freshly made and customers who place an order with her days in advance. Some asking for the classics that she has, and some stating particular specifics. Namrataa caters to them all.
Experimenting with food and cakes and pastries is an intoxicant for Namrata.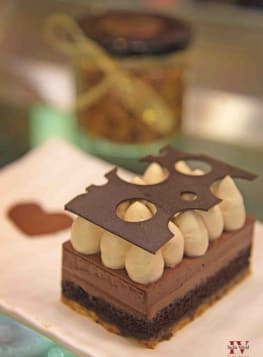 She cites an incident that has to do with Tiramisu an Italian dessert. Normally when she travels anywhere in the world she tries to understand their unique signature dishes and experiments when back. Of course, later bringing some of the understanding to her recipes.
Namrataa has not traveled to Italy as yet. But making an excellent Tiramisu the real Italian way has been a dream. So what does she do?
"I believe in authenticity. I believe the dish should be the way it has to be. I am a Punjabi and my kali dal and rajma is made in a certain way which is not really made in that particular way over here."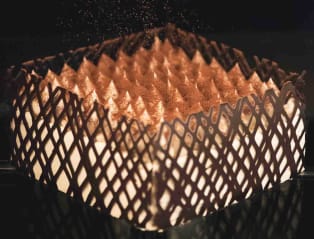 "So I met a couple of Italians and understood from them what should the texture feel like?  How does the palate feel when you eat it? How is it when you cut into it, and what is the after feel when you have tasted the Tiramisu? What is the ingredient that makes it different from other cheesecake? It is a kind of a cheesecake that is made from mascarpone cheese. I studied the cheese. And created my own Tiramisu.  And yes to make it more authentic we use the almond alcohol. I have got compliments from the Italians that it is really good. And that is what makes my day."
Read Also: The Proof is in Eating the Pudding
The joy in making Poees
Namrataa goes on to cite another incident. Her recent trip to goa led her to a typical Goan family who made the best poees in town. The thrill of the experience translated into her narration.
"I went to Goa specifically for the sound healing course. The baker in me found out who is the best baker.  It is a family business; even a 5-year-old child is up and about helping to make poees"
"They make it overnight. He makes 4000 poees at night. They put 2 poees at a time. They serve it hot to the customers. I was touched and they were doing it with such passion. So much effort that goes in. There was good music playing. So awesome the experience was. They all danced and sang whilst making the poees, One was feeding the kid. It was not work. It was love all around!"
So I realized that when you live in the flow your creativity has to flow!
Namrataa's cakes are all about love and enthusiasm and creativity at its best!
Forennte is located at Koregoan Park, Pune
Take a look at some of the scrumptious cakes and some thirst quenching drinks in the gallery.