Happy people are good people! Because they believe in spreading this happiness and do so, whatever the situation may be; Dr. Deepali Patekar, is one such smile maker. Not only does she make people smile with her happy disposition but also restores their smiles with the 21 years of experience she proudly holds in General Dentistry.
She leans strongly toward Pediatric Dentistry, and her Covid journey too started off because of a 7 year old. Just like most of us, hearing of the lockdown got her planning household cleanliness schedules when she heard of the trauma this child had faced due to an accident while playing at home. That was the moment, where no Pandemic could have stopped Dr. Deepali Patekar from providing the child with the best First Aid and required comfort. Without a thought, she opened up the clinic and hasn't looked back. With all precautions and Rules followed, Dr. Deepali Patekar suits up in the stipulated Covid dress code and provides dental care to patients in these testing times.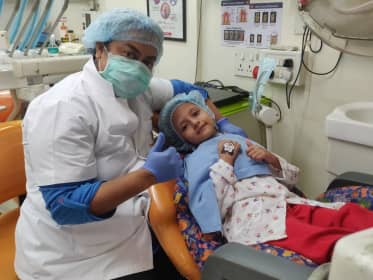 They test her too. Dr. Deepali Patekar worries about taking home infections; however that does not deter her either. She believes that work truly should be worshiped.
Enthusiastic and someone who enjoys life to the fullest, Dr. Deepali Pateker loves managing her spare time well, and changes up her routines frequently. A proud mother of 2, she  loves cooking a variety of food for them.
She's contributing to our smiles, one day at a time. Her journey continues…
#chandukaka&sons
#classapartindia
#weddingdestination
#indiavocal