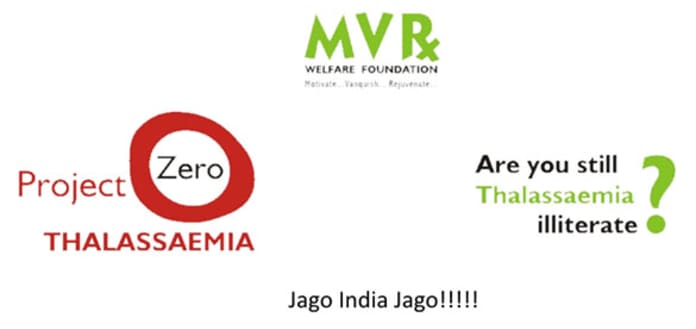 It was a Friday afternoon, 11.30 a.m. Dr. Vijay Ramanan who has made it his mission to work with patients suffering from Thalassemia, Dr. Bhooshan Shinde, Dipali Prabhu a representative of DATRI (stem cell donor registry) and I met.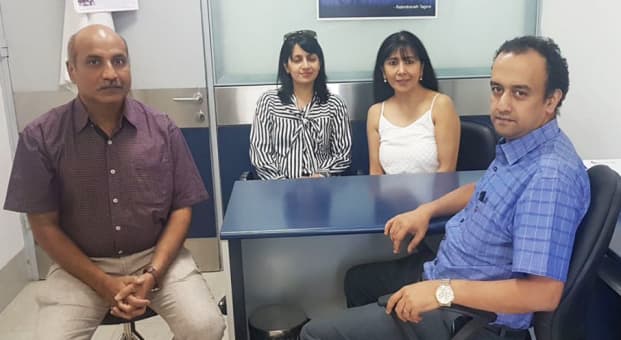 Dr. Vijay Ramanan, Bone Marrow Transplant Physician, and Clinical Hematologist has completed over 350 transplants for Thalassaemia, Aplastic Anemia, and leukemia!
The Agenda
How do we increase awareness on the dreaded blood disorder called Thalassemia? How do we increase the number of donors who could be a match for the patient, thus saving a life, as it is a challenge to find a match? How do we take away the deep-rooted fear and ignorance that haunt people about stem cell donation conducted for various blood disorders including Thalassemia?
If any change has to be made in the minds of the people, then the thought process needs to change!
We at India Vocal have also made it our mission to do all that we can to further this cause. Two articles on thalassemia have been published earlier.
To once again mention there are two streams in thalassemia. Thalassemia Minor and Thalassemia Major. Thalassemia Major is the one that needs a blood transfusion or a bone marrow transplant. It is extremely difficult to find a match for the patient, in the course of which the patient passes away. If a Thalassemia minor marries a Thalassemia minor the offspring is born a Thalassemia major.
Reasons for not finding donors are many.
People are not aware of this disease
There is a deep-rooted fear among those who are aware and yet refrain from becoming donors. The ignorance of what the procedure of donating would entail keeps them from becoming donors.
The disease among certain strata of society has a stigma, especially among the men. It is transferred to the offspring. It is a genetic disorder. So the child could be born with thalassemia as the parent has it. Any parent could be the carrier. The mother or the father. Hence one prefers to be in the dark and not get a blood screening done. The first step to discovering that someone has thalassemia is through a Complete Blood Count (CBC). The CBC report should be read correctly. Thalassemia has been detected incorrectly several times as Anemia.
Even if you wish to donate, friends and family dissuade the donor. The village Panchayat also has a say. The Panchayat then has to be counseled along with the family members.
The challenges are many. Approximately 10,000 kids die every year, while another 10, 000 take birth. How does one control this?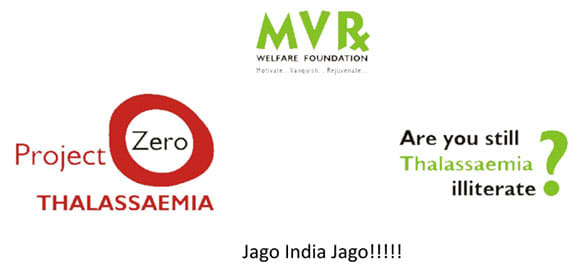 Dr. Vijay Ramanan and his NGO MVR Welfare Foundation along with the Thalassemia Society of Maharashtra have been working for the past few years, catering to 7 million people. The primary focus is Thalassemia. We have at least at present 1 million patients suffering from Thalassemia.
"MOTIVATE people to VANQUISH disease to REJUVENATE the masses"
MVR welfare foundation Section 25 company is a non-for-profit Organisation working for the poor and the underprivileged, thalassemia major, leukemia, Hemophilia, Lymphoma and other Blood disorders.
The Foundation intends to support holistic treatment of the blood disorders.
We want to prevent chronic diseases by simple screening methods and by creating infrastructure for rapid testing at the grassroot level.
The MVR foundation has created software for easy documentation at primary health care center level, and also intend to create an IOT-based intuitive point of care instruments for easy checking of BP, ECG, board mass, body fat etc.
The Foundation intends to use the ambulance service for domiciliary care of poor sick patients and all children requiring primary or secondary care.
There are Mobile preventive health camps using a mobile van to prevent future cancers, thalassemia, renal failure, diabetes etc.
The lack of awareness among farmers about insecticide-induced problems will also be addressed by our mobile service.
Healthcare at the doorstep of each and every child in the rural areas and urban poor is the need of the hour to have a healthy working class of future.
MVR welfare foundation is the 80 G and 12A approved NGO. MVR Foundation's PAN: AAJCM2263K MVR Foundation's IFS & RTGS code: UBIN 0532193.
Visit the foundation at www.mvrfoundation.org
The journey is fraught with obstacles and challenges which Dr. Vijay Ramanan and his team overcome every time. Such is their passion.
The write-ups I had written earlier helped me connect with my contact in DATRI. This was a blessing in disguise. Connecting the two, DATRI and Dr. Vijay Ramanan would help in a large way.
DATRI…STEM CELLS DONOR REGISTRY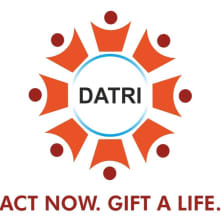 DATRI is a blood stem cell donor registry exclusively catering to Indian donors. It is seven years old and is headquartered in Chennai, with activities all over India. It is a not for profit organization. It is registered as a nonprofit organization under Section 8 of the Companies Act 2013. Donations to DATRI are eligible for concessions under Section 80G of the Income Tax Act. DATRI is a member of the World Marrow Donors Association. DATRI has worked with, and assisted, a number of leading hospitals in India including Apollo Hospitals, CMC Vellore, Cancer Institute Chennai, Narayana Health Bangalore, Tata Medical Centre Kolkata, Fortis Hospitals, Hinduja Hospital Mumbai, BLK Delhi, Medanta etc.
The track record so far
DATRI has a donor registry of nearly 318,180 potential donors and has facilitated 368 donations thereby saving many lives. DATRI is currently facilitating about 2 donations a week. DATRI currently has over1800 patients looking for a matched donor, without success. India needs a registry with 25-30 million potential donors to be able to help every patient.  DATRI has carried out large stem cell donor registration drives in many companies and colleges. These include IIT Delhi, FMS Delhi, IIT Chennai, KEM Hospital and College, Nair Dental College, Shastra university, Anna University, SRM University, Amity University and many more. The corporates are TCS, Capgemini, Wipro, Infosys, Bosch, Wipro (Kolkata), Johnson and Johnson, Britannia, HCL Technologies, Suzlon etc. 
Stem Cell Donor Registration
Any reasonably healthy individual between the ages of 18 and 50 can register as a potential donor.  The process of donation is very simple – fill up a donor registration form, a consent form and offer a cheek swab.  The process takes no more than 3-4 minutes. It does not involve any blood samples or needles or any such procedure. The swab sample is analyzed for a specific test called HLA typing and stored in a database.
Only when a requirement for a patient seeking a blood stem cell donation comes up, whose HLA typing perfectly matches a donor in the database, is the request made for a stem cell donation. Until then, absolutely no activity is required of the donor.
The process of donation is a simple process, not dissimilar to a blood donation, and is described in more detail in the video presentation. It's absolutely safe for the donor. The process of a blood stem cell donation has been around for decades in India, with many hospitals in the country carrying this out.
 Proposal for conducting a drive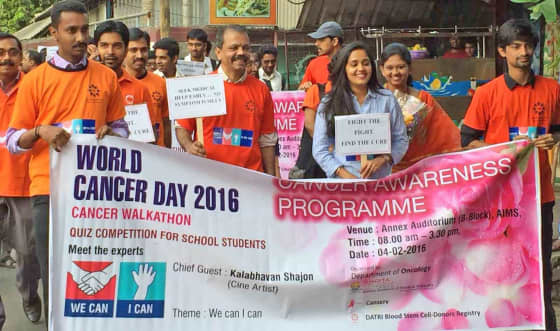 DATRI seeks support for holding blood stem cell donor Awareness and Registrations camps and the process of running such an activity is:
–       Communication through E-Mails, Posters, Standees, and videos one week prior to the drive date
–       An Awareness Session addressing all members for about 10-15 minutes explaining what a blood stem cell donation is and why it is important 
–       On the date of the drive, DATRI will open multiple registration counters (just chairs and tables required). Those interested in registering can come there fill up a form, give a cheek swab and be done in 3-4 minutes. It is entirely voluntary and nobody is pushed to register.
 If you need any more information, DATRI would be happy to provide. 
DATRI requests your support to carry out this noble task. Many a life can be saved with your support.
Please view the donation process's short video below:
A donor here shares his experience 
People suffering from blood cancers like leukemia, lymphoma and several other serious blood disorders such as thalassemia, aplastic anemia, etc. can be cured through a Blood Stem Cell transplant from a genetically matched donor.
Most patients cannot find a matched donor from within their family and often their only hope is to find an unrelated matched donor through a stem cell donor registry. The incidence of these terrible diseases is on the rise in India. 
Every day 40 people are diagnosed with a fatal blood disorder. 
Each day 30 babies are born with Thalassemia, necessitating a blood transfusion once every 3 weeks for life. They can all be potentially cured through a blood stem cell transplant from a genetically matched donor.
WHAT IS THE BEST CHARITABLE CAUSE THAN TO SAVE A LIFE!
Could you compare it to the few hundreds or thousands or lakhs you may give as charity towards the poor?
WHAT WOULD BRING YOU MORE HAPPINESS AND JOY OTHER THAN SAVING THE LIFE OF A CHILD!
ALL IT TAKES IS 4 HOURS OF YOUR TIME AND A SIMPLE PROCESS THAT LEAVES YOU STILL HEALTHY TO GO BACK TO WORK OR HOME OR TAKE A WALK ON THE ROAD!