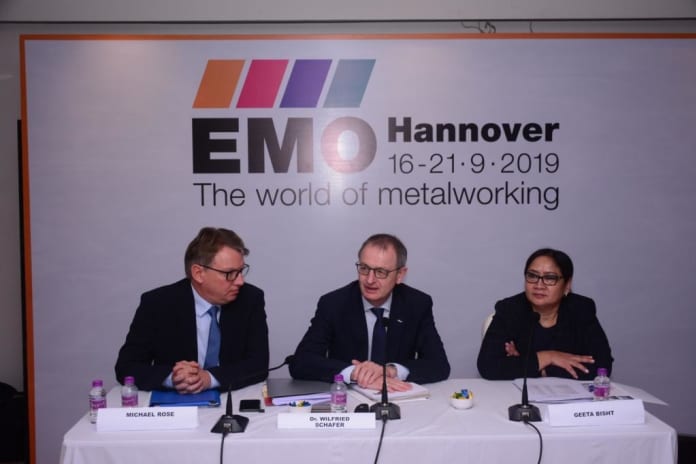 It was at the press conference that I got to listen to Dr.Wilfred Schafer the executive director of EMO, the world's leading trade fair for metalworking. 16th  of September to the 21st of September the doors will open once again for the 22nd EMO fair to be held in Hannover. "Nobody can afford to miss it," says Dr.Wilfred Schafer.
"EMO," says, Dr. Schafer, "is the undisputed innovation platform for metalworking machines, solutions and services. In 2017, 72 percent of the exhibitors said they brought innovations to Hanover that they had developed especially for EMO. This wouldn't happen at any other fair!"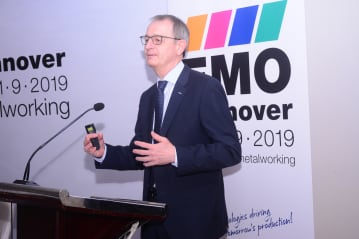 It is organised by VDW (Verein Deutscher Werkzeugmaschinenfabriken), Frankfurt am Main, Germany on behalf of the European Machine tool Association Cecimo from Brussels, Belgium, and in cooperation with Deutsche Messse AG, Hanover, Germany. The seal of quality "A VDW trade fair" has developed into a trademark for successful events. in addition to EMO Hannover, thiss also includes the METAV in Dusseldorf, the international trade fair for technologies in metalworking.
At EMO all major manufacturers of production technology present their products and services. It attracts not only exhibitors from world over but also trade visitors. Hannover saw 130,000 visitors alone from outside Germany in 2017. 50 percent of visitors were from outside Germany.
This is a key asset for the exhibitors. Meeting not only the German market but meeting major customers and investors from throughout the world. Mostly from Europe of course and very large participation from Asia. India last time was more than 2000 visitors almost a 10 percent of the entire visitors crowd.
Dr. Shafer gave us to understand in numbers the strength of the exhibitors and visitors at Hanover. By the first deadline of 1st of Dec. 2018 last year a no of 1780 exhibitors and 41 countries signed up to participate. 60 percent of exhibitors were from ouside of Germarny especially from Europe.  The companies include market leaders in all technology areas such as DMG Mori, FFG, Mazak, Siemens, Grob, Doosan, Fanuc, Okuma, Makino, Index, GF Machining Solutions, Chiron, Trumf, SLM, Stratasys, Paul Horn, Iscar, Sandvik, Kuka and many more.
There was also a strong participation from Asia, America and Australia. 31 exhibitors were from India.To name a few Bharat Fritz, Werner, Forbes & Compny, Jyoti CNC Automation and more.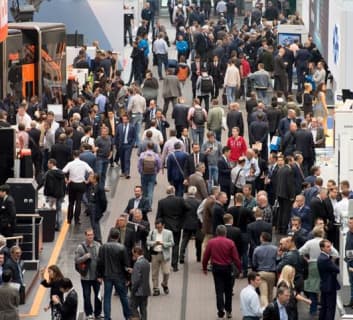 The Engineering Export Promotion Counter also participated in the Press Conference in Chennia and are in conversation with Indian exhibitors. EMO is expecting more participation from India again.  Last week it was found out that EMO has 1800 exibitors who have signed up and applications are coming in every day. Exhibitors in 2017 were above 2000. EMO is expecting to do better this year.
Dr. Schaffer and his team before coming to Pune had already visited Chennai. He was to visit Rajkot and then Bangalore. India is an important market for production and metal tool consumption. EMO has always had good participation from exhibitors here in India and also trade visitors. In 2017 10 percent of the exhibitors were from India.
The Theme for this EMO 2019 is "Smart  technologies drive tomorrows production." Major trends in the industry will be discussed especially 4.0 IOT which is growing in all sectors of production.  Smart technologies is the key to greater productivity, better quality and more flexibility. The customer is also looking for cost production and cost optimization. These are the classic new goals for new and further development in production technology. The top priority of almost every EMO exhibitor is to offer creative new solutions.
"What is decisive for the intelligent factories is the comprehensive networking for people, plants and business processes along the entire value chain."
EMO now has a dedicated exhibition area for IoT in production…a section reserved for individual exhibitors in the field of control technology, software and automation technology. This area also offers an attractive environment for IT providers if they want to boost their business with manufacturers of production technology. So EMO provides one a platform from product development to production, quality management and logistics.
EMO has also included academia which is being developed and will be up in the next 2 or 3 years. So that universities can participate.
There will be a speaker's forum, as people don't want to sit half a day in the hall and listen. They can now listen to these speakers speak on their subject of interest like topics on machine learning, artificial intelligence all united reality and everything round the industry 4.0
Umati a common language for Industry 4.0 is the brand that has been included in EMO 2019. It is a universal tool interface. The interface standard for machine tools based on OPC UA, with all its functionalities. This provides neutral and open connection of machines to higher level IT systems. A tool that is required for the success of the industry 4.0. this will help transfer data from different machine manufacturers with different control systems to ERP and MES system or into the cloud.
Young tech enterprises at EMO is a new aspect that is being set up for startups. Where these startups can connect for investors and customers. Startups from world over are invited and thus it will offer a wide spectrum of opportunities and networking.
The ministry of economy has launched a price of a 1000  euro for digital innovation in production and is given twice a year..
The need for finding the right people for companies is a strong need in Germany. And so EMO is setting up a job market in Hanover for 2 days. Technical jobs for youth is important. However it has been noticed that there is a lack of women in the field of technology, and so opportunities will be given to women.
Next Mr. Rose addressed the crowd. "Sheifer is the owner of EMO and is responsible for the content and has a direct tieup and relationship with the exhibitors where as I represent the infrastructure. We do a lot of services around our events."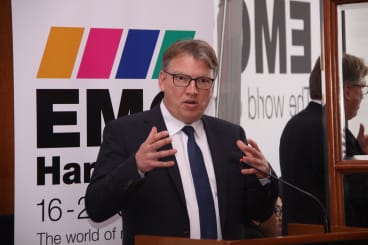 He spoke of the infrastructure and services how they help the exhibitors through complex processes. He also mentioned the area that they have for such exhibitions.
"We have 24 halls on the grounds and total occupied area of 1 million sq meters just togive  you a comparison this is more or less a size of 130 football pitches by that it is the biggest fair ground in the world."
As networking is becoming important they have thought of providing all facilities that will connect the exhibitors which includes 5G.
"Exhibitors will be able to connect their smart machines with the storage and warehousing systems with the production facilities. The machines will be able to exchange information autonomously. They can trigger their actuals they can control each other so this will allow  our exhibitors to bring their display and their exhibits to a new level."
With this kind of preparation I am sure EMO 2019 Hannover is going to reap much success!