On day two of Shabdotsav, as noted actress Hema Malini from the Bollywood entertainment industry, draped in a pearl color sari, looking as beautiful as ever, walked on stage, the audience could not resist their excitement.
Celebrities from the entertainment industry, armed forces, and more were present on day two of Shabdotsav.
Not just a dream girl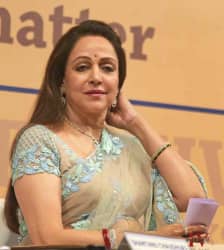 Hema Malini spoke about her biography, Beyond the Dream Girl. The author of the book, Ramkamal Mukherjee was present too. Hema Malini reminisced, "Right in the beginning of my career, when I was only 14, I was rejected. Maybe I was not destined for the Tamil film industry."
She narrated how her actor/ filmmaker Raj Kapoor approached her for Sapno Ka Saudagar and her day one of the sets. She expressed, "It was my mother who groomed me and encouraged me to get into the film industry, though I wasn't much interested. I did not go to any acting school. But, I followed everything that my director told me. I have always tried to do my best and prove that I'm the best."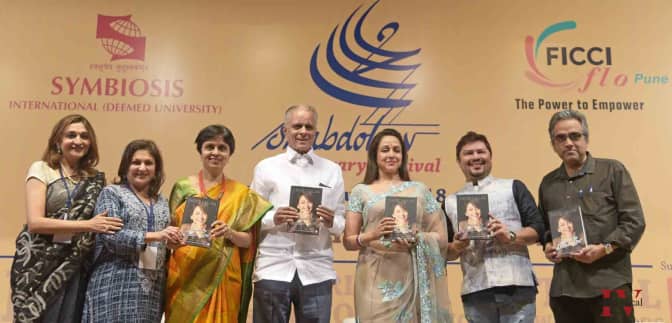 Theater and entertainment industry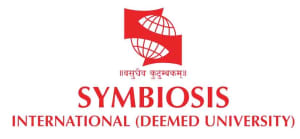 Earlier in the day, there was a mix of interesting talk sessions. Actor Naved Aslam moderated the Curtains Down session. The session included Bharat Dabholkar (ad guru, playwright, actor), Dolly Thakore (theatre actor), and Suchitra Krishnamoorthi (actor, writer, singer). Dabholkar and Thakore with their witty remarks and humorous anecdotes kept the audience entertained. The three spoke about their bond with theater, experiences from the stage, and more.
Talking about her play Vagina Monologues, Thakore said, "We have been doing this play for 15 years now. We have traveled almost every city in the country, except Cochin. It has been an amazing experience."
Krishnamoorthi threw light on her solo play Drama Queen, adapted from her book with the same title. As she recited a few lines of one of the songs from the play 'Hi, my name is Suchi!', there was a loud cheer in the audience.

It was Dabholkar who stole the limelight though. Surprisingly, the ad guru admitted that he is passionate about advertising than theater. Dabholkar shared, "I did my schooling in Marathi medium. However, to this day I have written some 32 plays in English. I must admit that theater doesn't interest me. Having said that, it's also the theater that connects with the audience more than any other discipline of art does. In all my vocations, advertising is the toughest of all. It's most demanding yet satisfying."
Read Also: Is your Karma dependent on your Thoughts?
A healthy dose
In the second session, Healthy Body Healthy Mind, the panelists were chef Sanjeev Kapoor, Dr. Mickey Mehta (holistic health guru), Madhuri Ruia (fitness and nutrition expert), and Dr. Sarita Davare (practitioner of health and wellness).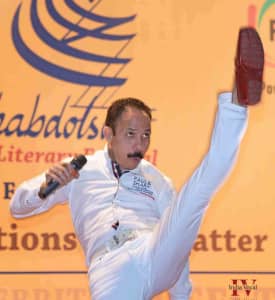 Dr. Davare shared a simple health mantra, "Have three small meals, two major meals, and drink four to five liters of water, every day. Don't skip your exercise, even if it's only for 15 minutes a day. If you follow this for 21 days, it will eventually become a habit."
Dr. Mickey Mehta brought in a fresh perspective, with his sheer energy, and philosophical words. He said, "Breathe easy. Breathe in rhythm. And be here, in the present. Walk in life, don't run. Love is the single largest nutrition you can have."
Of war and peace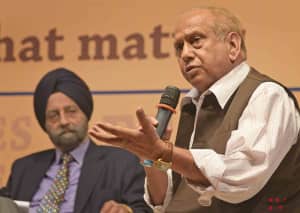 In the following session, March to a better tune, Air Marshal Gokhale, Vice Admiral Anup Singh, Lt. Gen. D. B. Shekatkar, and Col. Virender Kapoor gave an interesting insight into Indian army, warfare strategies, and the related aspects.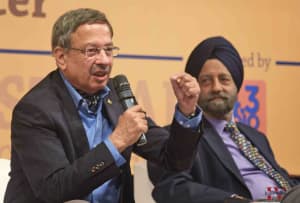 Talking about war, Vice Admiral Anup Singh explained, "People tend to confuse competition with conflict, and that's where the greatest fear lies. No one is a winner in such a situation. It becomes difficult in terms of economics and morals."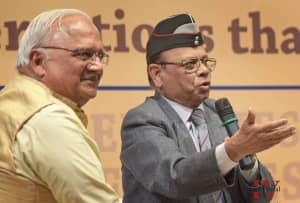 All the four panelists kept the young hooked with their honest and inspiring words, and their outspokenness. Lt. Gen. Shekatkar beamed, "Young are our future, our hope, and our confidence. The twenty-first century is about the power of knowledge. Definition and concepts of war are changing, as you see being adopted by Pakistan. Hence they radicalize their army."
The concluding session of the day The Mars Venus Continuum saw Urvashi Butalia, Sreemoyee Piyu Kundu, and Deepika Bhardwaj on the panel.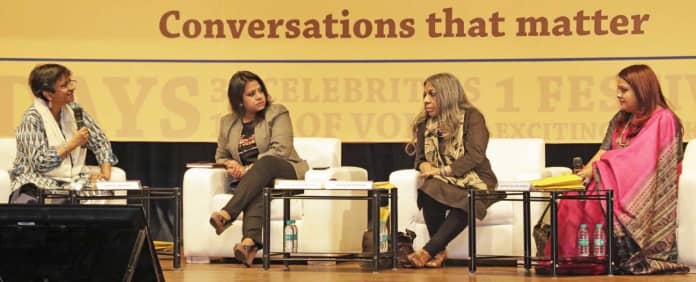 Shabdotsav 2018, a literary fest, was jointly organized by FICCI flo Pune and Symbiosis International University.