As the buzz around the Holi weekend starts conversations around you, one thought repeats itself. "What about the harm it does to you and everything around you?". We at Forest Hills, Tala have the answer to your question. An Organic Holi Getaway plan that is sure to end all other conversations!
Experiencing Holi at Forest Hills
Come all guns blazing this Holi for a 2 night escape that will treat you to not just the colours of holi, but also the soothing embrace of nature. Drench yourself in eco-friendly colours, sprinklers and the vibrant sunset around you, as the DJ sets the sundowner vibe for you along with our specially crafted Thandai! End your night of the 21st with a calming bonfire and retire to your villa of choosing or our selection of camping tents.
Colours of Holi at Forest Hills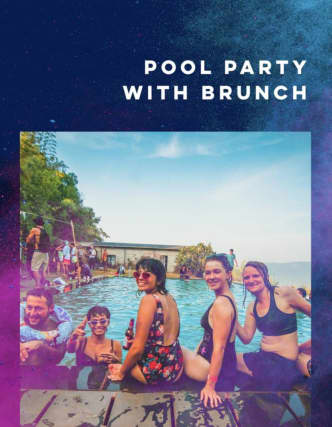 What's the best way to get rid of a hangover? Join us for some more fun. Continue your holi celebrations with a Pool Party the next day and an elaborate brunch with the perfect blend of courses. At Forest Hills, Tala we encourage the adventure seeker within you and have a variety of thrilling activities for you to indulge in during the day, like archery, rifle shooting, horse riding, and many more! Settle into the night under the endless dome of twinkling stars as we host our Movie Night for you.
When the next morning approaches, we will bid adieu to you with a heavy heart, but we promise that you will leave with a happy and memorable one!
When- 21st March-23rd March 2019
Where- Forest Hills Tala, Taraste Village, Tala, Maharashtra, India – 402111
Contact for reservations/more info- 98192 02000