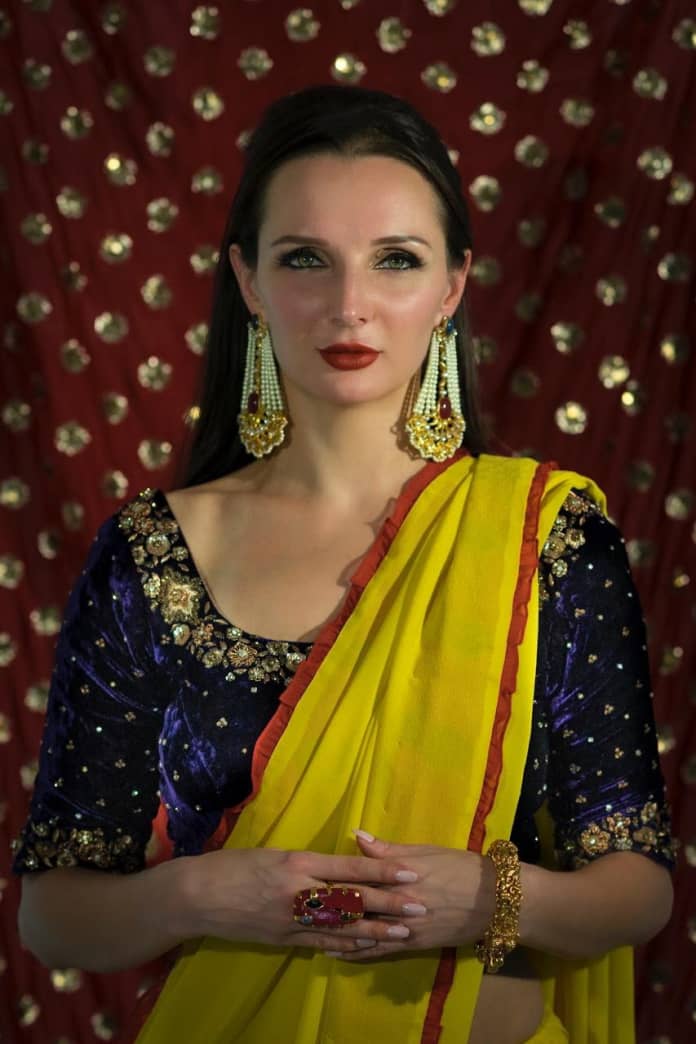 Do not get fooled by the dainty appearance you see. Behind this very petite physique lies a very strong woman who knows her mind and pursues what she feels will add to her joy and life that she has today well organized for herself. Fashion is her passion, and has been ever since she was little, when she would sit at the sewing machine and make dresses for her dolls. Dimple Majithia the fashion designer, mother and entrepreneur is vocal about her journey in the fashion world.
Self made she is, but she also gives credit to her family who have been her strength and fortitude through her many challenges in life. Most of all her sister.
Separated and deciding what to do  her sister was instrumental in initiating her passion which turned into a successful business years later where she had a thriving fashion store in Gwalior with 20 karigars. The journey began in 1999.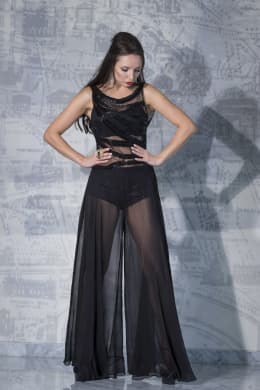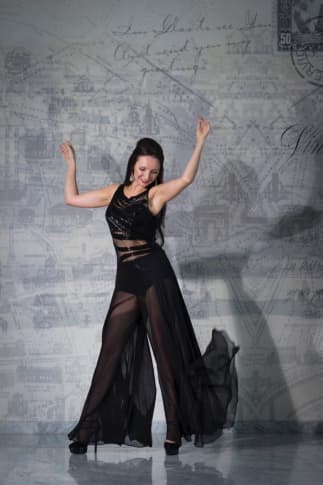 Dimple used to work for the ICICI bank, and to start a business in fashion that needed much investment was a daunting task. Her sister financed her, and she started small with just one tailor. It was after regular work hours at the bank that the tailor and she would sit for 3 hours at a stretch designing and tailoring clothes for others.
In 2006 dimple decided to leave Gwalior. She handed over the shop to her friend which she still runs in the name of Exotica. Dimple the kindhearted woman could let the karigars loose out on their daily bread. They needed to continue and hence Exotica still remains.
Pune was now her destination. It was a new market, and she had to start all over again. Once again investment was the challenge.
"I was getting jobs outside Pune, outside the state; however, the family that is my son and the love of my life wanted to stay together. This feeling of not wanting to be apart from my family propelled me to start a business here. My family was supportive and gave help. I then gathered all the courage to forge ahead once again in the field of fashion and design."
I had when I came in taken a look at the garments on the hangers, and I must say quite a few caught my attention. It was mostly the intricate embroidery and the lovey pleasing colors that held my attention. Someone new to city how did she manage to pick up her business so quickly, as it has been only 2 years since she started.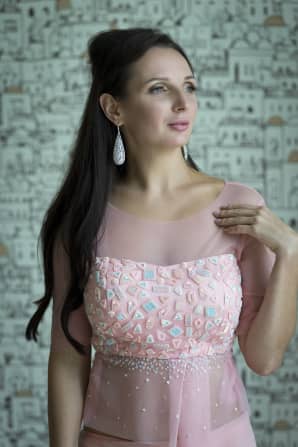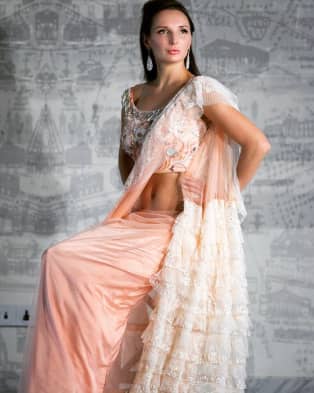 "It wasn't very easy in Pune. I have come a long way. I found good tailors, the master tailor and the embroiders are nice. They are not from Pune, my Master is from Gujarat."
How did she manage to source them?
"I always knew that these people are from inside the slums. I actually went into the slums. Went up to the 'addas' and asked people if there was any worthy embroider living there. And I got lucky."
However, karigars need to show case their art. Fashion designing is all about applying that art on clothing and accessories. So how does she go about it?
"I work in the basement, all my fabrics are sourced from outside Pune, mostly from Delhi, so also the material for my embroidery. Bombay and Dubai are two other places that I source my materials from. Chiffons are from Delhi.  Dubai is known for its exquisite linen. Chantilly and lot of lace is also got from Dubai.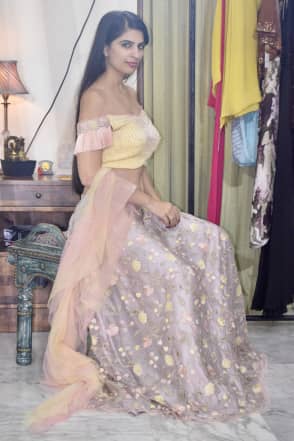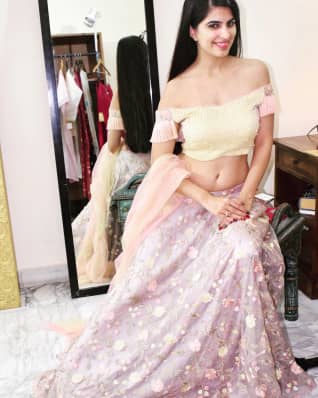 I was interested in the lovely pastel colors that soothe the eye. Oh the chiffons looked so classy and luxurious.
"Local dyer", she said with a smile. "From North India of course."
Some of the designs were different. Not the regular run of the mill. You can be a 'Fashion Victim' and yet be comfortable in her designs. They are timeless.
Her honesty was admirable.
"I have not studied fashion. But my passion drives the creativity. And yes I do look at international designers. They at times are my inspiration. My karigars are quick to visualize my ideas and implement them. So I am blessed."
I must say so because anyone wearing one of her designs would 'cut a fine figure', such are her designs.
Competition is heavy so how does she cope.
"No one can take anyone's destiny away. Healthy competition keeps you going. You want to be creative all the time. It would get boring if there was no competition."
I was wondering why only festive attire and wedding wear, why not casuals. Pat came the response!
"One could get casuals anywhere today. At a Zara's or a Marks and Spencer's!"
"I do smart casuals; however, not very often and mostly in Linen."
Dimple is very particular about the fabric she uses. It has to be pure fabric. According to her if one is spending much on a piece of clothing then let the fabric breathe. No compromise on this one.
What was the success rate at the exhibition NAZM the one I was at whilst interviewing Dimple.
She beamed and said "It was wonderful!" It was enough to know that it was successful.
The mother daughter duo had hosted the exhibition…Chahat Dalal and Rashmi Dalal, and mind you a lot of hard work goes on behind the scences.
Chahat and Rashmi, from making the invites to sending them out to selective clientele and staying all day at the 3 day exhibition to make sure the customers are looked after… they did it all! Kudos to them!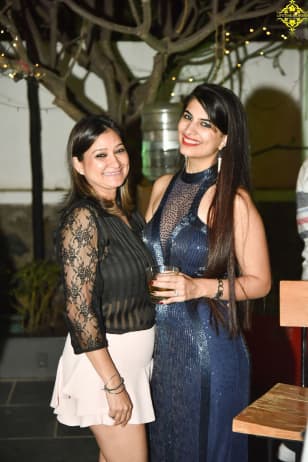 Chahat Dalal is known to many in Pune. She started her career with her foray into the world of Pageants, where she was a winner of the Femina Beauty Pageant. Today she runs Dazzle Dust along with Rashmi her mother, a company that hosts events and fashion exhibitions. She is a natural at this.
Many a recent fashion show, one of them being a show by FAD the famous fashion design institute was choreographed by her. Grooming and model management is also another forte!
By now I had sipped at my chai and had downed a couple of biscuits. My mind travelled to the karigars and wondered how they coped with this art of tailoring and embroidery, as this art needs focus that is complete.
Dimple was all praises for her karigars and master tailor. They go all out of their way to complete their task with perfection. They even work almost round the clock with 3 hours of sleep during season time.
Dimple in return sees to it that they are looked after well, from timely breaks to teas and snacks to taking them out for dinner when time permits. She sits up with them spending sleepless nights herself.
She owes it to them she says. She is very mindful of them and grateful that she has such a zealous team.
Well Dimple, all I can say is you have made a mark in the city of Pune in a short span of time with your designs that are functional, aesthetically beautiful and exclusive. The embroidery on every piece that is embroidered is delicate and intricate. As I see not one piece is repeated, not in your collection per season and not at all over the years!