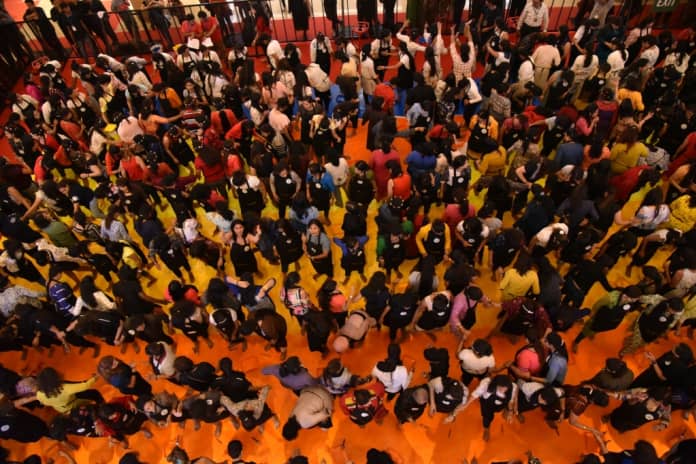 On the occasion of Women's Day 8th March 2019, our city witnessed a historic event as 350 women came together to create a painting with their feet on a life size canvas in an attempt to set a world record for "Most people contributing to the same foot painting simultaneously". It was a spectacular sight  seeing women from different walks of life working together to achieve this record.
The magic unfolded at The Pavillion at S.B. road today wherein a Huge Canvas was painted by foot by 350 women to leave an everlasting impression. The painting sends out a bigger message based on the UN theme for this year's International Women's Day, "think equal, build smart and innovate for change"
The Painting at The Pavillion
Alongwith the world record activity, thirty women ambassadors from different walks of lifecame together along with their affiliates to participate and promote women's rights and discuss how they have built their characters to affect a smart change in society.
Proud to organize this activity, Mr. Rahil Ajani, Centre Director at The Pavillion said, 'Women are the nourishing power of the Universe. They are the pillars of strength to their family, friends and everybody around them. Today, as we celebrate women's day, lets bow down to the entire women folk for achieving such humongous success in every field and cementing their position as leaders. It gives me immense pride to flag this significant event and we at The Pavilion will continue to celebrate womanhood"
The foot painting event was held on 8th March 2019 to mark the International women's day at the Ground floor, The Pavillion, S.B Road, Next to JW Marriott.