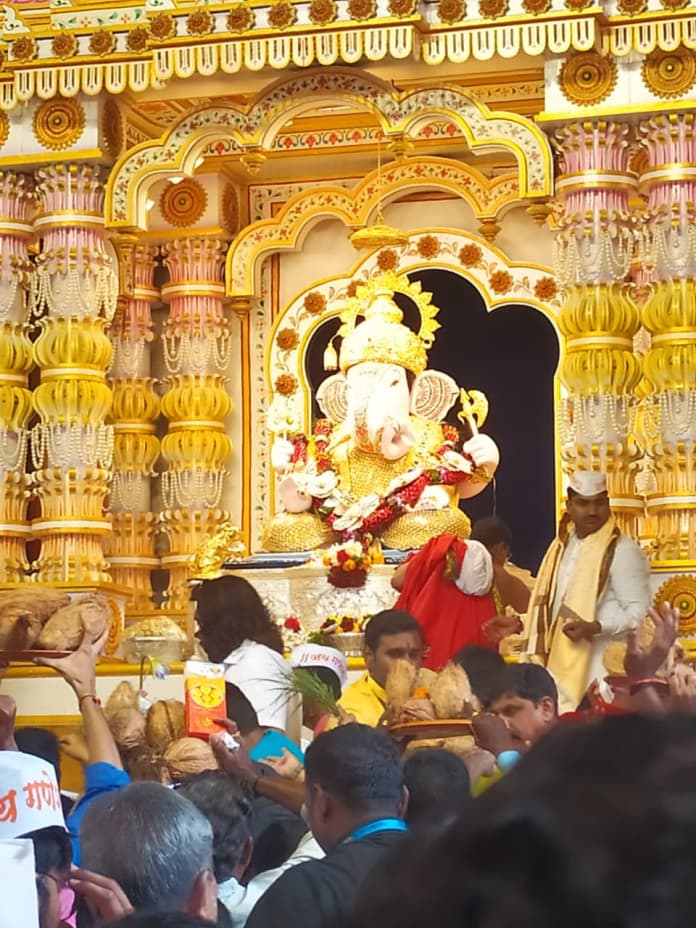 They say, "Open your heart and invite God into  every circumstance because when god enters, miracles happen!" and what I witnessed on the first day of Ganesh Chaturthi was nothing short of a miracle. Having been in India forever, one thing I had never witnessed was the rituals and celebrations in all their glory during Ganesh Chaturthi or the ten days when people welcome Lord Ganesha into their homes and lives. When he leaves to be immersed after the auspicious days are over, it is a sad moment where with a heavy heart they send this family member away only after making him promise his return the following year. Such is the vibrancy, the love, the joy, and the energy "bappa" as they lovingly call him brings to all.
I set out with my daughter to pay our respect to 'Dagdusheth' one of the idols of Lord Ganesha that is said to be jagrut, literally translated – awake. With faith in our hearts we set out festively dressed. As we approached, the streams of people seemed to turn into a river that eventually met into the sea. Throngs of devotees chanting his name with smiles and utmost fervor were either headed to worship him like just like us or were there to buy an idol to take home. Drums and dhols, flag dances and lajim performances. The energy was palpable and we couldn't help but feel that energy transfer into us as we saw the devotion and passion even through the rain that had just begun.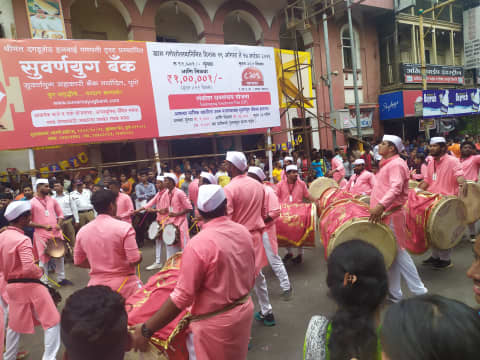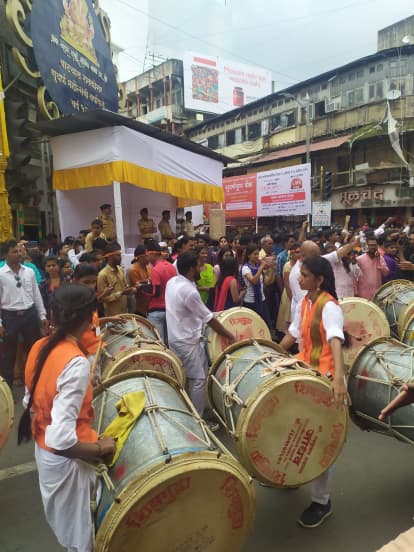 At a distance we begun to hear faint chants as we proceeded toward the temple. During these days the main idol is brought out into a pandal which is a huge tent beautifully decorated where people can come and worship him. This festival was redefined by Bal Gangadhar Tilak also known as Lokmanya Tilak to bring people together so they could have public and social gatherings which were then banned by the British. The sea of followers carried us with them as we were swept in his direction. And before we knew it, we were standing in the line for his sthapana aarti. Which means the first prayer after they bring him there; considered very lucky. As we heard the prayers and recited what we knew along with them the power of the faith that reverberated in the words of the hundreds gathered there moved our soul. Tears streamed down my cheeks and all one felt was gratitude to have had the chance to see him.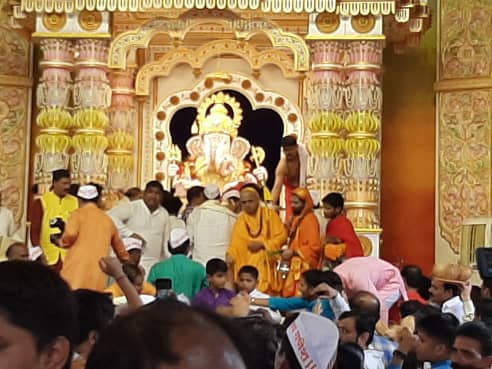 Now, I wanted more. I wanted to be closer to him. To see him at hands distance and take his blessings. So we waded through the crowd or what felt like a stampede, but we forged ahead and managed a corner view. To our amazement and good fortune, an elderly man seated at the entrance of the VIP line called out to us and asked us if we wanted to get in. We jumped at the opportunity and thanked our stars. Without a moment of waiting in the line, we were headed to his throne. Our hearts soared as we bowed low, feeling extremely blessed. As my gaze swept across the pandal I felt one with each and every one present there. No young no old, no rich no poor, no caste no bias. Only human beings, humbled by his presence, each hoping for their miracles.
Well, I had certainly gotten mine. Without even knowing what to ask for I had been given everything. I wish you all in this wonderful time of the year, the same happiness, oneness with his power and peace I felt standing before bappa. Happy Ganesh Chaturthi.