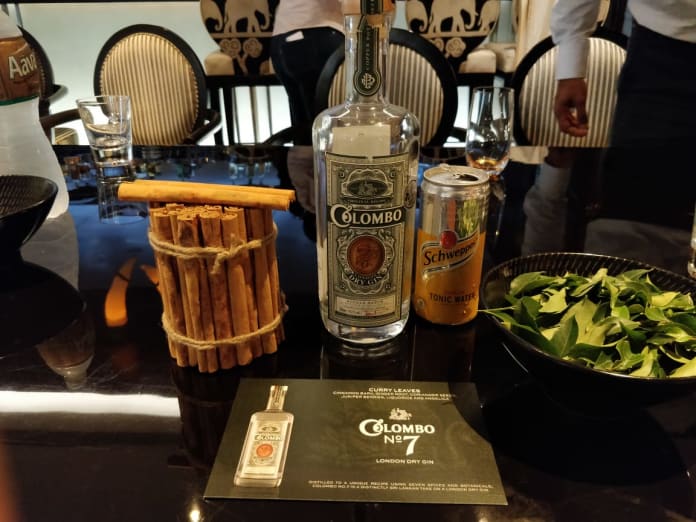 "Doing the hardest thing first is my mantra," said Mr. Amal de-Silva Wijeyeratne- CEO / MD. Rockland Group established in 1924 recently launched the gin 'Colombo 7' which has gotten an excellent review in the global market.
It was whilst watching an ad on cologne on the TV when he was a little child, a sultry voice in the back ground saying London, Paris, New York, that he realized when building a brand you must first build it in major cities. in his words, "it is futile to be in many cities and be unknown. It's having volume against quality!". His wisdom has served him and the gin Colombo 7 very well!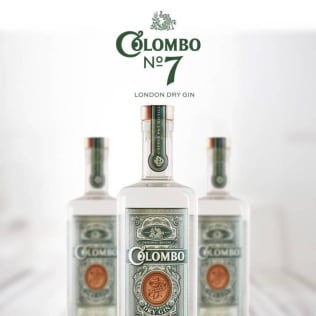 Amal's Journey
A Mechanical Engineer with Honors from UCLA London, he came a back to Sri Lanka and worked for a prototype which was a Mercedes collaboration with Dimo which ended up becoming Sri Lanka's first export bus.  40 of those buses were exported to Singapore. At 23 he was asked by a Japanese company to set up a company for them.
It was then Amal decided to learn some more and did his MBA in the UK. At a tough selection for a job, Amal was one of the 4 out of 240 candidates to have been selected. Once again his intellect shone through. His profile took him to CGE&Y (Cap Gemini Earnest & Young) where he and his colleagues ended up being the last of the 40 change management consultants.
This young man sure managed to change the situation that he was exposed to when he once again returned to Sri Lanka to manage the business, a promise he had to keep to his ailing grandfather.
Botanicals such as juniper, citrus peel, cinnamon, almond or liquorice, and neutral grain alcohol are used to distill gin. The botanicals are natural as you can see. During the 2nd world war these kinds of Europian botanicals like angelica liquorice, and  juniper came from Europe and were not really found in Ceylon and were extremely expensive.
The Ingredients
Not getting the ingredients did not deter Amal's grandfather who ran a distillery. He worked around it to get the essence of spiciness. And to make the marriage work he used curry leaves, cinnamon, and ginger instead.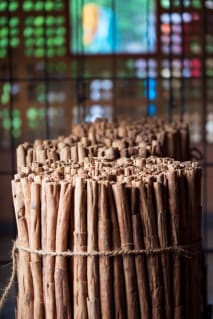 When I heard this I was actually astonished. Announcing curry leaves, cinnamon, and ginger one would have wondered of the bouquet. However, the bouquet of the gin was extremely aromatic. It was as if one were inhaling a bouquet of spicy flowers. It was slightly pungent, curried, earthy and warm. Incidentally, all the ingredients mentioned have tremendous medicinal value; from curing cancer, to balancing blood pressure and diabetes, regulating circulation and is used in the case of Alzeihmer.
To this Amal jokingly said, "We do not say it is medicinal!"
"The gin is distilled with authentic botanical ingredients and no artificial-flavors are added. It is a distilled gin not a flavored drink. In that sense, it is healthy and properly made."
He went on to further explain with a simple analogy.
"This is how I would like to say it, when you have fried eggs and you sprinkle pepper on it; Why do you do that?… Because it makes it interesting!"
"That is what we did. We took what is a standard London dry gin and made it a little bit spicy as it suits our palette; however, we found that it suits the palette of many around the world. We have got fantastic reviews in London and  Europe, and people seem to love it."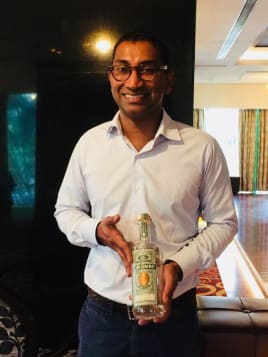 The Ceylonese Cinnamon
And then he corrected me. Ceylonese cinnamon! He said, "It is from Sri Lanka." Well Ceylon was the name given by the British during their rule, now Sri Lanka since 1972.
I knew exactly the reason why he had stressed on the 'Ceylonese Cinnamon!'
If it is the Ceylon cinnamon then according to the books and literally it is the "true" stuff. Cinnamon otherwise is also known as 'cassia cinnamon' also, sometimes in Europe as 'cassia'. Ceylon Cinnamon is light in color in comparison to the cinnamon here in India, also very delicate and sweeter to taste…so flavorful.
The Story
I had now to know more about the grandfather's story that was so connected to the gin he had distilled which today has the world go ga ga over it!
It was during the second world war when the British wanted his grandfather to distill spirit for them, and voila the distilled gin was born! As the botanicals were expensive he used alternatives i.e the Indian herbs and spices – curry leaves, cinnamon, and ginger. It turned out well. However, there was a much bigger problem lurking. That of the regulations needed for this. Eventually after much to and fro they created a law CMFL (Ceylon made Foreign Liquor) . Soon India got lucky. They got a law called IMFL-India made Foreign Liquor.
"So when things got better after the second world war, my grandfather moved to the original gin that they had distilled. Which is produced till date under the name 'Rockland Gin', which incidentally is also the name of our distillery."
What about the new recipe?
"When there was a great economic issue in Sri Lanka, we thought of taking our recipe to London and so we began distilling Colombo 7 in London."
When did you become a part of the business? You were studying in London.
"The sunami had destroyed our family business. And my grandfather was unwell. I came back to see him. He took my hand and said, "Amal I hope one day you will have something to do with Rockland." . I said papa of course I will. I loved him he was an amazing human being. He was deeply passionate about all that he did, and a perfectionist. My grandpa was very special. I had a promise to keep."
"I came back approximately 12 years ago."
Colombo 7,  is the gin that is loved today in Sidney, Melbourne, Tokyo and recently in the USA.
The Rockland Group in Sri Lanka is the largest privately owned distillery and the largest importer of wines and spirits.
Ceylon Arack, another family owned spirit has also received rave reviews world wide.
"Ceylon Arack is the first that we launched made from the coconut flower. People would have thought why was I taking this product to other parts of the world? It was a lot of hard work. It is now in the best bars of the world."
He is also responsible for creating a platform for diversification into non-alcoholic drinks by launching Sri Lanka's first Natural Mineral water brand
In a short span of time to have attained so much of recognition is an achievement. Marketing and Branding a good product is essential. And of course Amal has been the strength behind it along with his wife with whom he debates and discusses all. Two great minds when put together can move mountains!
Amal's forte is marketing and this was his core strength that he had opted for at Gemini.
Flipsydee is the distribution agency that we cannot ignore. Shailendar the director and CEO of Flipsydee, another young dynamic gentleman comes with certain buisness fundamentals and ideology in place that brought the two Amal and him together. They share a strong value system, beliefs and ideals that are similar; the reason for them to have trusted one another, and to have started work without actually having met one another during the initial phase. A common friend had connected them.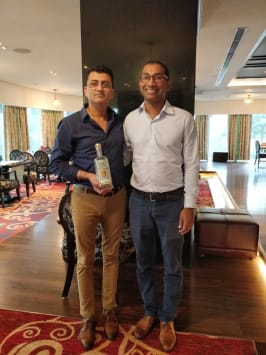 Shailendar and his team marketed the gin Colombo 7 aggressively. Today this gin is on the menu of all up market restaurants and hotels in India.
Flipsydee has 40 of the best brands among spirits. He says it is good to have a few brands so that he can focus on quality and give the best to his customers instead of distributing hundreds of brands. He went to on to explain the tremendous competition that prevails in the market. It made me understand the reason for so many 'happy hours' in the market and the 'one on one' free funda!
Shailendar comes across as a very balanced individual, an astute man with much integrity and loyalty towards his work. It has brought him tremendous success since he began, which is 4 years ago.
In Amal's words, "You don't suddenly wake up with the perfect answer for success. When you are searching for something and are passionate about it the universe will collaborate with you. It is a lot of little things that aids you in your journey."
"We like to be perfect at what we do, persevere and not stray from what it. There is no short cut. Hard-work is fine."
.