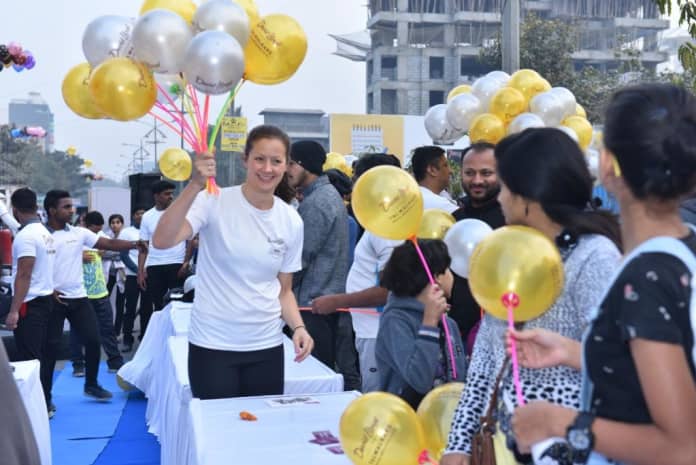 An experienced business leader with a history of developing and delivering new concepts in the health, wellness and fitness industry.  She is a strong strategic development professional with skills in business planning, analytics, concept implementation and operations. Hazel Geary, Chief Operating Officer, David Lloyd Clubs Talwalkars, spoke to India Vocal on the occasion of International Women's Day about fascinating Pune, family time and the club she is developing in India for the first time.
Excerpts from the interview:
What motivated you to come to India and develop a premium club of health, fitness, racquets and family?
The opportunity to work in such an exciting and developing country such as India was too good to pass up.  Having visited Pune I knew that there were a lack of family friendly facilities and so I was really thrilled to be able to bring David Lloyd Clubs Talwalkars here to fill that gap.
How was the experience working in India for the first time?
There have definitely been highs and lows but it's a fascinating place to work which is constantly changing.
Now that you are in India for more than 2 years, how has been the transition from UK to India?
There are obviously some things I still miss from the UK but now I've been here 3 years I've adapted a lot especially to the weather!  There are lots of differences between the two countries but also some similarities and there are lots of places to get a taste of home when I need it.
How is UK and India different when comes to sports and leisure?
India is really lacking in sports and leisure facilities and so there is so much untapped potential.  In the UK our weather means there is more demand for indoor facilities than in India, although monsoon and the height of summer also requires some indoor spaces.  What is really different are the amount of family friendly leisure facilities, in the UK there are lots of different places to go and spend time together as a family but in Pune these are only just starting to appear so there is a lot of opportunity.
What was your thought process when you started to build David Llyod Clubs Talwalkars?
We were very clear that there was a gap in the market for family friendly health, racquets and fitness facilities and so we wanted to bring the David Lloyd UK model here but make it relevant to the local market.  We have therefore added more dining, additional badminton courts and lots of family spaces in our club here as well as a billiards room which is a unique feature for us.
What do you have to say about the scenario of a family time here?
Family is so important here in India and like the UK everyone's time is precious especially with longer and longer working hours and big commutes.  It's therefore important that people can make the most of their time together and as our lives become more sedentary, making that time as active as possible is vital.
You are building a team of experts here for this Club. What do you see in someone before choosing a candidate? 
We believe that someone's values and behaviors are as important as the skills they possess so we look for both in a candidate.  We can train the teams to be the best at what they do but they need to have the right mind-set and service focus in order to deliver to our members.
We believe you are getting all the facilities of an international standard, what about your team members, will they also be getting specialized training from UK?
Many of our team will be going to the UK for training and we will also be bringing out trainers to develop our team in areas such as health & safety, sports, fitness to ensure that we can deliver the best service and expertise to our members.
Why are you building a club of health, leisure, fitness and family here?
The decision was easy, given the growth Pune has seen over the years and the warmth we have felt from the community, we knew that Pune is the perfect foundation to help us create Asia's finest health and family clubs. It is also an amazing market with a growing population that are currently under served in terms of great leisure, sports and fitness facilities. We are really excited to be opening our first club outside of Europe and we have especially selected Pune. A new premium experience to club users in India infused with lots of clubbiness.
Where do you see yourself in the next 5 years?
I love this business and the health, leisure and fitness industry so hopefully I will still be working in this sector finding new ways to engage more people in active lives
Being a mother, how to maintain to give time to your child and oversee all the work happening at the site too?
I have an amazing husband who helps me out along with being so fortunate in India to have home help. I'm good at organizing my time and ensure I have time for work, my family and myself!
How is International Women's Day important to you? 
I think finding a way to recognize all women and the role they play in society is so important.  We should spend more time celebrating the great people in our lives both male and female but this is a great way to spend one day and focus on the achievements of women.