India Vocal in conversation with Dr. Manish Sabnis, DNB (Neurosurgery), Brain and Spine surgeon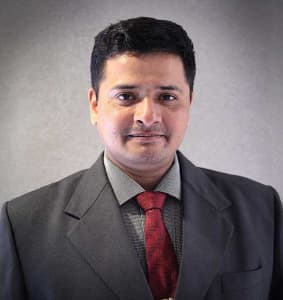 Dr. Manish Sabnis minced no words speaking about his decision to choose neurosurgery as his profession, the various ups and downs he faces year-round, his take on the usage of Google in one's life, and lastly, why 'the helmet' is so important.
What made you think of becoming a neurosurgeon?
During my college days at Seth G S Medical College, one thing that my teachers always taught me was, if one wants to do something in life, one must do it big. That's what made me opt for Neurosurgery. I worked in orthopedics for two years after my graduation. Later, I joined neurosurgery out of interest. Then I completed a six-year post-graduation course in neurosurgery. And here I am today serving people.
Why do we have very few neurosurgeons?
It is a super specialization. Neurosurgery is a demanding field requiring an enormous amount of time and devotion. One needs rigorous training and courage to be a neurosurgeon. Prospering doctors go for radiology and not surgery, in general. The instruments are very expensive; and starting a private neurosurgery setup, which is world class, remains a dream for all. Because of these multiple factors, few people want to become neurosurgeons. Moreover, fewer have the courage to go to rural areas to serve. Most of the neurosurgeons prefer city limits so as to work at par with the world.
What do you like about the work you do?
Good results! Earlier neurosurgery was looked upon as morbid. But after working with my mentor, Dr. Charudutt Apte (HOD of Neurosurgery), I realized if neurosurgery is applied meticulously and in a planned way, you can deliver excellent results. For example, recently there was a patient, a farmer, who needed to get back to work as early as possible. So was discharged the next day; whereas most of the patients who undergo a spine surgery become crippled post surgery. The operation was a success as we were able to get hold of the actual problem. We could predict and deliver to him the best possible results. He started walking within four hours after the surgery. People may find this something beyond imagination, but this is science which speaks for itself. We have done nothing great, but have used our training effectively.
What do you dislike about your work?
No Family life; no social life!
We have abnormal working hours. I cannot see my kids growing up. On my kid's first birthday I was operating a case from 7 am to 12 midnight. Unpredictable nature of the long surgical hours makes us nervous and sick. One might get irritated if we don't answer their call for long, but he does not know what we have been through. In spite of missing special family occasions, we are not allowed to be sad.
We feel satisfied the moment our patient, who has withstood the surgery for 16 odd hours, opens his/ her eyes and starts communicating. The life cycle has really changed for me after becoming a neurosurgeon. The only time I get for my family is when I am not able to get out of bed due to illness.
What is the most rewarding in your area of expertise? 
Neurosurgery is the combination of surgical and clinical sciences. So, clinical diagnosis affects surgical results directly. We can deliver only when we are able to match clinical presentation with the surgical science. The surgery is a proven reward for the patient.
What is most challenging about what you do?
Educating those who don't want to listen is the most challenging part of my profession since the patient has a pre-conceived notion. Also, there are patients who don't want to know the truth, if it's not positive. Previously, I used to spend enough time on communication. But I realized that the patient and relatives suitably forgot what they felt was not important enough. So now, I give my consultation and ask the patient to get a second opinion if they want to understand it better.
I feel they are here to bargain for better pricing. Comically we always discuss amongst our fellows that it's easy and less time consuming to operate upon someone's brain than to educate them about a disease.
Read Also: Neuro care – Pre and Post Surgery
Any particular surgery which you think was a game changer.
Surgery has been evolving every day. Instruments today are better than the previous ones. Every time I perform any surgery it is a game changer for me. To tell you the truth, functional neurosurgery has been a real game changer.
Certain diseases are actual deviations from natural functions of the brain, for example:
Trigeminal Neuralgia– parts of your face pain with electric shock-like sensation.
Hemifacial Spasm– part of your face twitches involuntary causing functional as well as social embarrassment.
Parkinson's disease-body becomes stiff; develops involuntary movements ad imbalance due to loss of dopamine-producing nerve cells in the brain.
Functional neurosurgery has effectively been able to help such patients in relieving symptoms by an alteration in the functions of a brain. Best possible results have been bestowed upon us by an evolution of functional neurosurgery.
Any recent data on brain injury in the city that you would like to share… 
There is no proper indexing authority in India that monitors the accidents taking place on a day-to-day basis. We get two to three patients with brain injury every day at our hospital. Out of them, at least one patient has a serious head injury. Likewise, we have so many hospitals in Pune who treat trauma patients.
What are the immediate steps taken when someone has a brain injury?
One should see if the patient is still breathing. If not then try and do something to improve his breathing. Secondly, if the patient is bleeding, try to control it. Last but most important, mobilize him/ her to the nearest hospital as early as possible for immediate treatment.
Unfortunately, education about basic cardiopulmonary resuscitation (CPR) is lacking in general population. People panic and instead of helping the victim on the spot, more time is spent on running around. We need to imbibe the principles of basic medical care right from school education to materialize it.
What misconceptions do people have about what you do? 
People believe that neurosurgeons only treat brain diseases. But, by convention, treatment of diseases of the spinal column, spinal cord, peripheral nerves are a part and parcel of our curriculum. So, we operate any of the spinal motion segment as well as the peripheral nerve.
Google being available a click away, people are becoming their own doctors first. What is your take on it?
It is a handle-with-care search engine. Most of the time information available on Google is generalized. It's useful for getting an overview. One should first discuss the treatment option with a doctor and the plan of treatment. Google may give gross information but not in detail, which a doctor gives specific to that case, with his years of experience in the field.
The principles applied in the treatment of one patient differ from the other's, depending on the overall situation. You may check the website emedicine.com, which has the backing of the literature of medicine that concise medical information in the literal term. But, for overview purpose only. It's like how I cannot fight a lawsuit by reading on Google about how lawyers plead. There's a famous saying, 'stethoscope does not diagnose the disease, but the ears in between do'.  I still feel the information on Google can't be validated. Lastly, how we use any search engine is important.
What are the advancements that have taken place across the country; are we making use of them in Pune, too?
There have been sporadic advances, proven out of the box, in our field from India. In India, we don't have encouraging policies for research work to be carried out indefinitely. Hence, we still need to rely on the research work carried out in a western country like the USA. There have been hundreds of instances of different surgical techniques developed by Indian Neurosurgeons every year. But the government infrastructure is inadequate to take it to the next level.
We have been working with numerous indigenous instrument manufacturers as per compatibility of Indian surgeons. We are doing so at a low cost to bring neurosurgery within the reach of everyone. But, still, a majority of people cannot afford neurosurgeries. This will be possible only if the government steps in with private sectors, in establishing state-of-the-art neurosurgery centers.
Medical tourism is a boom across the county. How many international patients do you actually handle in a month and what is its success rate?
We don't have a significant number of patients here from abroad as compared to bigger cities like Mumbai and Delhi. It might be so because of better connectivity of these cities with the world and more recognition over many years. Pune will gradually develop to that level over the next 10 years. But we do have patients from Fiji, Saudi, Africa, Afghanistan, and Iran. Fiji government had collaborated with us and invited us (doctors) there for examinations and medical treatment for their patients.
Doctors are synonymous with God. What happens when a surgery is not successful?
The very thought of surgery scares people. So, as doctors we should not give false hopes or consultation like 'everything will be okay as the surgery is very small', 'nothing is serious', etc. One has to be true to his or her patient before the surgery. If proper counseling is done prior to surgery, the patient knows well about his condition, and the pros and the cons that can happen during his treatment. If the patient accepts what the doctor has told him well in advance, the term 'failed surgery' never arises.
We need to understand that the way we expect everything good from God, the same cannot be applied to doctors. Doctors are also human beings with special training in the treatment of patients. Once the disease process has advanced beyond certain limits, the damage has already occurred. So, there is hardly any doctor who can promise 100 percent recovery. In short, expectations should be valid, meaning they can be fulfilled by science; also, counseling should be adequate.
A recent article spoke of children's brain cells being changed by internet porn. How true is it?
This has been a sporadic report by a neurosurgeon. It's very clear that pornography can change children's brain cells, not structurally but functionally. Means, cells or neurons become accustomed to a typical behavioral pattern. It's like an addiction.
Behavioral pattern deviates from normal to abnormal. Children tend to become introvert, antisocial, develop neurosis, and have extreme timid or violent behavior. In short, porn changes the mental and psychological behavior in children who watch it.
Which are the good hospitals in Pune for Neuro-related problems? 
Sahyadri Hospital has the best possible facilities today with reasonable costing, where comprehensive neurosurgical, as well as neurological care, is available. We are able to deliver best possible results through excellent teamwork (six full-time neurosurgeons).
In Pune, many people ride a two-wheeler but are reluctant to use proper headgear (helmet). What do you have to say about it?
I am a rider myself. I don't leave the house without a helmet. A helmet is a must, extremely important for all the riders.
Many people come up with disadvantages of using a helmet. Does the use of helmet actually harm the riders?
People have a misconception that they have neck pain on account of the helmet. It is like you are riding a horse and your back is hurting, due to lack of exercise. So, even this excuse is a myth. (Using a helmet reduces the odds of head injury to 50 percent, and the odds of a head, face, and neck injury to 33 percent.)
Dr. Manish Sabnis visits Sahyadri Hospital on the following days:
Deccan branch on Wednesday, Hadapsar branch from Monday to Saturday, except Friday, and Karad branch on Friday.