The second edition of Shabdotsav could not have had a better start. With an invigorating insight into literature, religion, womanhood, and more, Javed Akhtar, poet, lyricist, and screenwriter, left the audience with a high spirit, wanting to delve more into 'Conversations That Matter'.
On day one of Shabdotsav, Javed Akhtar spellbound the audience
For the inauguration on February 3, the chief guest was Babul Supriyo, Honorable Minister of State for Heavy Industries and Public Enterprises, and the Guest of Honor was Javed Akhtar. Dr. S. B. Mujumdar, Chancellor, Symbiosis International University (SIU), presided over the inaugural ceremony.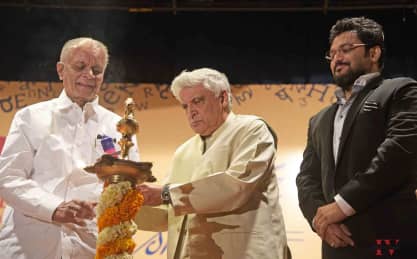 Shabdotsav, a literary festival, was started by FICCI flo last year. Shabdotsav aims to bring the community together to engage in conversations on topics, themes, and other issues relevant to today's times. In the two-day fest this year in total there will be 30 distinguished personalities, from politics, film industry, advertising, etc.
Javed Akhtar- a man of words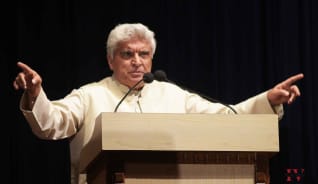 Javed Akhtar's profound thoughts intrigued the young audience. In a graceful manner Javed Akhtar accepted that it's his generation that is to be blamed to have had materialistic perspective. Javed Akhtar said, "There's a renaissance in today's young generation. They are becoming better people than us, because they are less materialistic."
Coming to literature, Javed Akhtar emphasized that no work of literature can change a person overnight, but it's a gradual growth in one's intellect and sense of aesthetics. Thus, giving an interesting take on art, Javed Akhtar expressed, "Any art includes imagination, observation, fantasy, and aesthetics. On the other hand, every art also has a craft that's totally surgical."
Akhtar proclaimed that half the problems in the society arise because of bad communication. He reasoned, "We don't listen to others. When we start respecting words, whether they are yours or someone else's life will become easier."
Motivational words for the young
The most important aspect that he shed light on was uniqueness. He encouraged the young to follow their hearts, but with an objective in mind.
Javed Akhtar beamed, "Each one of you is unique. You are a one-time phenomenon. You are looking at the world from where nobody has ever seen. And if you don't see it that way you are careless because you let yourself being brainwashed. Then the real 'you' is lost."
Women empowerment
There were bouts of laughter when Javed Akhtar came up with witty remarks, especially when he voiced that morality is a boring word. Talking about how religion hampers women's empowerment he said, "Wherever in the world there's religion women are not empowered, human rights are reduced or are nonexistent. Religion doesn't give you fairness. It justifies your unfairness. Hum maa ko bhagwan kehte hai insaan nahi (we revere mothers as gods and not consider them humans). None of the girls here is devi. You are human beings and ask for your rights as human beings."
His concluding words summed it all up- Be good to yourself. Love yourself; love your nation; love your literature; love your roots. But don't forget that you owe yourself as well.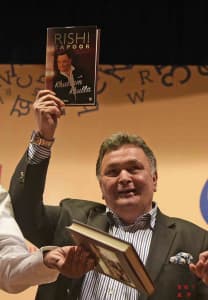 Blend of politics, journalism, and entertainment
With such an intellectually-stimulating start, the rest of the day followed suit. The second session Tweet Your Politics included politicians and spokespersons Muhammad Khan, Sambit Patra, Babul Supriyo, and Mayank Gandhi.
The third session was yet another interesting slot with veteran actor Rishi Kapoor talking about his book Khullum Khulla, which he released on the occasion. This was followed by a thought-provoking session No News? Only Entertainment in which senior journalist Shekhar Gupta enlightened all on journalistic aspects.
The fifth session on day one saw author Ravinder Singh talking about his works and the genre of romance. The concluding event for the day included Performance Poetry and Open Mic, with student participants.
Shabdotsav is being organised jointly by FICCI flo Pune chapter and SIU. Flo is the women's wing of the Federation of Indian Chamber of Commerce and Industry (FICCI).