He spoke less and sang more.The crowd, him they adore.He sings all genres. Romantic, Retro, Peppy, Sufi, and Qawwali. He is Javed Ali.
After 7 years of a roller coaster ride, struggles, learnings, and several songs, 2007 brought Javed Ali recognition with his soulful rendition of 'Ek Din Teri Rahon Mein' from the film Naqaab. A string of hits followed – Guzarish from Ghajini, Kun Faya Kun from Rock Star and several others.
Javed Ali himself became a Rock Star creating a loving space in the hearts of many a fan.
That evening on 17th February 2018 Javed Ali delivered the best of his selection from a vast repertoire in a concert held by Radio Mirchi Live at Amanora Mall.
An 8 member band of accomplished musicians accompanied Javel Ali that evening, rendering harmony, rhythm, tempo, texture, instrumentation all the way.
Romancing the Evening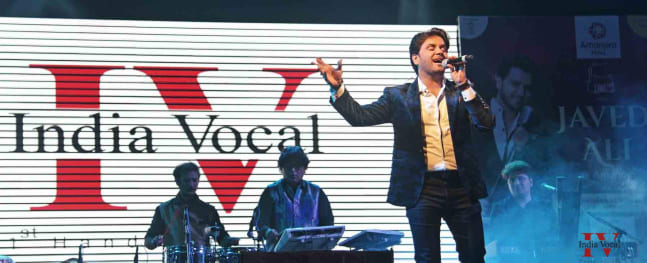 "Romantic mahol hein, romantic sham hai, Kuch romantic ganose shuruwat karte hein."(romantic atmosphere, romantic evening, let's start with some romantic songs)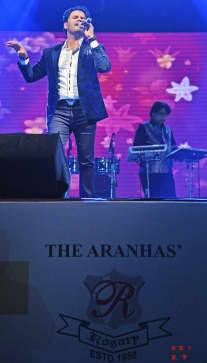 He opened the concert with 'Keheno Ko Jashne Bahara Hai' from Jodha Akbar that won him the best playback singer.
'Tu Meri Adhoori Pyaas Hein' from Ghajini that had a peppy beat to it. It was loved by the audience. The song was on the best list of songs on Gaana.
And the Stardust awards nomination Tu jo mila.
Javed Ali grew up in an area called Panchkunian Road in Delhi. A colony known for qawwalis. He was surrounded by music. His father though his idol and mentor saw to it that Javel Ali learned with other teachers lest he takes his training for granted.
Versatile Performer
A calm demeanor when you meet him personally and a Rock Star on stage, he certainly showcased his versatility when he broke into a medley of chartbusters such as:
'Acha Chalta Hoon – Channa Mere' from the movie Ae dil he Mushkil,
'Oh Zalima' from Raeez,
Tere Rashque Kamar and a few more.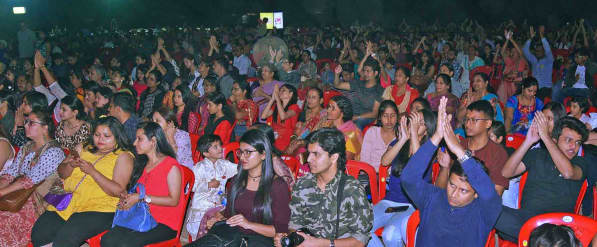 He every now and again would stop and ask the audience to clap and sing along. He cajoled the audience into singing the chorus. The audience was only too happy to oblige. They clapped with enthusiasm and glee to the beat of the songs and sang along.
Reverence for the Almighty
There was an unexpected pause when he took a white handkerchief out and tied it around his head. He knelt down and paid homage to the Almighty. He was preparing himself to sing us a few Sufi numbers. According to Javed Ali Sufi music has the power to wipe away social tension.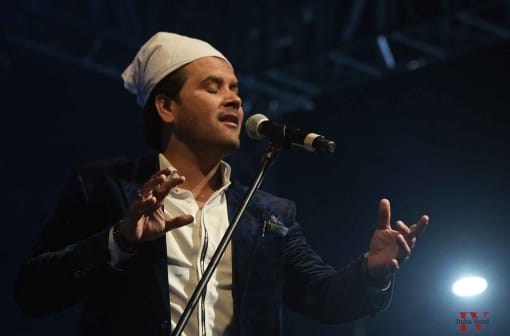 His reverence for the almighty was visible in the emotional level of his performance. His soulful voice dripped with emotion as he rendered two of his famous Sufi songs:
'Kun faya kun' from Rockstar which won the Mirchi Music Awards for representing Sufi Tradition and 'Maula Mere Maula' from Delhi 6 sending the audience into a trance.
Javed Ali took a short break. He had been on the road for a week. Srinidhi a talented singer and co-performer belted a few popular songs in the interim.
'Jag Ghoomeya' from Sultan and 'Har Kisi Ko Nahi Milta Pyaar Zindagi Mein.'
A Stellar Performance once again
The area reverberated with enchanting music as Javed Ali once again broke into a medley. He rocked the audience with his stellar performance. The medley began with a romantic song from Tum Mile…
'Dil Ibadat Kar Raha Hai'
He rendered some of the most popular songs that sent the audience into a frenzy. To name a few:
Chand Chupa, Akhiyon ki Gustakiyan, Tu Hi haqeeqat Tu hi Humsafar, Ek Din Teri Rahon Mein.
The Harkat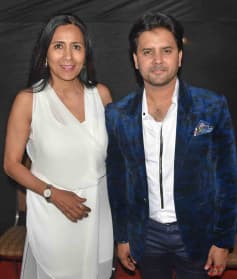 Being a judge at reality shows such as Sa re ga ma and Lil Champs he is used to testing the musical skills of aspiring singers. He indulged in a little musical fun test with the audience that evening as well. The audience had to repeat a line that held the Harkats (khatka, meen, murki, or gamak). Harkat is a short taan or inverted mordent in Hindustani classical music. The Harkats sure was a challenge for the audience! It was fun time. To Javed Ali, the harqats come naturally as a result of his riyaz and training.
He smoothly transitioned to singing some mesmerizing numbers.
'Tum Mile', 'Galat Baat Hai' and finally 'Nagada' which he sang with so much vigor and energy transferring the energy to the audience.
Sadly, the concert ended with this song leaving the audience reeling under the spell of his magical voice. What a show! Enthralling and an end that was enrapturing! I saw in him a tremendous zeal toward his craft!
The Close
A moment full of grandiose as Mr. Vinay Aranaha the Education Partner felicitated Javed Ali. The cluster head Mr. Hussien thanked Javed Ali for having come and hypnotized the audience.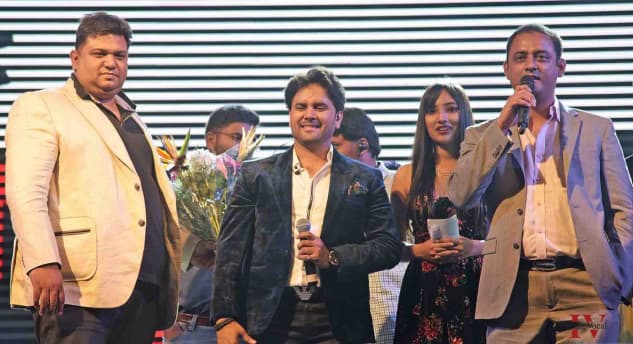 As the pretty Radio Mirchi RJ took over she requested Javed Ali to say a few words in Marathi. Although he sings Marathi songs it not being his mother tongue he was hesitant to speak the language. But which performer can resist the cheering of a beloved audience and a gracious host? He bid adieu asking the audience "Kasa kay Pune?"
The audience's happiness knew no bounds as they swarmed towards the stage to take a selfie with Javed Ali.

The singer is grounded. His humility in his upbringing is visible as he patiently waits Backstage taking pictures with as many fans as he could. Coming from a spiritual background it is difficult not to have a compassionate heart.
Sponsors for the event were:
Chandukaka Saraf & Sons Pvt. Ltd, Amanora Mall, Royal Enfield, the Aranha's Rosary Schools, Golds Gym, The Versign, Artifex Media, Emergere, India Vocal Media Partner, Mania.