Frequent traffic jams and traffic congestion delayed us. However, I was eager to reach the place. The weather was pleasant. It seemed like rain with soft winds blowing in the air. The bright moon light was of course misleading, but added to the ambiance at Levit8. Levit8 is the new rooftop restaurant in Aundh.
Saurabh the Manager at Levit8 was very warm and welcoming. There was no wasting time. We wanted to delve into the food. He suggested we have some cocktails. Why not! In a few minutes we were served with some exquisite drinks.
Thangabali the drink is named after a villain in Chennai Express! It took a while for the name to sink in. What was one to expect? A highly potent drink, one that would leave us drunk at the first go itself?  Jim beam was the burbon base … a whiskey sour with a twist. It was shaken with beetroot juice and eggwhite. I was expecting a medicinal taste. The drink was ofcourse for a friend of mine. But I needed to taste it. My curiousity could not be contained. A sip and I was floored. It was smooth and no hint of the medicinal beetroot taste. The egg white had spurned its magic. It helped balance the flavour and the texture.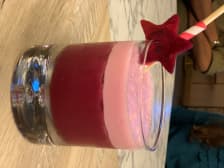 Rose bouquet..i was served with this pleasantly pink looking cocktail infact I would say it looked inviting. Could not wait to taste it. At the same time I was skeptical. To my surprise the drink although potent as it was a little heavy on the white rum was surprisingly good. It was on the sweeter side the way I like my cocktails, and there was this lingering rose flavor that one could actually enjoy. Creative I must say.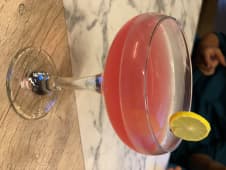 We called for some starters known to be the specialities at Levit8
Kaigaprao Chicken tossed in basil and red chillies an oriental dish. I was amazed at the flavor. Basil needs to be added towards the end of cooking, or when cooked for long can end in the dish tasting a little bitter. It needs perfect timing. And that is what the dish was perfect in its burst of flavours. The chicken fresh and succulent.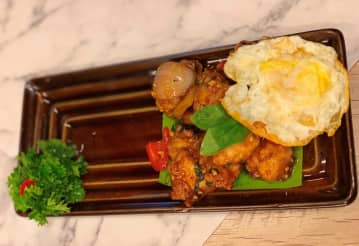 Bhut ke jhinge cooked in a tandoor. Bhut is synonym to hell with fires burning high. It is a challenge to get the texture of the prawns right in a tandoor. It could end up being rubbery. However, these tandoor Prawns were the best I had had till date.  Smokey, spicy, delicious with its magic marinade and cooked to the right texture leaving it juicy on the inside and crunchy on the outside.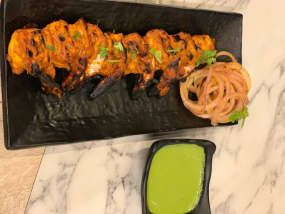 Rajasthani lal maas mutton cooked in Indian herbs red chilli. The red colour makes you feel it is going to be fiery, however, the chilli was well balanced and the ghee floating a little at the side made it look very appetizing.  The chef and Saurab did not breathe out the secret recipe that gave it so much of flavor. Sublte yet hmmm divine. The mutton what do I say. It was at only one place in the recent past that I had eaten mutton so soft and well cooked. It was not rubbery or chewy. It just melted in your mouth. Come and sink your teeth into this starter. It's a must try.
Levit8 does a variety of cuisines. We decided intentionally to go for a Burmese dish for the main course.
Burmese dish khao suey a noodle dish served with a thick flavorful coconut sauce in vegetables, you can also call for non-vegetarian, with an array of condiments that adds the true flavor to the dish. These contrasting condiments take the dish to the next level.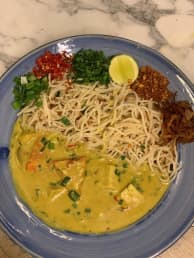 We waited for a while for the last dish to be served as the main course. The oriental was an intentional change. We went back to the Indian menu and called for Chicken/Murgh Rahara. A gravy of chicken mince thickened with cashews ground into fine paste, with chunks of chicken pieces added to it. I could not stop having morsel after morsel such was the dish. Finger licking good. I had to stop as my seams would burst.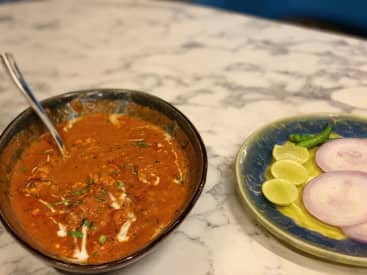 Satiated we decided to rest for a few minutes and then leave Levit8.
A Ride back in the moonlit night was the perfect ending.