In conversation with one of the leading fashion designers today, Gaurang Shah
He gave a new lease of life to the fading art of ethnic Indian weaves. He provided livelihood to nearly thousands of skilled weavers. Hyderabad-based designer Gaurang Shah is the man who revived the magnificent handloom industry.
In the past 17 years since he started Shah has become a prominent figure in retaining the Indian fashion. He tastefully blended the traditional and the contemporary. We caught up with this dynamic self-taught designer at his first exhibition-cum-sale in the city, on January 17. Passionate about hand-woven Indian wears, Shah comes across as a grounded and spirited man, who is constantly looking for ways to grow the Indian handloom industry.
Reviving the traditional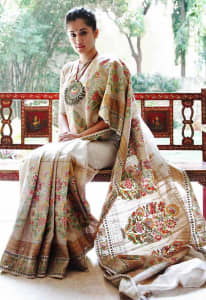 While Shah preserved most of the traditional weaving techniques he contemporized some. Until this man had associated with the weavers, the latter would indulge in the age-old weaving techniques that were passed down in the family. So for instance in a village near Visakhapatnam, the weavers weaved simple khadi saris, with small butis (designs). This the young found outdated.
Being trained in weaving, Shah reached out to such weavers. Over the years he has introduced several changes in Indian weaves. Right from introducing new yarns, varied color schemes, different designs and patterns, to blending various fabrics- he encouraged the weavers to adapt to the changing tastes to make their traditional weaves palatable. Shah says, "I contemporized the traditional mostly in terms of fabrics. Today girls want to wear sheer, glamorous, light-weight clothes. So I did Kanchi and Paithani saris in organza. For Banarasi saris I introduced a blended fabric of organza and silk."
Like father like son
Fascination for the Indian handloom industry germinated in him at his father's small store in Hyderabad, in the '80s. It was an everyday routine for Shah and his elder brother to spend some time at their father's store, which stocked blouse material. That was the time when the handloom industry was at its peak.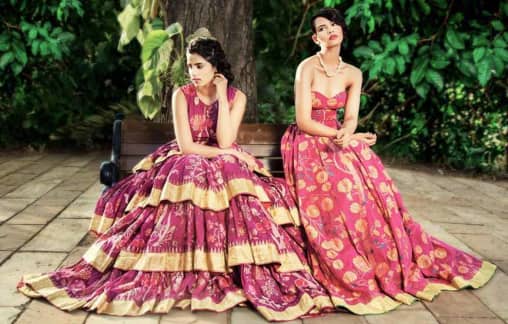 Later he studied interior designing, being clueless about what he aspired to be. But Shah admits that the course helped him develop his imagination. While his brother went into farming, it was his father who prompted Shah to join him in their family business. Thus in 1990, his journey began in the world of Indian fashion. Shah reminisces, "My father was a perfectionist. So as I started working at the store, I started becoming perfect too with colors, fabrics, and textures."
Treading his own path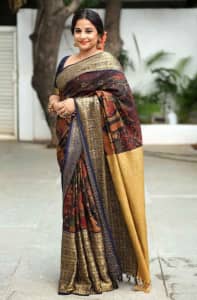 In '99, with the opening of another store, he flourished. With the boom in fancy designer wear around that time, Shah and his friend made a trip to Lucknow, Banaras, Kolkata, and Coimbatore, in search of fabrics for fancy blouses. Since he couldn't find such hand-woven material, he purchased saris instead. He sold these saris as blouse fabrics.
As the sale picked up, he went back to the same weavers and this time he asked them to make fabrics instead of buying the ready-made saris. The loyal customers, who by then had developed a penchant for the new fabrics, suggested Shah to make saris. They believed he had a good taste and eye for beautiful colors and combinations.
Shah expresses, "When I ventured into saris, I knew I would not sell only embroidered saris, which was a boom in 2001. Handloom was almost dead that time. Everyone was into chiffon and Georgette. But, the handloom industry always fascinated me."
Building a team of artisans
Starting his work with a weaver from Uppada to having some 600 handlooms in 11 states across the country today, Shah has come a long way. Today his team of weavers is adept in Kota, Paithani, Kanjivaram, Banaras, Jamdani, Bandhani, and more.
He has set up handlooms in far-off villages too, where the craft of weaving had died way back. The weavers now undergo training to adapt to different weaving techniques. He points out, "These weavers are ready to change. We give them new designs, concepts, and textures to work on. So even if they are skilled in any one Indian weaving, with training they learn the other techniques too. You just need to challenge them to keep their interest  alive. And only then can the handloom industry survive."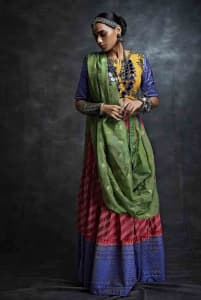 The creations under his label 'GAURANG' are all a great fusion of fabrics, designs, and textures. Moreover, he uses eco-friendly, natural dyes to enhance the aesthetic appeal of the saris. His forte lies in the use of traditional motifs, floral, and geometric designs inspired by the nature. So there are traditional Indian weaves and hand embroideries such as Parsi, Kashmiri, Chikankari, Kutch, Kasuti on handloom saris. From saris, he has further extended his collections to straight fits, jumpsuits and anarkalis for women.
Fashion industry
It was not until 2012 that Shah found his base as a fashion designer. Before that the fashion industry failed to appreciate the beauty of hand-woven wears. In 2012, in the third season of Lakme Fashion Week (LFW), he staged a small fashion show, which garnered him recognition. Since then he has been a part of nearly 13 seasons at LFW.
"I was the first one in any fashion week in India to showcase hand-woven saris on ramp. Each season I would do one sector, right from Khadi, Jamdani, Kanjivaram, Kota, Patan Patola, to Banarasi saris. I don't see any other designer, who has worked so deeply with weavers and changed the handloom sector," remarks Shah.
At the upcoming LFW Summer Collection in February, Shah will present his latest collection titled Neel. Fascinated by the indigo color, the collection will have hand-woven saris and other garments in shades of indigo. The collection includes prints, weaves, embroidery, and Bandhani, Parsikara, and Shidori techniques. You will see an array of Indian weaves such as Banarasi, Khadi, and Ajrakhpur.
 Finding inspiration
Like any other creative person, Shah too has his lows, when he feels saturated. However, he believes there's more to be explored in Indian handloom. In the past, his collections were inspired by the Bidri art in Hyderabad, South Indian temple art, Blue pottery in Jaipur, Ajanta-Ellora cave paintings, among others. Shah maintains, "There's so much art and craft around us. You can draw inspiration from the abundant things in nature."
Beauty of Indian weaves
Today, many actors are seen adorning hand-woven saris and other apparel by Shah's label Gaurang. To name a few, Vidya Balan, Taapsee Pannu, Sonam Kapoor, and Kirron Kher.
So how would you define the beauty of Indian weaves? Shah expresses, "If you come to the looms, you will find two people working on one loom. They could either be husband and wife, or father and son duo. They don't talk to each other the whole day. It's as if they are talking through their weaving. Their hands are synchronized. You should see their chemistry. They put their heart and soul into weaving."