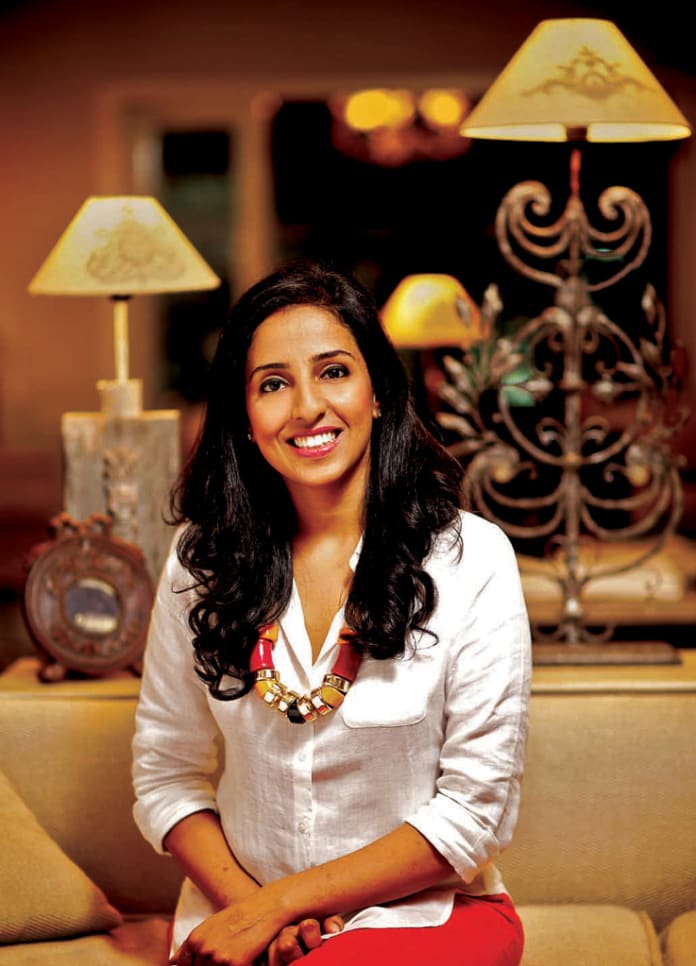 Her hard work at the college, her earnestness as a student paid off! "I believe it is about what you take from your faculty and the institute rather than what they give you."
 In the words of Coco Chanel, "Success is often achieved by those who don't know that failure is inevitable". I had the pleasure of a tete a tete this evening with a woman who is a perfect embodiment of these words. Driven by her passion for the craft, with a focus that's hard to find she patiently answers all my questions while juggling a million things, and clients at her flagship store in Pune. A gold medalist, having showcased her creations at all the prestigious fashion events across the globe, Nivedita Saboo talks to Prajakta Albuquerque about her journey as a designer, fashion forecasts, and Indian Customers morphing into fashionistas with global sensibilities.
Ranking 4th to enter NIFT, pursuing this vision with single-mindedness and then moving on to FIT – NY an affiliation of NIFT, was the beginning of her path to remarkable success.Nivedita Saboo has very cultured upbringing reflects her values as she speaks of her gratitude towards her mother and the family for their unceasing support.She compares the fashion industry of yesteryears to the fashion industry of today."15 years ago fashion designing was not something one did so easily.
Today it is!"
Nivedita Saboo work hard at a college, her earnestness as student paid off! "I believe it is about what you take from your faculty and the institute rather then what they give you."
ARVIND, the giants than in textiles, noticed this bright star that shone, and soon Nivedita was designing for the 8 brands they had under their umbrella; Wrangler, Flying Machine, and Excalibur to name a few. Designing for millions, responsibility and discipline became the philosophy of her life. A roller coaster ride;  from one machine, four thousand rupees and one tailor who had to be taught designer finish to now a factory with 150 workers and stores in Pune and Mumbai is Nivedita Saboo's description of her journey: "No journey is smooth. You will wake up to challenges on certain days. It's up to you whether you want to face them and learn from them and move ahead in life." Well said!
Inspiration is drawn from these challenges and woven into her designs to bring harmony to her designs.
to will wake up to challenges on certain days. It's u
"Do clothes really make a man?" "Yes absolutely!" she says. "Knowing what you are wearing, that it has been handcrafted for you right from the elements used to the way it fits adds to your confidence level"
"Would it boost the self-esteem?" I asked.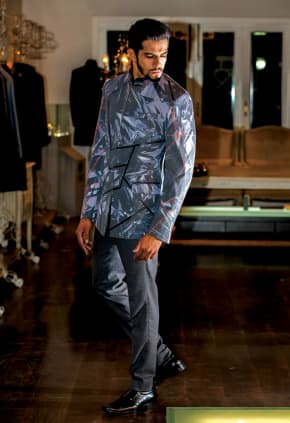 Quick was the response. "At our store, our clients are much better informed of their style quotient. It adds to their knowledge bank of what they should wear and should not wear. Being advised by an expert gives them that extra edge."
15 eventful years! The last few years have seen 6 to 7 fashion weeks around the globe, with barely 2 to 2.5 months in hand to prepare. How does this superwoman do it?
"Once the concept is born either from a travel or life experience it begins to take shape; first focusing on the fabric and then the detailing. Everything falls into place the same time. 85% to 90% of the collection is in my head, visualizing it on the runway."
Haute couture started in 1856 and we see a rise in its demand among the educated in India now; the rise according to Nivedita is only 1%.
What does she think of Pune as a fashion-hub? "I think Pune has the mix of education, culture, travel, and infrastructure. Everyone here who is our client is a globetrotter and understands designs. Trends here are as good as any other metropolitan city. Global trends and natural trends trickle down to this city."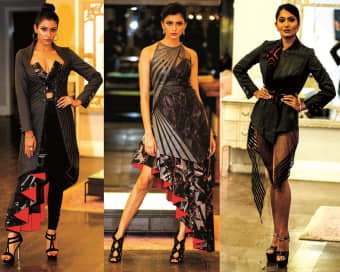 In the interim clients came by and sought her attention. The graceful lady graciously excused herself every time and personally interacted with the clients, not forgetting my presence. She handled the situation with grace and dignity. She brought to the interaction much empathy. The conversation flowed.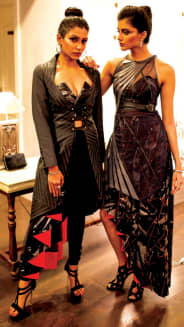 "Fashion statement in India", Nivedita Saboo said,"cannot be put into a box of minimalism." You can find enough who are minimalistic, enough who are arty, some who are organic and handloom, some who are going bling, some who are all about heritage and thread work.
Forecasts are not relevant to India."
I sort of agree with her on this. What with the advent of so many international brands infiltrating the market with the exact same styles that you see globally India is becoming more global. This has influenced even fashion bloggers, stylists, designers…….all are talking about and showcasing global trends along with Indian trends.
READ ALSO: Pune Fashion Week Season 7
"I do feel like India is moving towards a more global sensibility with an Indian soul so in terms of style we are going more towards you know, less bling and more minimalism, more technique," says Nivedita Saboo.Being a name to contend with in the fashion industry, I was curious to know how conscious are the celebrities about their style quotient. To her celebrities are more experimental, and so designers can give them more daring silhouettes and Avant-Garde cuts. They have the confidence and physique to carry it off, and so it is a very exciting space to work in.
Would you change your style with the changing times.? No says Nivedita Saboo!
The famous quote, 'FashionFades, Style is eternal', I begin to understand now.
Fashion is what you wear to express yourself without having to use words, you follow a trend. A style is a dialect of fashion… a peculiar form of dressing that you decide on for yourself to suit your personality. A style is a process that takes time… to evolve. It needs for you to understand yourself, your true motives and purpose in life.
Nivedita Saboo has certainly understood that and she brings it to her designs.
Nivedita Saboo's Couture Autumn Winter'17 Collection
To end this lovely afternoon, I wanted this vibrant yet composed lady to leave our readers with a message.Be it houte couture or styling or fashion. What would be her last thoughts before we conclude? "Fashion is a medium by which I would like to empower people to find themselves and their personalities. To know who they really are, and to get to find themselves in a space where the moment they walk into a room they feel powerful, confident, exhibiting great self- esteem; which is the core of an individual. That is what fashion should add to a person's life. As a designer that is the mantra I stick to."