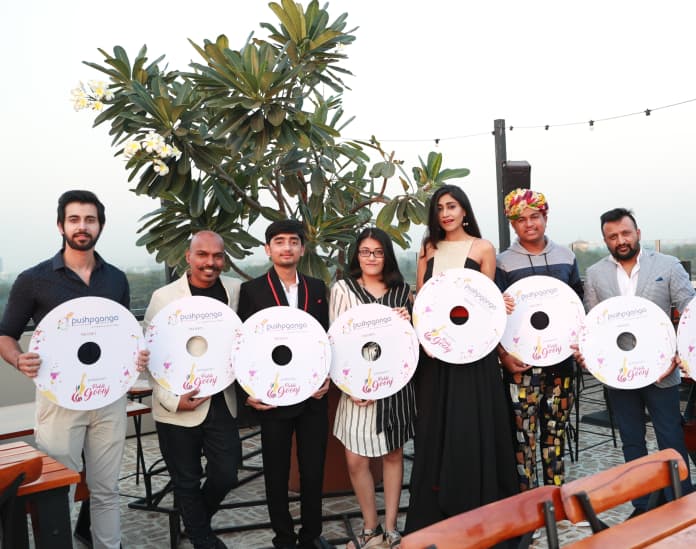 As I walked in Mr. Ammul Goel was on the mike talking to the audience. He explained that the 3 kids they had selected for Pehli Goonj had voices that were mellifluous and mature. By then I had found my seat and sank into it. I had to pay attention. I had come to understand what is Pehli Goonj. Who are these protégées who had been selected to sing?
Pehli Goonj is an ablum that the Pushpganga Venture has produced to create a platform for the three talented singers who became popular during the popular music reality shows on TV – Voice of India Kids & Sa Re Ga Ma Pa Lil Champs.
The three singers are Akshata Sambyal (15), Prashant Singh Kalhans (17) and Jasu Khan Meer (14).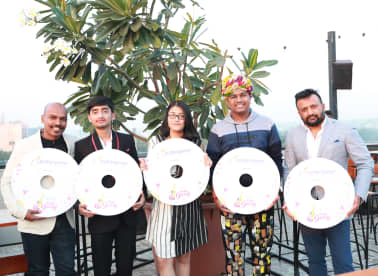 AKSHATA SAMBYAL : Hails from Bangalore. This talented child has already enamored the world with her mellifluous voice in a song she sang for Gunjaaish…meaning possibility. Here Pehli Goonj has made it possible for her to come closer to her dream and vision. She was a contestant at the Voice of India for Kids.
PRASHANT SINGH KALHANS :  Lucknow known for its art and culture has given birth to many established artists. Prashant, a budding talent who is aspiring to be a playback singer in Bollywood comes from Lucknow. He has already wooed throngs of people with his powerful renditions in Bollywood movies.
JASU KHAN MEER : Jasu started learning the flute at the age of 5. The Baansuri player from Rajasthan has made a mark for himself in the world of Indian Television with his popularity in the shows such as Voice of India Kids and Sa Re Ga Ma Pa Lil Champs.
"We have decided to create a platform for these gems, by first releasing their songs through this album Pehli Goonj. The next step would be to hold concerts across the country, in all major cities including – Pune, Mumbai, Bangalore, Lucknow, Hyderabad, Chennai, Delhi, Rajasthan, Gujarat, Goa, Nagpur, Chandigarh & Jaipur, and even abroad, where these youngsters can live their passion for music". Said Mr. Ammul Goel of Pushpganga who has been the pillar behind this venture.
Prashant Ingole the lyricist famous for his lyrics for Mary Kom, Race 2, Baji Rao Mastani has penned down the lyrics for the songs in Pehli Goonj. Prashant Ingole is known for his  understanding of the human heart, mind, and soul, and he displays it all in his songs which are becoming a rage every day. The songs for the Album Pehli Goonj display a multitude of emotions such as that of friendship, love, faithfulness and patriotism. Out of the 5 numbers the videos of 2 songs have already been launched. 'Kuch Bhi Nahin', which has music composed by Shreyas Puranik and 'Yaara Teri Yaari' for which Vikram Montrose has composed the music.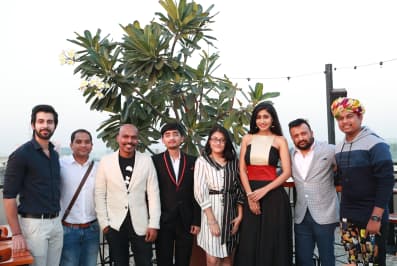 In Mr. Ammul Goels words, "There are 5 songs. 2 sung by Akshata, 1 has been sung by Jasu and 1 song has been sung by Prashant and the 5th  has has all 3 singers."
He once again reiterated that the children were chosen on account of their voice quality, and this was more of a social cause helping those who have talent and have no one to showcase them.
"We had a limitation of choosing only 3 singers, but yes we would be coming up with more such things since the team has done a wonderful job. We are also launching an app that will showcase talents across, and it is not limited to singing. We want to motivate children and adults who are talented through this cause. Every person who has passion and has talent which has never been showcased before has a chance here.  We will be launching an app 'SwagLiv' where we would be choosing talented people from the pool, and have shows, and events to show case them. Singing, dancing, acting, being a chef – it could be anything."
He also mentioned that the songs would be made in regional languages.
Prashant Ingole had some views to contribute. Prashant Ingole has been a part of the music industry for the last 17 years. The very many remixes of the songs in the industry were actually leaving him disillusioned. And when Ammul Goel came up with the idea of creating this platform…Prashant was only too glad to work on the idea, especially with the talent that exists.
"I personally believe that there is a pool of talent in India and nobody is identifying it. The reality shows just for their TRP get people on board, once the show is off the air, the singers are forgotten. So what we are doing is identifying the singers, whoever has talent and who is not getting a break; we get in touch with them, explore them and see how we can collaborate and that is how we go ahead. And I agree there is going to be competition. But you cannot keep everybody happy. I am sure there is going to be some destiny also involved. I believe a lot in the karmic cycle."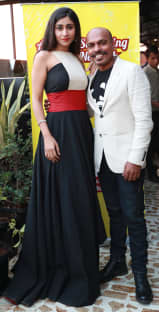 There was a presentation by Sameer on 'Swagliv' the app.
"We will be able to mobilize a lot of talent via this app; instead of kids wasting time on mobile and video games. It is better that kids use their talent for their betterment, and for the betterment of society. So anybody can log in and go to the section where they can show case their talent, and live screen their whole concert. It is an opportunity for everybody to be on the floor. We are trying to build a society where it will be influencing people and showing their talent. At the start it is about streaming and showing talent. Overall the concept of the app is to build shopping, to bring social awareness; also introduce live journalism on the app. We will keep on adding new features."
'Swagliv' is an app that is well developed with measures taken to reduce fake users, sift through in-order to have only serious people on the app. They have taken care of security of the data, how it should be maintained and used.
"We are verifying the app so that there is no misuse of the platform. We are also helping users and performers by having in place reward points and gifting plans. Also there will be virtual currency kind of concept. Anybody using this app has a chance to win something when they are spending their time on the app."
The team have been successful in creating an app with a social responsibility. It is an app that will create a platform for the applicants to earn from.
Prahsant Ingole a true leader could not rest. As we were coming to the end of the event he came and announced the names of all who were a part of the journey.
"  Yara teri yari, zhoom barabar and bismillah composed by vikaram montose
And he is the same guy who gave music for sanju.
The kar har maidan fateh was proposed by him. And there are 2 other songs have been composed by Shreyas Punranik, he is assistant to Sanjay Leela Bansali. He has composed kuch bi nahi and tanhai."
How could Prashant Ingole forget the backbone to this entire journey…the man who was there at every beck and call, the man who made it a point to see all was in place, the man who worked relentlessly…ABHIJEET NAG. Prashant's assisstant!
I got a chance to listen to some part of the two songs that have been released…kuch bhi nahi and yaara teri yaari. Beautifully picturised. Time you watched the videos too!