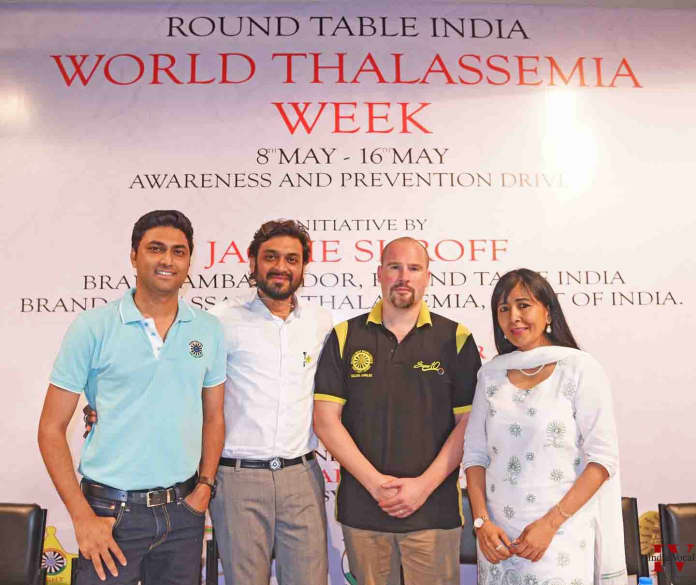 It was the 11th of May 2018. Round Table India in association with India Vocal, Dr.Vijay Ramanan and the Maharashtra Society of Thalassemia was responsible for adopting 4 underprivileged kids suffering from Thalassemia. Collectively we were able to raise Rs.4 lakhs which will pay for the medication and blood transfusion of the 4 children for an entire year.
A Genuine Cause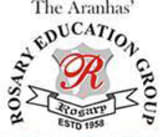 Mr. Lalit Pittie chairman of Synergy Round Table No.177 was responsible for raising 3 lakhs from the tablers towards the cause, and Mr. Vinay Aranha of Rosary Schools donated Rs.1 lakh towards the cause. Unfortunately, he was not present that day as there was a domestic emergency.
Jackie Shroff the Ambassador for Thalassemia and the Ambassador for Round Table India was not present. He is touring extensively for Thalassemia. However, he sent us a video and photographs. It was an initiative inspired by Jackie Shroff.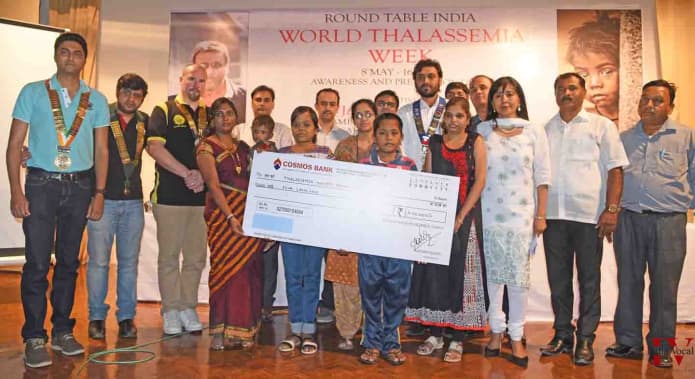 The secretary of Maharashtra Society of Thalassemia, Mr. Sameer Nikam helped us identify these 4 extremely needy children.
As I was coming up in the lift/elevator to the auditorium on the 6th floor of Poona Hospital where the event took place, I had the good fortune to meet one of the 4 children. This was a little one of 3 years of age, lying silently in the arms of the father.
I broke into a conversation with the father who narrated the traumatic journey and the excruciating pain that the family has to go through. Every few days the little child has to go through a blood transfusion which is a very painful process for a little child of 3. The transfusion can last for anything from 3 hours to 4 hours, during which time the child is poked a few times in the arm as the needle keeps slipping from the arm. Naturally! A little child of 3 cannot sit still for as many hours. And what is even more heart wrenching for the parents is to hear the screams of a child when the needles are inserted into the arm. To watch this repeatedly needs a heart of stone!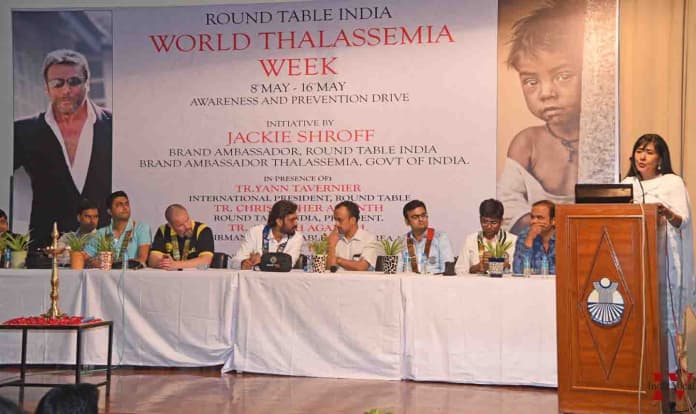 The parents had run out of money, the hospital they went to was not accommodating enough. Dr.Vijay Ramanan happened to them as a god sent like so many others who have been fortunate to have met him.
Like this little child, there are thousands who are suffering from no money to fend for their medication or blood transfusion. The hope of a bone marrow transplant is a hopeless dream for thousands. It, firstly being expensive and secondly, the most important, finding a donor who matches the group, is an extremely challenging task.
The names of the 4 children:
Shweta Talvalkar, Samarth Manjule, Parth Phalkye, Megha Sejpal.
Finding a Donor for Thalassemia
I had asked DATRI the stem cell donor registry to be a part of the event. Aby Sam John the Head for the Western Region was only too excited to be a part of the event. He gave us a beautiful presentation explaining to us how donating blood for stem cells is an easy process and not one to be wary of. Deepali Prabhu who looks after the center in Pune also came to be a part of the event.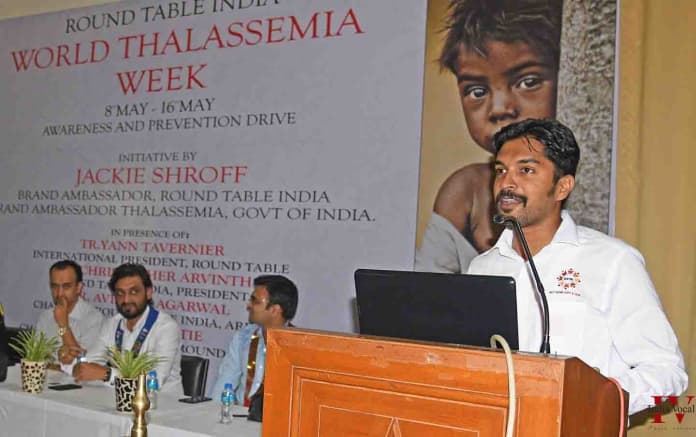 There aren't enough of donors firstly and finding a match itself is very very difficult! I emphasize 'very.
According to DATRI totally 341,500 people registered as blood stem cell donors across India. Out of that 384 people have actually become matches and donated their blood stem cells for needy patients. 2168 people are looking for life-saving matches as of now. This is the exact data.
A donor can be a family member or can be an unrelated donor (outside the family). Many times family members stop family members from donating blood to their kith and kin out of sheer ignorance!
A brief but concise explanation on how to donate to stem cells
One needs to register first. Only a cheek swab is taken at first. After which, five days before the donating of blood takes place one is given a painless injection that helps to increase the number of blood-forming cells in the bloodstream.
'Peripheral blood stem cell (PBSC) donation is one of two methods of collecting blood-forming cells for bone marrow transplants. The same blood-forming cells that are found in the bone marrow are also found in the circulating (peripheral) blood.'(taken from the net. BE THE MATCH)
So one needn't be wary of this stem cell donation. The stem cells are separated from your own blood. 'Your blood is removed through a needle in one arm and passed through a machine that will collect only the blood-forming cells. The remaining blood is returned to you through a needle in the other arm. This process is similar to what is used when donating blood platelets. It is like any other blood donation drive. It is a completely nonsurgical procedure.'(taken from the net. BE THE MATCH)
The process takes about 8 hours and is done in 2 sessions.
Dr. Vijay Ramanan gives us the numbers on Thalassemia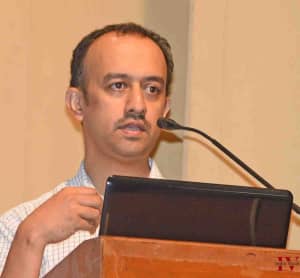 Besides DATRI Dr. Vijay Ramanan also made a beautiful crisp presentation on Thalassemia and gave us an eye-opening Data. In the UK they have almost succeeded in doing away with Thalassemia. We in India need to work at it.
Maharashtra alone has about 45000 Thalassemia Major cases and about the same number of Sickle cell disease.
There are about 75 lakhs to 1.25 crore Thalassemia minors in Maharashtra alone and there are about 1000 to 3000 children with Thalassemia Major being born every year in Maharashtra.
The chance of finding a donor in the family is 8 to 10% more from unrelated searches. So about 80% don't get a donor, for them, novel therapy works. A therapy that Dr.Vijay Ramanan has devised.
Patients of Thalassemia spoke of their Journey
Two patients suffering from thalassemia spoke of their journey of having to transfuse blood regularly. After having met doctor who through his alternative therapy of wheat grass and novel therapy succeeded in they not having to transfuse blood. This is a bridge until they can find a donor eventually if they want to.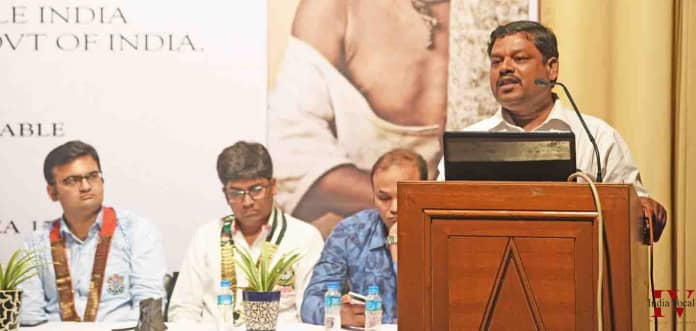 How brilliant is that!! One had to just follow instructions and it gained you those years of living healthily.
Their journey wasn't simple. It was fraught with obstacles and trauma. What we do not realize is that it is not the patient alone who suffers.  The near and dear ones of the patient go through sheer mental torture during the process of looking after the patient. Some have given up and committed suicide.
Young Donors
Talks from both Dr.Vijay Ramanan and DATRI actually awakened the crowd seated there. It translated into us having some young donors who registered on the spot.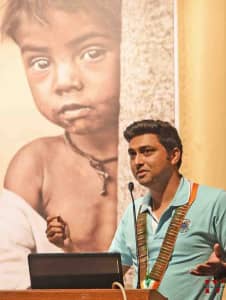 We had the International President Round Table Mr. Yann Tavenier address the crowd. He was brief but one could see he was overwhelmed with the whole episode.
The National President Round Table India stated that Round Table India would take the initiative of making its members more aware of this genetic blood disorder in the hope of getting donors.
Present with us was the International President Round Table Mr. Yann Tavenier, The National President Round Table India Mr. Christopher Arvinth, Chairman Poona Synergy 177 Mr.Lalit Pittie, Tabler Akash Duggar, Dr. Vijay Ramanan, A.B Sam the Head of the Western Region of DATRI, Deepali Prabhu of the Pune Centre DATRI, The President of the Maharashtra Society of Thalassemia Mr.Samrat Dayal, the secretary of the Maharashtra Society of Thalassemia Mr. Samer Nikam and many other important Tablers.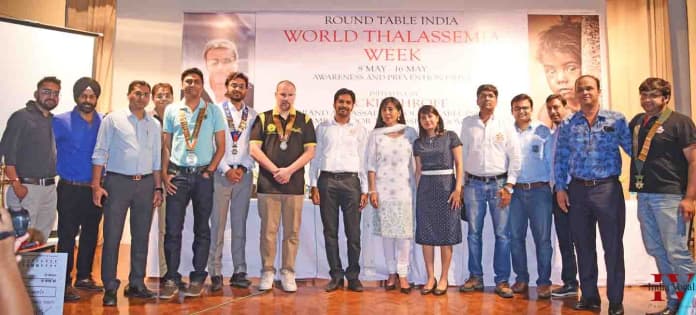 The afternoon ended with mouthwatering lunch catered by Punjabi Rasoi owned by Rishu Baweja also a tabler at Round Table India.