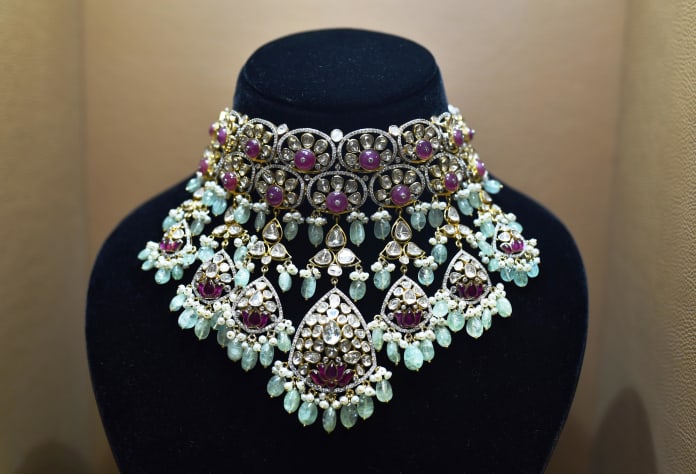 It has been almost a month since I have interacted with 'Rare Jewels'.
I decided to wait until the hype died down to write of the striking collection of jewellery at Rare Jewels – A Ranka Legacy, to once again invoke the curiosity because the collection is worth a look at. The article may seem long however, it states the vision and mission of the Ranka Family by Vastupal Ranka.
"Jewellery has the power to be this one little thing that can make you feel unique" – Elizabeth Taylor; what if every piece you get to wear is unique? Furthermore, if the experience you had while you picked out that piece of heritage is even more unique, how would you rate that? Well, you can't. It is priceless because it's 'Rare'.  A wonderful evening elevated by an extremely good conversation with Mr Vastupal Ranka and Mrs Sheetal Ranka gave me an insight into their beautiful values, newest brand, and the way they like to run the shop! viz-a-viz Rare Values, 'Rare Jewels', Rare Ranka!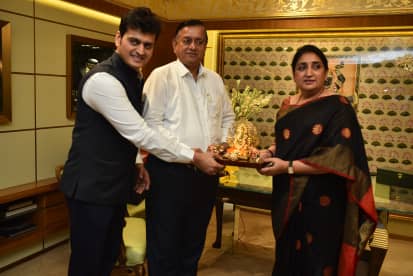 Having been around for decades, 141 years to be precise, they have successfully adorned women of all ages in their captivating jewellery over 6 generations.  Mr Ranka shared with us how his grandfather had started with a 50 square foot establishment and today they were proud owners of 1,00,050 square feet of sparkling real estate. These include 12 in Pune and 1 in Mumbai by the Ranka Family.
Why not branch out more? Is this to maintain exclusivity? My question was promptly answered. "That's next on the agenda; moving to the 2 and 3 tier cities of Maharashtra.  Being a capital intensive business that requires a lot of personal services, we have always believed in organic growth rather than involving banks and growing exponentially without balancing all aspects. We prefer growing in stages with our own personal funds."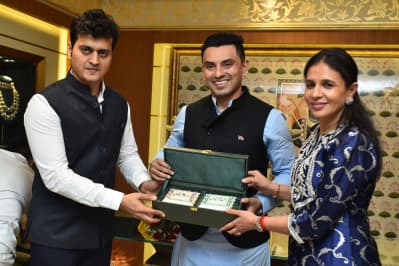 Sheetal joined in, "It was a conscious decision by the group.  When you are a big brand or any business which is a brand by itself one gets a lot of business opportunities. So as a family we decided that it will be organic growth and not something which won't maintain the equilibrium. Mr Ranka continued about how the Foundation has to be robust.
I went on to ask them how one maintains togetherness in a family that big and in a family run business. And their answers warmed my heart. They spoke of how working on both, family culture and business culture is equally important. The entire family, all the cousins ensure they are together at all social and family gatherings and work together at all business meetings thus maintaining the required harmony.
Family comes first then the business.
Sheetal summed it up perfectly, "Everybody speaks the same language."  That there is no rule book to maintaining relationships; all it takes is the want and some effort.
She very proudly added that the women in their family are also an important part of all the meetings and decision-making process. They have an equal voice in decision making.
Mr Ranka elaborated, "It is ingrained in us; it's said if the roots are deep, it's good for the branches, it's good in the long run" Smiling I seconded that. The foundation has to be unshakable!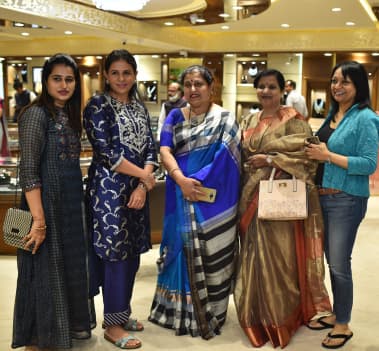 The ideology that fascinated me the most was that of the bond through generations. They cater to customers who have been with them for 3 generations. It's the brand promise their forefathers made and they are living up to it grandly and with love.
Jewellery that was sold to the previous kin begets the same value and the same service as promised by the previous Ranka generation. Wow, I thought, Values and Customer Delight, they've got it all! They were truly going the extra mile by treating their customers like family.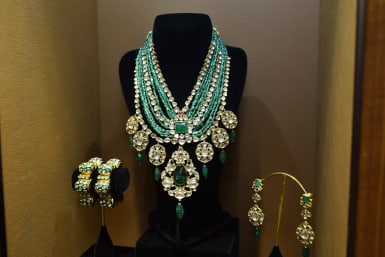 Mr Ranka was quick to emphasize, "I believe we are the custodians of our customer's wealth." Very well said, and with that, I moved to the topic of the day, why 'Rare Jewels'? What was behind the brand conception?
Sheetal took me through their thought process, journey and execution. "As you know, we women travel a lot to buy the right jewellery, to buy the right clothes, for weddings and other occasions. We go to Delhi or whichever city to shop for the exact pieces we want. I am from Mumbai, and I used to visit various boutiques. And I always wondered, we leave these places with such a lovely experience when we visit them. We take back a memory. Why should one have to leave the city for that?  Why can't we have this in Pune?"
6 months of discussion, training and learning to enter the luxury segment so as to offer the customer luxury not in terms of value but in terms of experience, creating all the way the ambience it requires.
Well, the process has paid off marvelously. The collection is beautiful and entirely different. They wanted a one-stop solution for everyone; though they make sure to segregate the brands so as to not confuse the customer.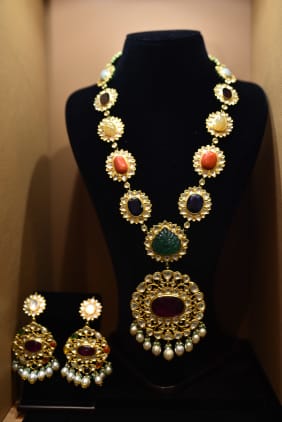 Rare being unique, they wanted to underline that it's not only the gems and the workmanship but the service and the entire experience which is rare, one that you would not find anywhere else.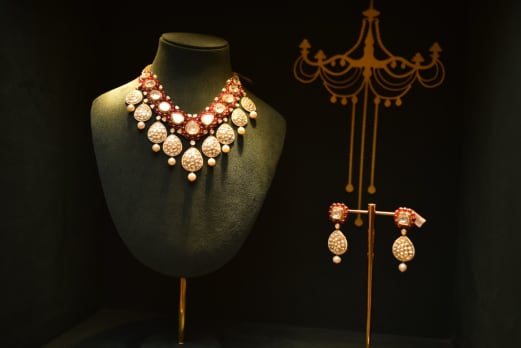 However, it was important for them that the mother brand be associated, after all, it is the trust they have earned over the years, backing the promises made; hence 'Rare Jewels – A Ranka Legacy'. I applauded them on the ideal coinage. Jewellery in India is an investment. Not just passion. Mr Ranka continued, "The mentality is the jewellery should have resale value, a buyback guarantee, the exchange value and hence it should be backed by the brand promise.
Ranka guarantees all of these and that's the biggest motivator for the customer."  Sheetal joyously told us how many customers had visited purely for the brands' reputation. It's all about the faith and trust they have built over the years.
Another aspect that had me glancing around the room in awe was the staff; every member as polite, as knowledgeable and as passionate. When I asked them the secret behind it I was greeted with an even more heartening response. I was told that they get proper classroom training with regards to Sales and Marketing however there's more.  It draws out their commitment to both the owners and the customers.
Sheetal filled us in as she runs this end of the ship, "few perks like lunch, the spiritual aspect, connecting with their family. We make them feel like they are the owners, this is their brand. We trust them. We have people who are there with us for the last 20 to 30 yrs. There are a number of customers who come not for our brand but for particular staff members because they know every person in their family and cater to them accordingly. They understand not only their individual needs but what the family would like and how to merge both seamlessly.
They also provide housing facilities for their key staff.
The bond is strong that even in their absence they know they have nothing to worry about. The show goes on.
What touched me the most was that Sheetal was so hesitant to talk about the accommodations. It is this humility that won my admiration.
I was so happy to see this young dynamic couple with all their dazzling qualities and experience, who also have a spiritual side to them.
That's when Sneha joined us. Heading marketing at Rare Jewels, she gave us her thoughts on the brand. "I was a novice to the jewellery world, however when I got to know them and the way they saw the brand I was thrilled.  Mrs Sheetal Ranka has a very clear vision about where she wants to take the brand. It got me enthused and I immediately wanted to be a part of it. I have studied marketing and luxury brand management. They knew clearly that they wanted to touch all the five senses at Rare which is a very beautiful concept.
At Rare Jewels, it's about the sentiments. It's about the emotional connection. It's not about buying one piece… it's about taking home the experience!  And it will be passed on through the generations. Whatever your budget, even if it's a lakh, we have something for you and you would get the same treatment and pampering; which in itself is rare.
Every piece every experience is – RARE.