A candid conversation with actor Shefali Shah, who exhibited her paintings in the city recently
'Ferocious with greed, incandescent and flaming, rising like the Phoenix, with fire in her wings'– these lines from actor Shefali Shah's poem, titled Fire in her Wings, best describe not only her acting but also her paintings. Titled the same, the versatile actress recently put up the first solo show of her paintings.
Dressed in a simple white kurta and a pair of blue jeans, the Gandhi, My Father actress was seen talking to the viewers at The Monalisa Kalagram during the exhibition. From perspective drawing, architectural designs, life drawing, to abstracts- her collection was beautiful, offering an interesting mix. In most of her works, monochromatic theme stood out though, sometimes with a pop of red or blue. Here's an excerpt from the interview with her, where she tells us about her technique, love for monochromes, and more about Shefali Shah's art.
From two residency art programmes to taking tutorials on YouTube, how has the learning phase been?
We believe that children learn from us but, it is the other way round. My kids had a wonderful art teacher, who would teach them about world art; and it was out of the box. She used to teach adults as well. So it just started about two to three years back, when I felt I wanted to learn something new.
An artistic endeavor
Later Shefali Shah joined the art residency programme, The Last Ship (in Mumbai), which is Julius MacEwan's (Institute). This lovely teacher called Karuna used to teach me. I could use it as a studio space or be around when Julius was painting. That too shut down. I didn't want to stop doing what I was doing because I didn't have a teacher. I tried looking for a couple of classes but they were regimented. They don't depend on a person's capacity or interest. I kept researching artists, masters across the world, and art from the prehistoric era, learning techniques from YouTube. Then I went to this wonderful school Metafora, in Barcelona for three-and-a-half months sometime early this year.
Tell us more about the masters you have taken inspiration from, including Mark Rothko.
Jackson Pollock has complete chaos, conflict, angst and so much aggression in his work. Rothko has serenity and calm in his work. You can just keep watching his work all day long. (MC) Escher has a lot of precision in his perspective. And I work a lot with perspective.
What intrigued you about the mediums, acrylic and ink, and monochromes?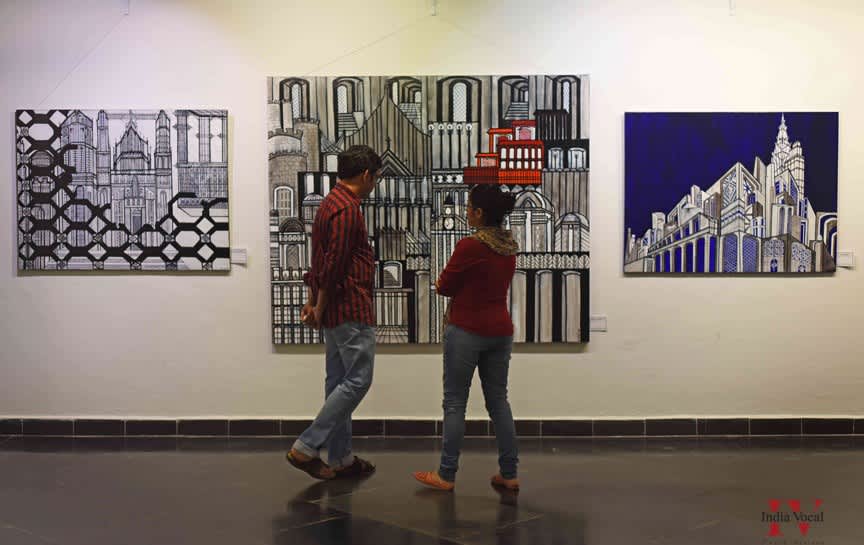 I love black and white. Like you very correctly gauged I work with monochromes, so it's black and white, and a really aggressive spot of red. I do not like colors too much. My abstracts are probably the only ones that have colors, which I started recently. Ink is great when you are doing really fine work. What is really interesting is that there are many nibs in different sizes. And I use acrylic because I do not have the patience for oil to dry (sighs).
It's a beautiful collection, which offers a variety- right from nudes to architectural designs. Was that on purpose?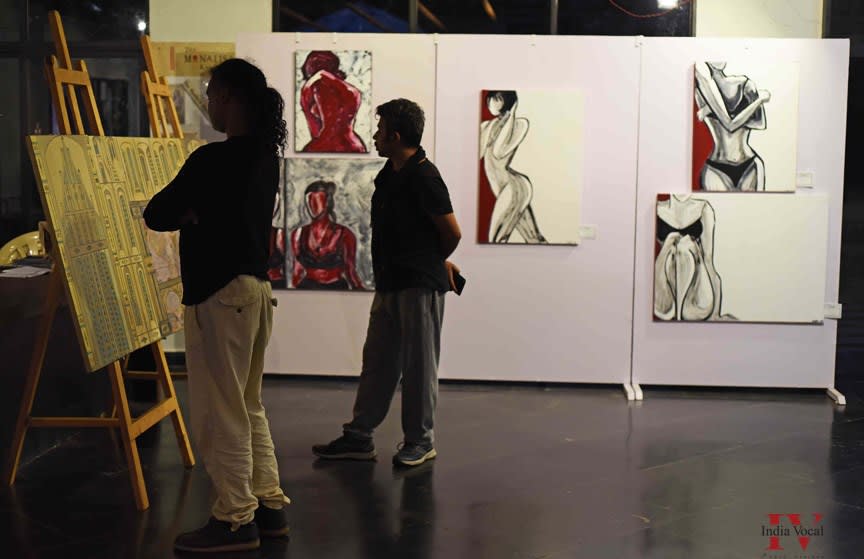 I was always told by various curators that you have to create your own style and maintain it. I've just begun. If I do not experiment, how am I going to know? Maybe few years down the line I might decide. But for now, I want to take the chance.
Bare Basic
As far as the nudes are concerned I never touched the human figure until I went to Spain. I was petrified of it because I kept feeling that I am going to make a human being look like a dinosaur. Many students there who had been doing this for a long time told me that the more you do it, the better you will get at it. The entire nude series happened after I came back to Mumbai, in June. It's not realistic but contemporary work. Here there is a flow. And I didn't want to include color, or realism, or expression. I just wanted it to be bare basic.
Spontaneity
It's an interesting contrast to me as an artist to experiment on because there's so much precision in the architectural ones. In architecture or perspective, you decide a basic framework. So, once I have decided what I want to do, later on, either the canvas leads me or the paints, or the picture. But many people start with knowing exactly; probably visualizing the painting. I can't. I work more spontaneously.
There seems to be a philosophical touch to your works, for example, 'One in a million'.
'One in a million' signifies how we are all different, all unique, yet somewhere the same. 'Broken Religion' is what is happening in our society- you can't be affected by it even if you want to but it's not something you can ignore. 'Ashes to roses' is about hopes and dreams. There's something feminine and frail about the roses, and in contrast is the hard concrete, the skyscrapers.
Shefali Shah's first solo art exhibition, ''Fire in her Wings,''
Read More: She has art in her name…Meet Aarti Buxani the artist
So do you go with your mood or cut off everything?
I don't cut off everything because I thrive on multitasking. I don't think my aggression will come out on canvas ever. The canvas would, in fact, calm my aggression down. It's always far more dominant than what I am feeling.
Moving on to a cinema, your recent Neeraj Ghaywan-directed short film, 'Juice' has been garnering appreciation. You have always gotten into the skin of every character you have played. How about when you hold the brush?
When I do a role, Shefali should not be anywhere in the picture. And that would be my victory as an actor. All my films have given me an opportunity to explore brilliant characters. So people might not remember my name but they might say 'Are wo Satya me na apne Pyaari ka role Kiya thana, woh bahut achha tha' (The role of Pyaari you essayed in Satya was very good)'. It's the same way with canvas. Canvas is what calls the shots. Even when you are doing a role the film and the director call the shots.
The bigger picture
The actor is too small in comparison to the film. But actors can be very vain and be only about 'I, me, myself'. However, you have to be right for the story and be truest to the character you can be. From 'Satya', 'Monsoon Wedding', 'Last Lear', to 'Gandhi, My Father', to 'Juice'- it's not a lot but it has all been really rich work and special.
Continuing the thread, a film is a director's perspective. How about painting, is it yours?
Completely! One of the most wonderful things about art is that it's dominated by no one else but me. I'm free to express myself the way I want to, without having the fear of being judged.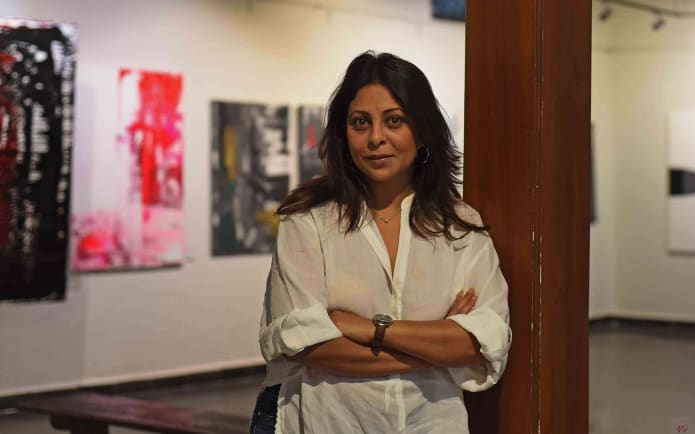 All your roles have been intense. Do your paintings reflect you the same way?
They do. Although they are fine lines, black and white are what makes them strong as a statement. Subtle would be a wrong word to use for my works. They are bare, stark naked. It doesn't have any paraphernalia attached to it. It's raw. If I started beautifying it, it would be pretty but, that's not what I want to do.
Three words that describe your work…
Stark naked, intense and bold!