Two hours of watching singer Rekha Bhardwaj perform live was a sheer bliss. She was like a queen, who reined not only the stage but also the hearts of the music aficionados.
Rekha Bhardwaj's live performance at Mirchi Live will remain etched in the minds of music lovers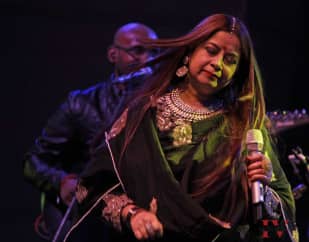 Every note she rendered soothed one's soul. She jumped, swirled her beautiful black anarkali, interacted with the audience, moved swiftly across the stage, had a great rapport with her entire band, and was her mesmerizing best. Singer Rekha Bhardwaj is undoubtedly a great performer too. On Sunday evening, February 11, she performed at Mirchi Live, Virsaa- A musical fest.
Winning everyone's heart
She kick-started the show with one of her chirpy tracks Raatke Dhai Baje. And that very moment she struck a chord with the audience. Before proceeding further, Rekha Bhardwaj sweetly expressed in her broken Marathi, "Aapla manapasun swagat ahe (I welcome you all wholeheartedly). Maza aplya saglyanvar khup prem ahe (I immensely love you all)." And she had won everyone's heart already.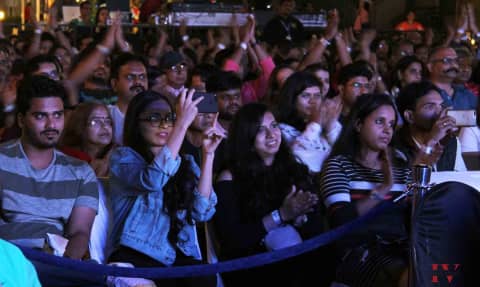 Next, she sang Ranjha Ranjha. This was the initiation to witness her spiritual side, with her inclination to Sufism. It was enchanting to see her swirl like a Sufi. After a highly-energetic number, her next was like a soothing balm, viz. Naina Thag Lenge.
Enlightening through music
Keeping the audience hooked, Rekha Bhardwaj mentioned interesting anecdotes and information. Shedding light on Sufism, she said, "Zikr is a Sufi way of remembering the Almighty. So the swirls heal not only me but also others who witness them. When I got introduced to Sufism, my inner journey began. For me, it's not a religion but, a way of life."
With such an enriching insight, she presented the song, Tere Ishqme. Like she mentioned every time before performing, 'agla nagma' (next rendition), was one of her pleasing hits, Phir Le Aaya Dil. After that, she sang Kabira. The audience could not stop cheering.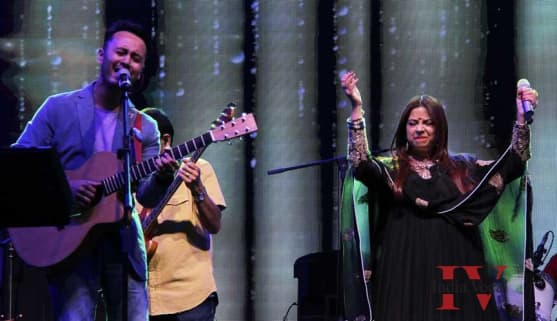 She did not forget to introduce her phenomenal eight-member band Azizon Ki Toli, on guitar, electric guitar, drums, djembe and side percussion, saxophone, keyboard, and bass. So giving a twist to Genda Phool, each instrumentalist played his instrument. It was an engaging blend of energetic beats and pleasing notes.
Lively and soulful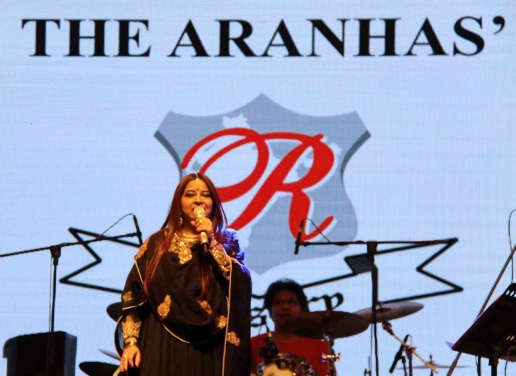 Rekha Bhardwaj has a deep connection with Pune. Talking about it, she stated, "Main Osho ki sanyasi hoon (I'm a follower of Osho). Pune aati hoon to maayke aayi lagta hai (whenever I come to Pune I feel I have come to my maternal house). Every time you perform, the experience is different because of the energy that is created between us (the performer and audience). Music mere liye ibaadat hai."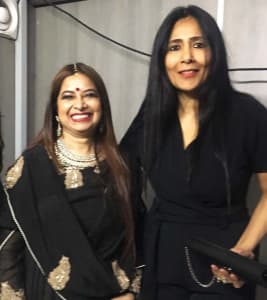 Next, she performed the song that brought her to the limelight, Namak Ishq ka from Omkara. She even rendered some of the evergreen hits not originally sung by her, such as Aye Zindagi Gale Laga le from Sadma, Tere Bina Jiya Jaye Na from Ghar, Raat Baaki from Namak Halal, and Bahon Mein Chale Aao from Anamika. Like an enthusiastic child, Rekha Bhardwaj was literally jumping by now. What a lovely sight it was!
Connecting with the young
The music lovers, especially the young, could not stop applauding when she rendered Mileya Mileya from Happy Ending.
As Rekha Bhardwaj was concluding the show, she asked the audience for their song requests. Thus she delivered the songs Ladke O Re Ladke, Humri Atariya, and Judaai from Badlapur. The parting shot could not have been any better. She rendered one of her sensational hits, Darling.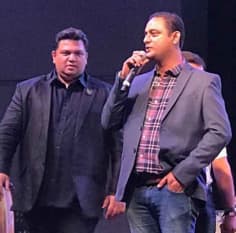 The event was co-sponsored by Phoenix Marketcity, Hero, PNG Brothers, Education partner- The Aranhas' Rosary School, Pantaloons, Central Bank of India, Club Mahindra, Fitness Mantras, Artifex Media, and Media Partner- India Vocal.