On the 110th birth anniversary of celebrated stunt-woman Fearless Nadia, Google Doodle pays a tribute
It's Fearless Nadia's 110th birth anniversary today. And how impressively Google Doodle has reverenced India's late Stunt Queen!

Stunt Queen of India
Mary Evans, famously known by her stage name Fearless Nadia, was born in Perth, Australia. She became famous as the Stunt Queen of India for her action sequences in Bollywood films. Her memorable role remains that of the bold and dashing adventurer, with a hunting whip in hand, in the 1935 film, Hunterwali. Children and elders alike were in awe of Nadia and John Cawas' Hunterwali films, with Fearless Nadia in the lead role.
A versatile person
Nadia came to Mumbai at the age of five. Her father served in the British Army. After her father's demise in World War- I, her family moved to Peshawar, Pakistan. The family again came back to Mumbai in 1928. As a teenager, she worked as a salesgirl in Mumbai. Since childhood, Nadia indulged in various adventurous activities such as horseback riding, shooting, fishing, and hunting. Fearless Nadia even learned ballet and toured with Russian ballerina, Madam Astrova's dance troupe. The troupe traveled across the country to British military camps, the then royal families, and other towns and villages. Being proficient in the art of cartwheels and splits helped her in her career in cinema.
Read more articles: Visit 'Madame Me'- a fashion extravaganza
She was a part of the Russian circus, Zarko, which performed all over the sub-continent. After her stint in theater and Zarko circus, renowned producer Jamshed Wadia noticed Nadia. Thus began her career in the cinema under the banner of Wadia Movietone. She worked in their home productions Lal-e-Yaman and Noor-e-Yaman. However what brought her to the limelight was the Hunterwali series, in which she played different roles as Lady Robinhood, Circus Queen, Hunterwali-ki-Beti, and others.
People were in awe of Fearless Nadia doing action stunts. Especially whipping around the men. The docu-film Hunterwali revolved around Nadia's personal and professional life as a stuntwoman in the Indian cinema. She passed away at the age of 87, leaving behind fond onscreen memories for her fans.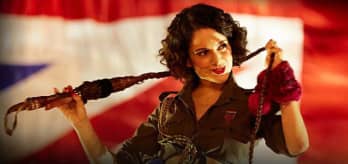 Vishal Bhardwaj's 2017 period romantic drama Rangoon, was inspired by Fearless Nadia's life. Though the film did not do well at the box office. It was an interesting take on the yesteryear stunt-woman's life. In the film, Kangana Ranaut essayed the role of the fearless stunt queen with panache.