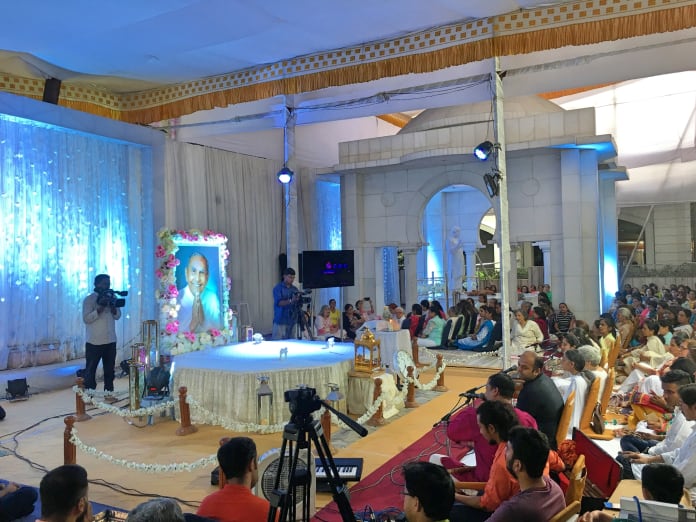 The article may seem long…however it was important to cover the wonderful activities that the mission conducted on this very memorable day…the day when an extremely compassionate soul took birth to help energize us, enlighten us, so that we may lead a more peaceful and contented life. Rev. J.P. Vaswani's  101st birthday was marked by round-the-clock 101 hours of Maha Mantra Yagna along with satsangs, prayers and sevas.
At the Beginning:
Prime Minister, Narendra Modi joins in remembrance through his message
The Moment of Calm — Global Forgiveness Moment observed at 2 pm across the world. Schools, colleges, hospitals, sports academies, NGO's, Greater Good Science Center at the University of California, Berkeley and CCARE of Stanford University amongst several others supported the cause.
13,643,714 – Thirteen Million, Six Hundred Forty-Three Thousand, Seven Hundred and Fourteen Moment of Calm pledges received until noon of 2nd August 2019 from all over the world.
A Messenger of Love- The Biography of Rev. J. P. Vaswani (lovingly call Dada) published by Pan Macmillan India launched
Launch of 'Dada Vaswani Skill Development Centre' at Manjri at the hands of Mr. Niranjan Hiranandani of Hiranandani Group
CD launch of songs written by Gurudev Sadhu Vaswani and Rev. J. P. Vaswani and sung by Meeta Shah, Suresh Wadkar, Shankar Mahadevan, and Sanjeev Abhyankar
Programmes held from 27th July to 2nd August 2019 at Sadhu Vaswani Mission, Pune. The birthday was also observed across the world at Sadhu Vaswani Centers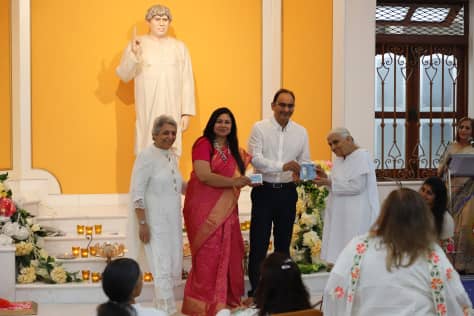 The 101st Birthday of Rev. Dada J. P. Vaswani was rung in amidst sevas, kirtans, bhajans and recorded talks by the Great Masters— Rev. Dada and Gurudev Sadhu Vaswani.
FROM JULY 27, 2019 TO 2 AUGUST
July 27, 2019 – The Dada Mela — a free fun-fair arranged for underprivileged and special children, held on the 27th of July 2019 marked the beginning of the birthday observance. Participating schools included a total of 1124 students from CR Ranganathan Residential School for the Deaf, Mahatma Jyoti Rao Phule Girls High School Nana Peth, Bapusaheb Pawar Kanyashala, Mahatma Jyotirao Phule School, Swargate and Poona School and Home for Blind.
At the Dada Mela, Vijaymal Chandane, a teacher at Bapusaheb Pawar Kanyashala Vijaymal Chandane said, "They love the Mission, its food and gifts! They feel loved here!"
July 28, 2019, the Akhand Maha Mantra Yagna — 101 hours of round-the-clock chanting was initiated early in the morning. A recorded video of Dada chanting the Maha Mantra marked the beginning of the yagna. 28th also was Rev. Dada's birthday as per the Hindu calendar. Sevas and kirtans marked the day. This day of Ekadashi, 20 ladies were given one month's ration.
Jyoti Ramchandani, a devotee said, "Sitting at the Mahayagna is reinvigorating. The chanting has a soothing and calming effect. I have come here to connect with peace that Dada's ever-living presence gives."
Spiritual groups partook in the Maha Mantra Yagna including the ISKCON and the Satya Sai Group. Devotees had converged to experience and absorb the spiritual elixir in the Maha Mantra chants. Acclaimed singers had joined in the yagna. Jessica Dhanak said, "It is truly a blessed opportunity to be singing here. I feel the voice that we have been bestowed with must be used for divine services."
Singer, Bhushan Maloo speaking on the yagna, said, "I feel fortunate not only to be singing at the Maha Mantra Yagna but also to be present and revel in the divine ambience here. I strongly believe that is 99 per cent the Master's grace and 1 per cent the sadhana, the efforts we put in; the credit goes to him. I feel glad and blessed that Dada has made me an instrument of his."
The evening session on the 31st witnessed the first-ever performance on 'Glimpses into the life & teachings of Rev. Dada J. P. Vaswani'. Students from Sadhu Vaswani International School, Delhi and St. Mira's School, Pune put up heart-rending performance leaving the devotees and attendees moved and teary-eyed. Madhu Negi, Dance teacher Sadhu Vaswani International School Delhi and also the show choreographer said, "This performance has been planned over 3 months. It is a fusion of Bharatanatyam, Mohiniyattam, semi-classical and contemporary. The students have been so dedicated that they even agreed to practice during their summer vacations!"
Mrs Nandini Nair, the judge for the evening speaking on the performances said, "What I witnessed today was a spectacular performance. What these children have performed today will stay embossed in their hearts for life and truly was a visual treat. It was brilliant in concept, execution and in the sheer man-hours of practice that went into it!" Both the groups were awarded trophies.
August 1, 2019— the Maha Mantra Yagna concluded. A soulful 101 hours had concluded only to continue with the seva offerings and prayer sessions.
'A Messenger of Love: The Biography of Dada J. P. Vaswani' — authored by Prabha Sampath and Krishna Kumari and published by Pan Macmillan India was launched by Dr. K.H. Sancheti.
The evening session was led by soul-stirring vocals by renowned singer, Ameya Dabli to be followed by the highlight of the day — Inspirational talk in English "Set Yourself Free" by Rev. Dada J.P. Vaswani. A strong advocate on forgiveness, Rev. Dada's English talk further established the significance and importance of forgiveness in one's life. He also offered a few practical suggestions.
2nd August, Rev. Dada's 101st birthday began with 108 havans alongside 108 chants of the Gayatri Mantra. Daridra Narayan Seva was held in the morning where the needy were served with meals. 91 needy families were given a month's ration and cash. About 35 prostheses were distributed to patients from Pune and Baramati in the artificial limbs seva.
The noon session was initiated in the midst of devotees thronging from the world over. Bhajans, kirtans, sevas energized and infused the Satsang Hall with love and devotion. Rev. Dada's Ruh-Rihan in Sindhi followed wherein he spoke of setting in quest of God without a moments delay for he emphasised 'tomorrow never comes'. At 2 pm, the Moment of Calm —Global Forgiveness Moment was observed 13,643,714 — Thirteen Million, Six Hundred Forty-Three Thousand, Seven Hundred and Fourteen Moment of Calm pledges received until noon of 2nd August. This was followed by langar.
The evening session saw the upadesh of Gurudev Sadhu Vaswani and Rev. Dada J. P. Vaswani wherein Rev. Dada spoke on the significance of birthday which also reminds one of the purpose of human birth. He appealed everyone to realise the worth of the human birth and seek longing and love for God.
The birthday observance concluded with the midnight vigil.
Medical concessions and sevas were carried out in the health-care institutions of the Sadhu Vaswani Mission in observance of Dada's birthday.
Hon'ble Prime Minister, Narendra Modi's Message on Rev. Dada's 101st birthday: It is heartening to learn that Sadhu Vaswani Mission is celebrating the 101st birth anniversary of Dada J.P. Vaswani. Today, his physical form is not in our midst, but the birth anniversary celebration is a timely reminder to tread the path shown by him.
A spiritual leader and philosopher, educationist, writer, the messenger of 'Ahimsa', Dada Vaswani was a humanitarian to the core. His humble demeanour and down-to-earth nature endeared him to his innumerable disciples and followers.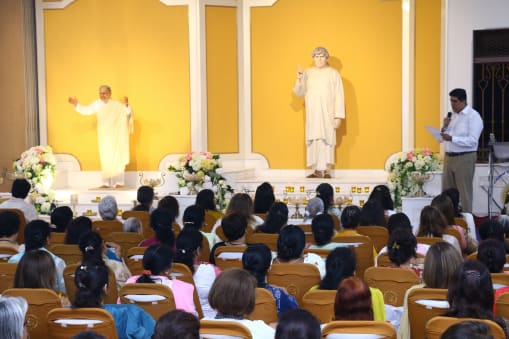 Dada Vaswani's humanitarianism transcended man-made barriers of religion, caste, colour or creed. He believed in the power of silent service and exhorted the youth to immerse themselves in service of the nation. Celebrated as Global Forgiveness Day, Dada Vaswani's birth anniversary brings the message of non-violence and peace in every sphere of activity. His life and ideals underlined the dictum of preach what you practice.
Dada always talked of strengthening and empowering society. "If you want to be happy, make others happy" was the dictum he believed in. He urged people to instil the virtue of acceptance in life. Hon'ble Prime Minister said in his addressed letter.
Tributes to Dada Vaswani on his 101st birth anniversary. May the occasion guide mankind and illuminate the lives of his disciples and followers.
About Rev. Dada:
'Guru of None, Disciple of All' that is how Rev. Dada J. P. Vaswani, the Spiritual Head of the Sadhu Vaswani Mission, addressed himself.
Dada- a picture of humanity, a messiah of the voiceless, the advocator of woman's rights, an educationist par excellence and the redeemer of a many souls; this mystic born on the 2nd of August, 1918, is widely revered as a symbol of humility; a symbol of compassion and a symbol of love.
Dada's unwavering and relentless efforts that have taken forward the vision and teachings of his Master, Sadhu T. L. Vaswani; in the form of service, education, health-care, spirituality amongst many other initiatives.
He will always be remembered as the perfect example of a perfect disciple who led a life of selflessness, giving and of true altruism.
About the Moment of Calm:
The Moment of Calm is a world-wide initiative of peace that calls upon one and all, young and old to pause for 2 minutes on August 2 at 2 pm to forgive, clear the heart of ill-feelings and send out vibrations of love to all. One can observe this 'Moment' from wherever one is – the elevator, the gym, the office, the home, or anywhere.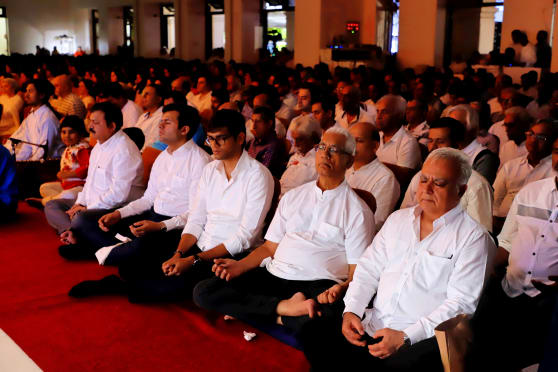 The Moment of Calm campaign was launched by Rev. Dada J. P. Vaswani and the Mayor of Oak brook, Chicago in the year 2012. Launching the Moment of Calm, Rev. Dada had said, "The treasure of this inner calm should be experienced by all of us at least once every day. But if we are unable to do so, then let us enjoy and experience it at least once a year. Our minds are usually turbulent, disturbed and agitated. Our natural state is that of calmness. We need to go within to reinstate it. We can only do so by letting go of any grudges, disturbances, pettiness, selfishness, vengeance and any other negative attributes." The first one to sign up for this Movement was filmmaker and actor, Aamir Khan.
Today, the Moment of Calm movement has reached millions from all walks of life. World-over, people have experienced the calmness forgiveness has brought about and vouched for their experience of bliss, peace and true solace.
Dada often said, "Hearts at peace will create world peace." In belief and faith, this year as well the Moment of Calm was observed across the globe at 2 pm on 2nd August. Schools, colleges, hospitals, sports academies, NGO's supported the cause. Greater Good Science Center at the University of California, Berkeley and CCARE of Stanford University supported the cause of Moment of Calm.