'Aadyaa'that means 'the beginning' is a small sacred studio nestled off Prabhat road. We enter the Studio Aadyaa at 12, just as it kickstarts the day. A warm-hearted and sprightly 'Sayalee Marathe' offers water in a sterling silver glass. We are thrilled by the sight and our curious clouds now have a silver lining!
Sayalee Marathe of 'Studio Aadyaa' in conversation with India Vocal
What is Studio Aadyaa all about?
Defining Studio Aadya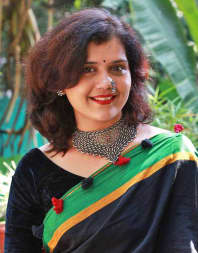 Studio 'Aadyaa' is a dream I thought would never come true. I started Aadyaa without a plan, with a close friend, leaving my job at Capgemini. She excelled at her art of paper quilling and I passionately fell for jewelry. I followed my instinct and turned my bare dream into a successful venture. Almost 80 percent of my designs get crafted in-house. The beauty of Studio Aadya is defined by handpicked semi-precious stones to create precious statement pieces for an everyday woman. However today I head Studio Aadyaa solely with my soul poured deepest!
What inspired you to fuel your latest collection at Studio Aadyaa come alive?
Inspiration behind Studio Aadyaa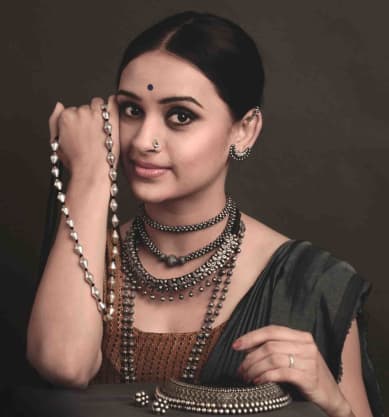 I love nature and all my collections are passionate contours of the same. Ithihaas 3.0 my latest collection is about premium silver jewels. I work on motifs and styles that are most untapped and are ardently wanted by today's woman. The 'kudi' design or the traditional bindi from the Peshwa era were never experimented with in silver finish. I braved this gap and took the plunge of giving a contemporary touch to the traditional.
Your collections at 'Studio Aadyaa' always magnetize celebrities from the Marathi and Bollywood industries. What is so magical about Aadya?
The magic mix of Studio Aadyaa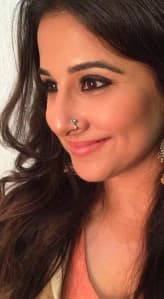 Simplicity in our country is highly underrated and I try to wrap that in my collections. The everyday woman should feel comfortable in the piece she is wearing. I take care the pieces don't prick or disturb the women while doing their daily chores. The fact that celebrities like Vidya Balan, Sonakshi Sinha, Mithila Palkar or Spruha Joshi wear Aadya, of course, make me euphoric! However, what puts me in a box of good spirits is an everyday woman flaunting her comfort in Aadyaa.
I always feel that jewelry should be beautifully comfortable, and I ensure I echo my beliefs in my collection.
What do you think is next for contemporary designer jewelry in India?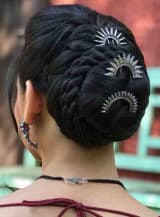 Studio Aadyaa has a thousand-people visiting every week with myriad curiosities and ambitions. Some visit it during their trip to India and the rest are locals. The emotion behind every piece is befittingly different. What I believe in is the 'Easy on pocket' and "Easy on upkeep' jewelry is the next thing in India. The feelings of a woman behind her jewels are priceless, however considering the busy life today, all she wants is freedom to choose from the rainbow!
A personal favorite of yours from Studio Aadyaa would be?
Personal Favourite at Studio Aadyaa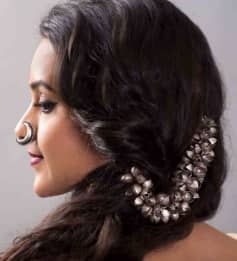 I would emphatically choose the 'gajra' the ornament for hair usually woven with flowers. The silver or the gold gajra are my best creation to date. There is a moment of joy that I experienced when I crafted this Rs 25,000 beauty and that is quintessential. The gajra might not be our best seller at Studio Aadyaa, but it embellishes my creative instinct.
Read Also: P.N. Gadgil Jewellers – A Diamond is Forever
A nostalgic moment in your journey to create 'Studio Aadyaa'?
Sayalee's Nostalgic Moment
I remember quitting my Capgemini job to fuel my passion sincerely! She takes a pause and her eyes twinkle with a poise.
My mother always thought what I did was a little dicey as I was doing it out of no choice. When we embarked on our Studio Aadyaa journey and started getting an exemplary response, it thrilled her. She was proud about my venture and was jubilant about the same. A mother's license to pursue your dream really gives you wings! This by far is the only nostalgic thing I recollect.
Studio Aadyaa and historic era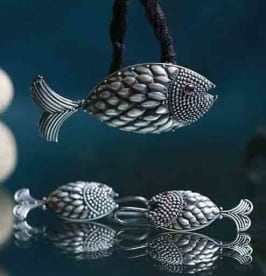 We wrap up our questions, Sayalee dearly supports a selfie and the collection at Studio Aadyaa sweeps us. The mangalsutras, the elegant neck pieces, the promising rings and the other historic pieces adorn our confidence in her jewelry. The era in Sayalee's collection at 'Studio Aadyaa' is resplendent, without an inch of deviation!