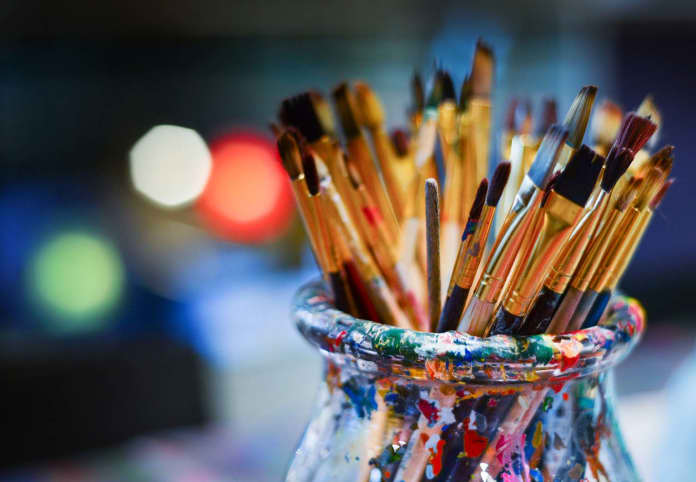 I met her at a show that I was hosting for a friend of mine. This lady was enigmatic and stood out from the rest; Slim and graceful, slightly aloof, could be mistaken for arrogance. However, on getting to know her I found her completely down to earth and very amiable. They say never judge a book by its cover. So talented she would be I had not fathomed at that time. Let's get to know The artist Aarti Buxani.
The artist Aarti Buxani has taken Pune by storm!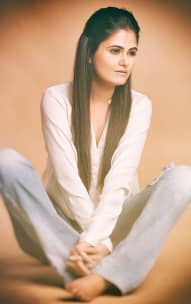 Painting was her passion, a way of giving vent to her creative expressions. She would paint when little. Her father although not a painter but a banker was an inspiration for her.  One day whilst watching the news he drew a portrait of Indira Gandhi and it looked so real. This propelled the artist in her to also give it a try.  She would also oblige her friends who would ask her to draw their diagrams. She would also draw portraits for family and friends. There was no way the overflow of creativity could remain contained. It continued in her teens.
Sadly Art at that time was not given as much importance in India. She traveled to London after marriage. It was then she was able to realize her dream of becoming an artist. She studied art in London. After having done her course she began painting and exhibiting her paintings in London at famous studios. The artist Aarti Buxani has never looked back since then.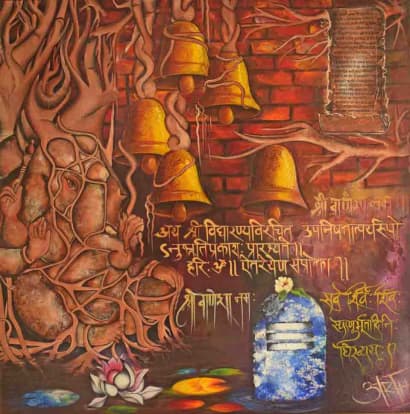 The artist Aarti Buxani was now in her elements. She began to hold exhibitions in London. She was invited to hold an exhibition at the London Art Gallery. Among the six artists who had exhibited their art. The artist Aarti Buxani painted a painting that was chosen for a girl who was suffering from neuroblastoma cancer. The painting was auctioned at The Great Ormond Street Hospital and it was sold for 18,000 pounds. The money went into fundraising for her cure.
I asked her for the way she felt when all of the 18,000 pounds were given for the cure of the little girl?
"It was a blessing because out of all of the 6 artists they had selected my work. The work was named 'Lost in a Leeway' where the girl forgets the current situation she is in. Yet she enjoys her freedom. I felt that the painting resembled her so much that only that particular painting could be the cure for her. If you give for a good cause you get ten times more."
The artist Aarti Buxani for the next 3 to 4 months stayed in touch with the little girl.
I was curious to know why the artist has chosen art that has a lot of spiritual touch to it. She paints the Buddha, Lord Shiva, Scriptures from the Bhagwad Gita, and most importantly the Shree Yantra.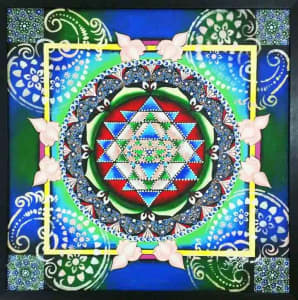 The Shree Yantra… Shree meaning wealth and Yantra meaning instrument- the instrument of wealth is a very auspicious and powerful yantra. It helps fulfill your material and spiritual desires. The Shree Yantra benefits all. It has the power to break away all negative forces that act as obstacles to gaining prosperity and spiritual growth.
"I think spirituality connects to both the platforms. If a person is happy he can still choose spirituality as it ultimately it will make him happy.  Also, the one who is hurt and is in pain chooses spirituality. Spirituality is limitless. Everyone, in the end, chooses spirituality."
Truly said. Our journey in life is to become aware of the journey and follow a spiritual path.
'So did you choose the spiritual world because of pain that you may have gone through?'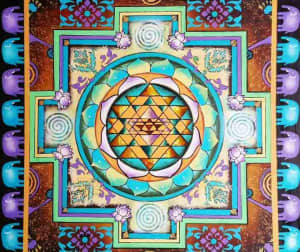 "I guess we all go through pain in our life. I actually had no intention of painting the Shree Yantra. I always did commission work. If anyone gave me a picture to paint, I would copy the picture. It worked well for me as it became the pocket money that I had earned."
"People slowly began giving me Shree Yantra's and Gajan Laxmi to paint. It was a calling. As people asked for these paintings I kept getting orders and I became focused on painting the Shree Yantras. Someone told me it brings prosperity and happiness and it certainly has worked for me. I don't have one in the house. As I keep painting so many I always seem to have one with me."
Young and beautiful she is. The artist Arti Buxani has already attained much fame and glory. I wanted to know what is now her vision where her art is concerned.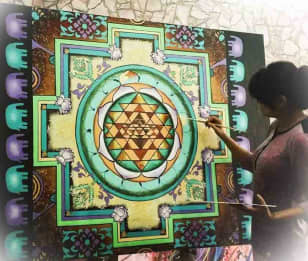 She would like to focus on painting the Shree Yantras as it has powerful cosmic energy and has helped her emerge into this well accepted and well-known painter.
"People who don't know of the Shree Yantra love it because of its geometrical patterns and the variety of colors used. It is a vibrant painting. Even though they may not know of the Shree Yantra they would still like to have a painting to be kept in the house. I would like to pursue this and exhibit some of them at the best art fair. I also dream of doing work that is par excellence where my art will be displayed in a museum."
Read Also: Kala Ghoda Arts Festival 2018 – in Mumbai
'Which is that exhibition you would like to showcase your art at?'
"Art Fraser in London and Art Basel which takes place in Switzerland. Art Basel is one of the best. I would like to exhibit my art there for sure."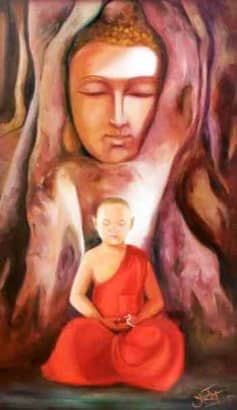 The artist Aarti Buxani has been featured in the manual Contemporary Art of Excellence, 2016 which is available on global stands. She is one of the six artists who has been featured in the manual.
Aart has two little boys who are a handful, and so I wanted to know how she manages.
'You being a painter and painting is time-consuming how do you balance work and home?'
"If I distance my workplace from my home it is not going to help me. My work is not work it is my passion. I dont need an office or a studio to work from. So you see my house is a studio come home. My children can come home and to me whilst I am still painting. I don't need to spend hours at a studio. I love the mess and I love the mix. The vibes are positive."
'So what about your kids how do they accept all this color around them.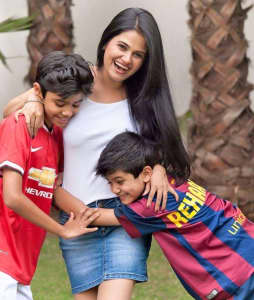 "Oh, they are very happy. They are not much aware of art and painting. However every time I create a new piece they are curious and ask me several questions. If there is no piece of work I am working on they ask me how come there is no painting. If my hall is clean they think there is something wrong."
"The question they ask me is hilarious…Mama aren't you making any money this month so I have to make sure my house is messy."
I could not stop myself from bursting into laughter.
In the course of our conversation, I understood that Aarti also conducts workshops that have been lauded by the women who have been a part of it.
I have some of the women speak of their experience.
Radhika Gadgil.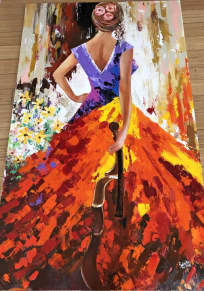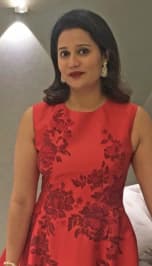 I used to sketch at home and it was my dream to paint a canvas and yes my dream became a reality at Aarti's. The artist Aarti Buxani guides us and helps us to do amazing artwork. She doesn't hold back and teaches us different techniques in painting. My 1st canvas was a Buddha in vibrant colors and second is a lady done using a palette knife. It's an amazing workshop where I have made new friends and bonded with them over coffee, food, laughter and of course painting.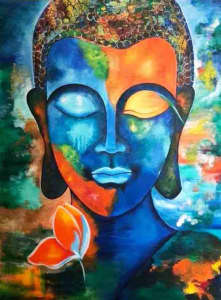 Karishma Vaswani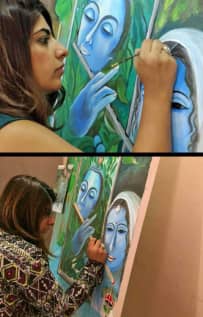 This being my 1st ever painting, it was truly special. Aarti really made this happen for me. I did take up a pretty challenging one considering it's my first, but really wanted to paint the Radhakrishna as I wanted to gift it. And the artist Aarti Buxani made sure it happened, I really appreciate all the love and effort she puts in towards everyone.  The artist Aarti Buxani has a beautiful heart and that reflects in every painting of hers… Totally enjoying my time with Aarti, looking forward to creating many more beautiful pieces of art with Aartis guidance😇
Pooja Kapoor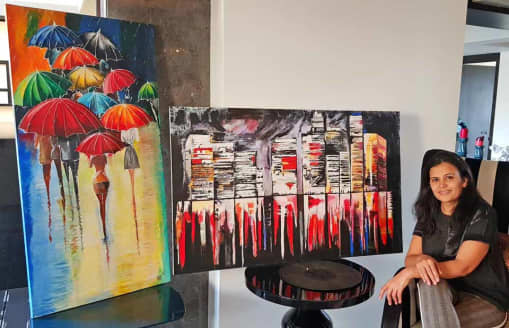 I m not an artist nor have any artistic bone in me. When I signed up for Artis class I was so sure of not creating anything worth putting up. But Arti has a knack for getting your expression on the canvas beautifully. She will bring in that confidence in you of holding a brush and creating something which will turn out stunning at the end and that's a true artist. She doesn't hesitate to share different techniques and medium of art with us, that will enrich our experience of creating Artwork at her workshop. For me, her workshops are like meditation, as I slow down in her workshop. I'm calm and at peace. That is priceless for me… Arti you are a wonderful soul and great Artist .. Truly blessed!
Shruti Dhole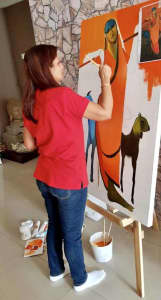 This is my first painting with Aarti. I chose Sachin Akalekar for his earthy looks for typical Indian paintings. Though it was my first time with acrylics, and the painting was nothing close to simple, I had absolute faith in Aarti's teachings. And boy, I was right. She teaches so effortlessly that it doesn't seem like you are being taught. I went through the whole painting process very smoothly. Aarti has an international appeal and understanding of Art. She knows world art. That is the one reason which I wanted to learn from her to pick up the style of creating Art. The class is a fun place to be where ladies from different walks of life come together for their common passion for painting. I made some dear friends here. We eat, discuss art, talk about normal stuff and in all that paint too. I don't see myself leaving this class for a very long time. My love and best wishes always to Aarti ❤
Sheetal Mazda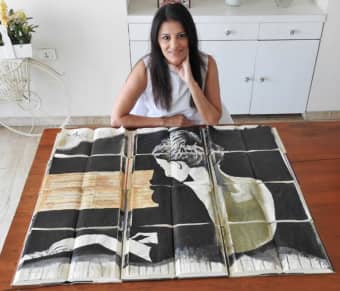 I have done a series of paintings with Aarti on the " backs of women." Two of them were on canvas. For my third painting, I decided to try something new and so with inspiration from "Jover" the artist who paints on books and paper I chose to do the " back of a woman" on books. Arti's art workshop is super fun, casual & very inspiring. It's therapeutic because art is, but also because we get to make new friends & share our lives in the class. The workshop is filled with conversation, food, coffee, and inspiration. Painting with Aarti makes a novice feel like a professional. The artist Aarti Buxani guides inspires & teaches as if all "things are possible with us". I began painting with Arti when I lost my voice due to vocal cord nodules a year back. Arti helped me translate my pain into art and I had never lifted a brush before that except at art class in school. If you never try how will you know you can.
Hetal Mehta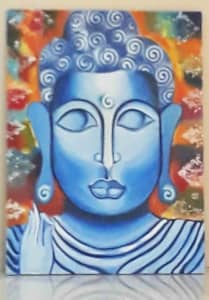 A photo-artist and an IT professional, I never thought about picking up a paintbrush.  But looking at Aarti's wonderful works was an inspiration to sign up for her workshop.  What I didn't know then, was that I had signed up for a wonderful experience that enabled me to meet new people, who are now my friends.   Our art sessions happen over laughter and food but most of all, under Aarti's creative guidance. She is a wonderful teacher who has an in-depth understanding of what I want from my painting and shows me different techniques that help bring out my creative best. It is only because of Aarti's constant encouragement and guidance that I have completed 2 paintings and am now attempting my third one in her next workshop.
Leena Thadani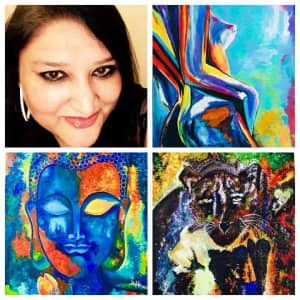 Simply the best! As an artist, I was comfortable in my comfort zone of painting abstracts. Then I decided to join Aarti's Artists workshop and try out different genres and experiment with my own artistic style. With Aarti's help, I have managed to tap into limitless possibilities of my own potential as an artist. The artist's workshop is a grand adventure and a great escape from my usual routine. I highly recommend it to everyone.
Dimple Majithia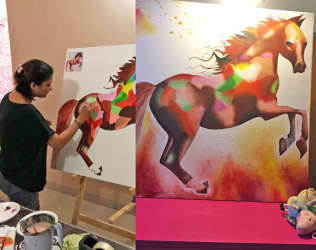 This is my first painting ever. Not even in dreams I  thought, I would paint. After meeting Aarti, going through her workshop posts on Facebook, I decided to join but was not sure if I can. Thanks to Aarti,  her confidence in each one of us is very promising. I'm glad I did, painting is so therapeutic and the workshops are full of life, met wonderful people made a few friends. It's one place I look forward to and I'm enjoying every bit of it.  Making memories for life.
Hegel the German Philosopher said, "Painting is one of the three romantic arts along with poetry and music." He speaks veritably. There is Rythm in all. There is Rythm in painting. There is Rythm in music. There is Rythm in Poetry. There is a Rythm in us. The artist Aarti Buxani has managed to tap that Rythm in her paintings and within. She has found her work-life balance. The artist Arti Buxani is in a happy place at the moment pursuing her goal of wanting to be the best while she also plays the role of a mother well.
Glimpses of the Aarti Artist Workshop