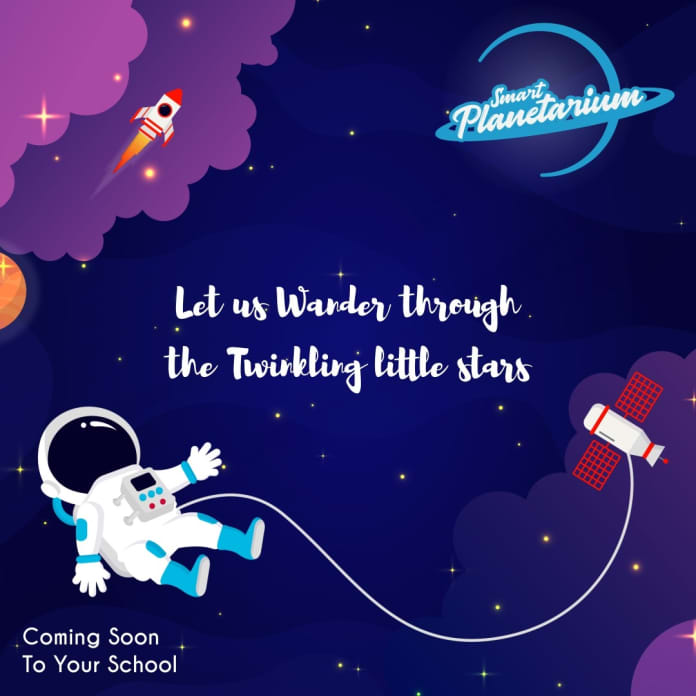 Dr. Dome was always keen on understanding the wonderful world of stars, asteroids, comets, the celestial bodies and the planets. He is now back after his travel to the mesmerizing world, and all ready to unfold the thrilling and mysterious stories of the universe through SMART PLANETARIUM.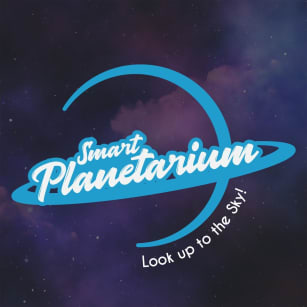 Understanding the universe through the eyes of Dr. Dome would be a thrilling experience.
Astronomy – In the world of a child
It has been a while since someone thought of bringing astronomy into the world of a child as progressive learning. We have planetariums in the famous metropolis of India…namely Mumbai, Kolkata, and Delhi. Although an exciting experience a little child needn't always take the best of learnings, as being little some high principles and truth of the planet world would not be well understood.
These planetariums have fixed rules and they may show a movie that is way above the  understanding of a kg, or 1st,  2nd, or 3rd std. student.
Here is a bunch of smart entrepreneurs who have come together and have put up a concept that is not only sale-able, but of great value add to a child's life. It is high time that our children in India get to know more, and above all very simply some important facts of the planet world.
The Mobile Planetarium
The mobile planetarium can be installed in 30 minutes. It is 11 feet in height and 20 feet in width. It can be installed in  any hall or gymkhana that they have in schools. After installation one can run a movie that can span 45 minutes or even less. You can see the movie all around you as it is a 360 by 180 degrees dome. Much effort goes into making a movie for such an environment.
Anything can be taught in this dome even the letters A to Z
Every movie made by the group for the little ones is animated with a little story around it. For e.g. To understand gravity a movie that showcases a pet pup who also wishes to go with the family to the moon has been conceptualized.
So the little puppy now on earth hides in a suitcase, and when he reaches the moon and has to walk he finds himself floating.
Now if this sort of movies will not capture the attention of the little ones what will?
Capturing the Hearts of the Students … Smart Planetarium
It is a brilliant idea by this group to want to take astronomy as a subject to schools, but in a captivating manner making it interesting for the children of any age at the school.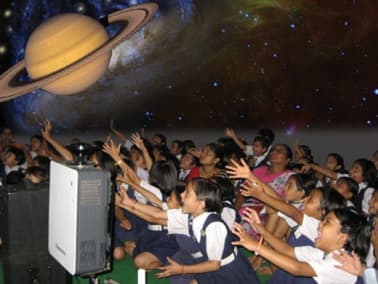 In one of the partner's words, "We want to take this to the school with 4 shows in a year, every quarter. They will have a quiz soon after every movie. A class room based test annually of these 4 shows will be conducted. A text book will be given of 15 to 20 pages on the show that has been seen. Dr. Dome who is dressed in an astronaut's suit is the wow factor added to grab the attention of the students. Astronomy is an untapped subject in schools."
SMART PLANETARIUM at the Suyog Sunderji Wisdom School

Ms.Masarrat Tavawalla, Director, Sunderji's Global Academia &CEO, of Suyog Sunderji Wsdom School was excited about this concept and wanted for her children and school to be the first to experience it. However, her very compassionate heart wanted to extend this to many other schools in support of SMART PLANETARIUM, and at the same time bring this experience to many other children through their schools.  With her help they have invited the principals of 50 other schools to be a part of the event at the inaugural show on the 26th of February, 2019 from 9 am to 10 am at the SUYOG SUNDERJI WISDOM SCHOOL.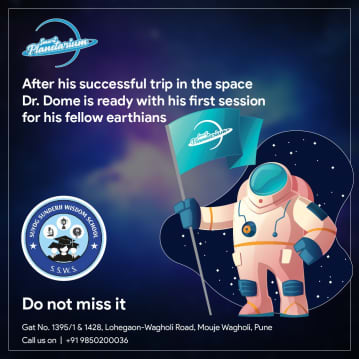 The team brings with them years of experience in the field of education and marketing. They have understood the art of presenting Dr.Dome's experiences in the most interesting manner.