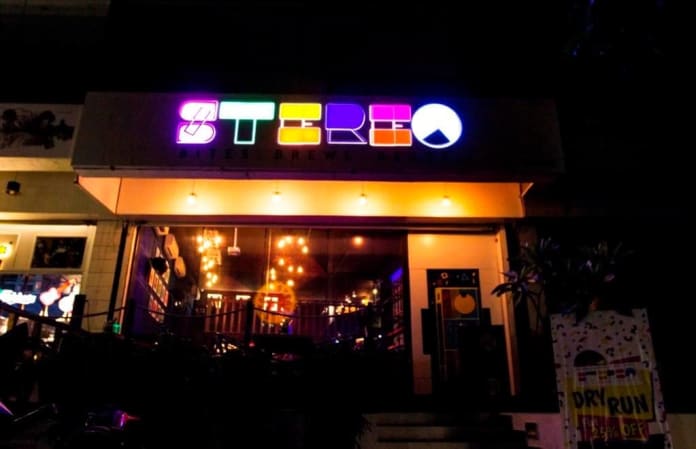 1.30 p.m. in the afternoon at 'Stereo', the new restaurant at Kalyani Nagar, Joggers Park; we had collected to savor some delicacies at the restaurant. The food had been raved about. "Tasty!" they said! "Divine!" they said. Well it was time I had some. My taste buds were craving for something different.  It was a hot afternoon. And was i delighted when I was told we would first be served with some cool drinks.
They came almost all together,  one after another, with short breaks. I guess the bartender was as eager to feed me as I was eager to taste the tasty drinks and dishes I had heard of so much.  I was delighted as i was actually dying of thirst! however, I had no idea where to start. They all looked so very pleasing and inviting to the eyes, it left me for a moment perplexed. I took a deep breath and said lets begin.
The Disco Mango 2000, the Watermelon Stereo Bombastic, The Kiwi and Lemon drink, the Dancing Nancy. Fancy catchy names to the 'Croptails'. 'Croptails' as they were made of fresh fruits, veggies, and herbs.
What a drink! what a drink! I could not stop raving about each drink. All of us who had collected that afternoon at Stereo got into a little of tomfoolery, each one mocking me and my expressions…however, none could not 'not agree' with every expression of mine as I tasted the thirst quenching, appetizing, tasty 'Croptails'. I am glad they were mocktails and not cocktails. I may have gotten drunk on them and then of course you know the rest. Tasting tasty dishes would end right there!
The mixologist  a 23 year old from Nepal is a magician and has been treating us with a variety of mocktails that are innovative, vitalizing and preservative free. Suraj comes from the bartending school but had out done his course. He is a magician.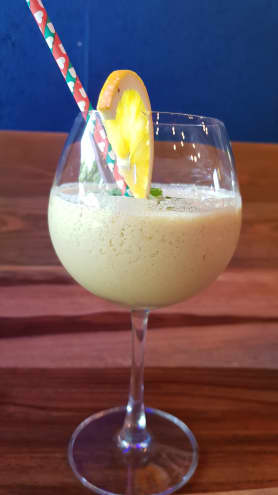 The Mango Disco 2000…a mango based drink that was truly heavenly. A mixture of mango and cream. Of course some of the other ingredients were hard to tell and so the secret is intact.
They say a true chef always holds back the main ingredient; a good mixologist would certainly keep his secret ingredient wrapped up.
Watermelon bombastic is a mixture of watermelon lemon zest and some herbs that of course was the secret. The watermelon juice like the watermelon chunks I had earlier with the salad was naturally sweet. I could down multiples of this drink and want more.
The Kiwi and pineapple mocktail was another hit with all of us. It was appealing to look at.  This lovely flavor of mint kinda stayed with you until you took another sip. And mind you it was not strong or over powering. Gulp! gulp! gulp! And almost the entire glass was downed. I actually could have just kept sipping at those fruity flavorsome mocktails.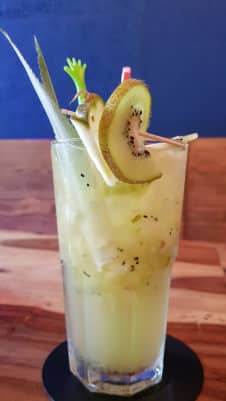 Dancing Nancy.. had cucumber slices and rock salt, a hint of lemon. The subtle cucumber flavor grew on you with each sip. What a detox actually.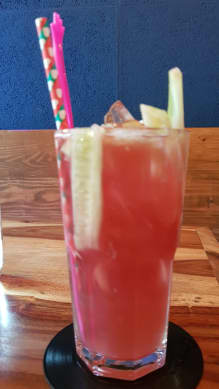 I had yet more tasty dishes to taste. I had to stop being greedy and leave space in my tummy for the rest to follow.
Watermelon and Feta Salad next I was told. I had had that at other places but what came to my table took me by surprise!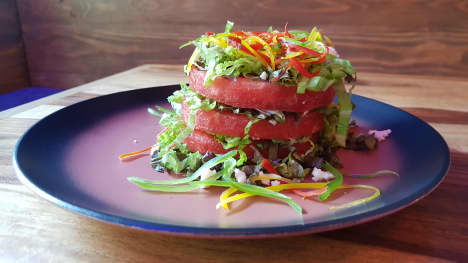 To describe the salad, circular slices placed on top of each other in 3 layers with thinly sliced red, yellow and green bell peppers, some lettuce and feta cheese in between the layers. The mixture was tossed  with some herbs, and I guess olive oil. The watermelon was extremely sweet to taste and crunchy. It was garnished with the thinly cut bell peppers. It was the perfect start to a hot and humid day. I could eat this salad any time of the day. I could live on it, such was the deliciousness of the salad!
Next was the Sish Fattoush Bin Labneh salad. A mix of various salad leaves with finely cut onions and some strips of chicken that was well cooked, soft and succulent. Tossed again in herbs that left a subtle flavor in your mouth.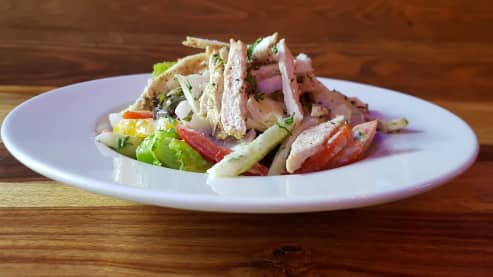 Suraj, a part of the PR group, and not the mixologist was taking photographs and each one looked as if a professional had photographed.  I could not help but compliment him.
The Chicken Ghee Roast is delicious. The chicken is first roasted and then tossed in some Indian spices and just the right amount of coconut. It's slightly on the pungent side but definitely palatable. The chicken chunks were moist and soft.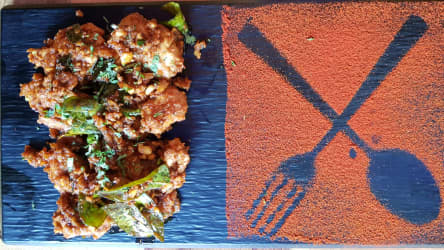 The next in row was the lemon and herb chicken…rosemary , thyme are some of the herbs used to flavor the dish. Its on similar lines of an oriental dish.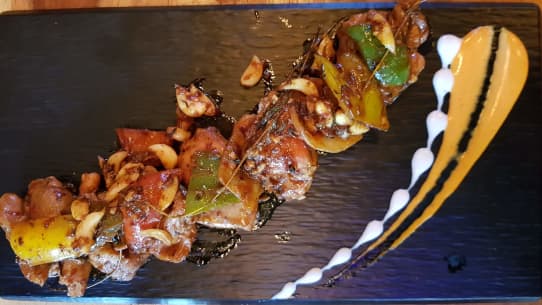 You can choose from a variety of cuisines – Mediterranean, Chinese, continental, Indian and a chef for each of these is present. If this is not wanting to be perfect then what is!
The Kung Pao Cottage Cheese has got a sweet and tangy flavor to it… tossed in oriental sauces. It was different and tasty. The chef and Abhijeet the owner had worked on this flavour for 3 months. The tanginess was the tamarind.
Abhijit in the course of the conversation and tasting the dishes spoke of the eficiency of the staff and was gracious in telling me that if I wanted any drink of my choice all I had to do was tell the mixologist and he would prepare the drink. He went on to say that the chef and the mixologist need only to be told of his vision and they produce it. He Abhijit is one lucky man, cause translating another's vision into a product to match the vision is a daunting task.
Consistency in the quality is a must. He wishes for his restaurant to be know as a place where you go to for food where incidentally you also can get the best of alcohol, and not the other way around where you go to a place for drinks and food becomes just an accompaniment.
Mutton kheema a common Indian dish was again innovated . I had a morsel and could not agree more. Fresh mutton that is hand minced which actually enhanced the flavor. Any thing ground in a machine definitely looses some flavor.
I remember when little several years ago we ground our masala on a black stone (mortar and pestle), and wow were the flavours enhanced!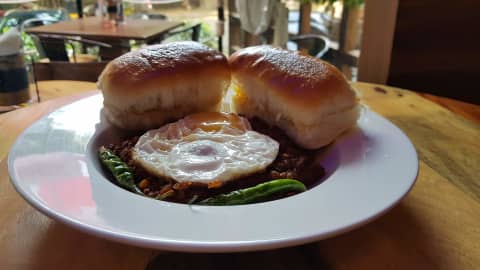 Pollo A La Fungi – chicken steak with a Cilantro sauce. Served with Mexican rice with Ratatouille on top. The chicken is roasted. This dish was exquisite. The sauce went well with the chicken and rice. I was actually wondering when it was first served. However the first morsel itself alleviated any doubt that I had.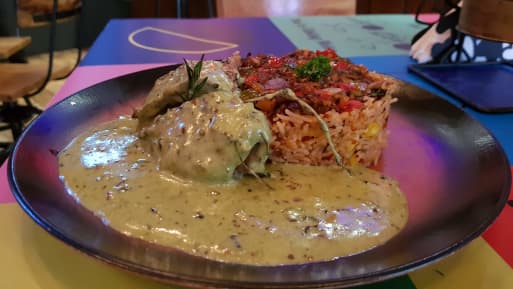 Abhijeet, as I was tasting the dish gave me a glimpse into his life. He comes from an agricultural background. From Loni where we had the famous Raj Kapoor's studio. Very tranquil a place, pollution free. Lived the life of a boarder for a few years. Did an advanced course in confectionery after graduation. His passion for food led him to search for a hotel. Deccan was upmarket and rentals high. So the plan took a back seat. It lead him though to enter the real estate market as it was lucrative. He made his money there.
For 18 years he had been nursing this dream. The place where Stereo is at fit the bill…a hundred seater. Just right in number to give the customer personal attention.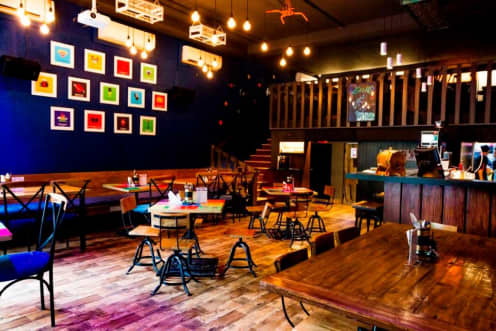 The restaurant is his vision. The designs are his. The color combination the artifacts are of his choice.
The high light is the denim cover on the seat! It defines the restaurant.
Deserts…the baklava served with the rose icecream…both made inhouse. The baklava being a difficult desert to prepare as it is time consuming is made and served on the weekends. The flavors all went very well. Instead of soaking it in rose syrup Abhijeet decided to serve it with rose ice cream. Cool idea!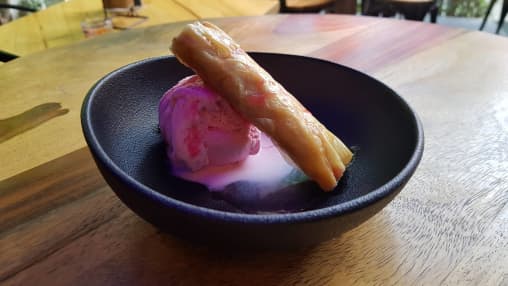 Climatic conditions also affect the making of baklava. Hot and humid climate can affect the texture. Amazing was the delicacy that came next. Pana Cotta an Italian cream desert in a mango and basil broth  to it. The flavors were subtle and there was a burst to them with every morsel. It was cooked to the right texture and my god so pleasing to look at.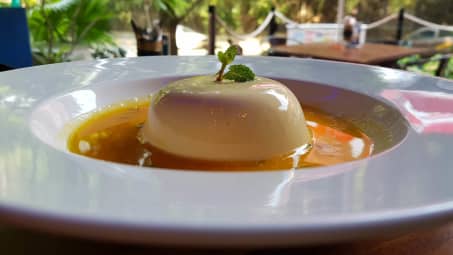 A black forest cheese cake with raspberry sauce. Its sinful. Bursting at my seams but the look of it lured me to taking a bite of it. The base was made of biscuits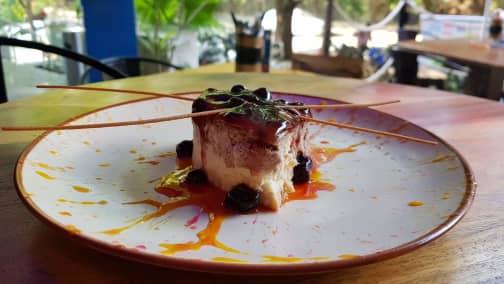 I now needed a crane to carry me home. Stereo is close to where I live, and so the walk helped digest the food.
Stereo a rare name for a restaurant but sure is making people dance to its tasty bites.