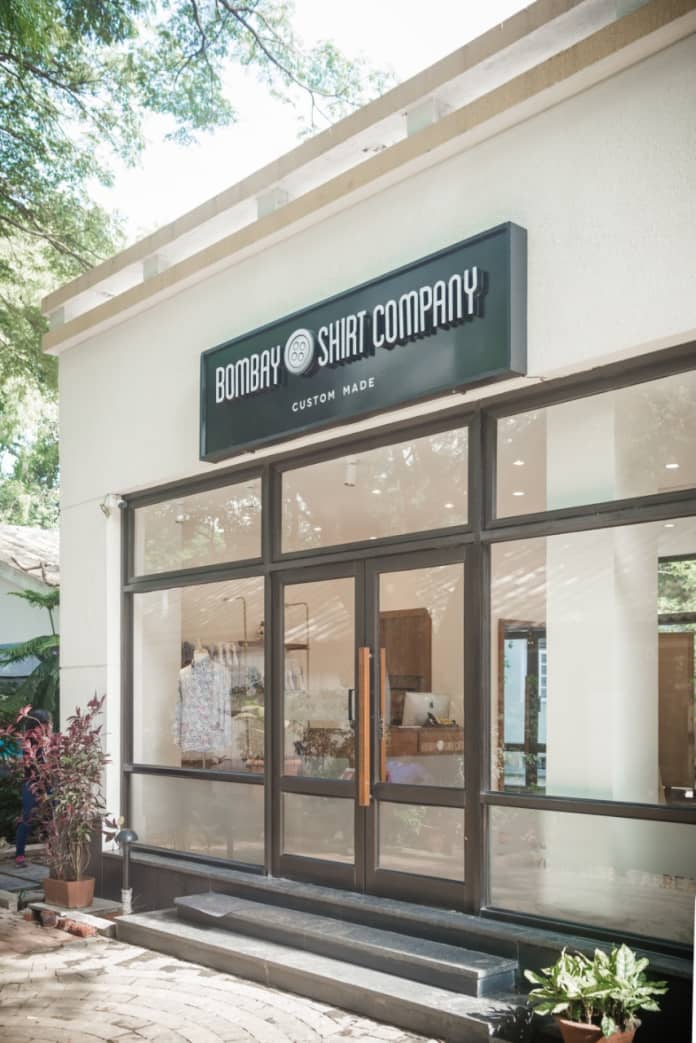 I had heard from a few of my friends that they had bought shirts from the 'Bombay Shirt Company'. However, I had not paid much attention to it then, although they raved and ranted about the company. It was launch time in pune city a while ago and I was invited. We were a select few, and the store is in the lane next to Dario's. I was greeted by the stylist and was shown around. What captured my attention were those neatly laid books on the table, a couple of them were open displaying some beautiful material. On close inspection I fell in love with each one showcased there. The materials were so beautiful to touch and look at. And of course my eyes then fell on some fancy buttons and colorful thin strips which I came to know were there to line the collars, or the front of the shirt to make them look different, classy, and trendy.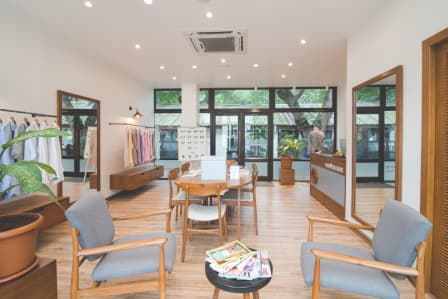 I had made up my mind to come once again to understand this store 'Bombay Shirt Company' and what it has to offer.
On a bright sunny afternoon I met the pretty stylist at the store and got talking. I understood in the process that the Bombay Shirt Company is a well- known on line brand where the men can style their own shirts! The look on my face prompted her to tell me more.
The Concept that Educates
So the process starts with picking up your own fabric and then customizing the shirt to your delight. You can choose your own collar, your cuff, the buttons and also the thread that you use to stitch the button. Voila! I hadn't imagined this at all. You can even choose the fancy thin strips I saw on the table to line your shirts. You can play with the combination. You can inspect the small details like the piping and the twill tape. What a field time one can have. It is actually educating you to dress well and get acquainted with the recent trends. Now you would not want to design without knowing what is in the market, would you?
I loved the concept. And mind you I got to know that the men love the idea too. They love to design their shirts. This is not limited to the youth, you get men – Colonels and Majors from the army who love to flaunt their look at the parties they attend and of-course take pride in telling others of their new found passion – that of becoming a designer!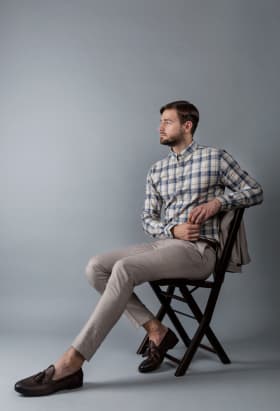 The Store
With the customers growing in numbers Bombay Shirt Company decided to open stores in the prime city areas. Bombay already has a market and the next big market of course is Pune.
I asked the stylist – with malls around the place and ready-made shirts available, and with the culture of going to a 'darzi' being strong and still prevalent, how open is the Pune market to this?
"The men in Pune have become aware of the store and are coming in to design their shirts. Surprisingly out of 10 men at least 7 to 8 men know what they want. There are 2 or 3 who ask for my suggestions, and take the time out to understand."
At the store you also have an expert at hand called a 'master' to measure each customer for the perfect fit, while stylists trained in fabric and styling will guide the customer through design options, ensuring an exceptional experience.
Picking a fabric can be a daunting task as they have some exquisite variety to fit all pockets. How do the men make their choice from such a variety? They would need to know more, and why is it that some of the prices are steep?
Ply, and count of thread, and twists were all new verbiage for me. I had to ask the stylist to slow down. Very graciously the head of the store and a stylist, a male, came to her rescue and gave me a download that made me realize why and how a material can be priced.
"The thread count is the amount of twists that you have given a single strand of thread. When you twist it 140 times it becomes much thinner and sleeker and smoother. The machine does this twisting and it can go up to 300 counts. So three hundred yarns are put on a machine and then come together on a single conveyor and they become one yarn, and if you use two it becomes a double-ply. One is used as a single ply.
All the fabrics there breathe better. The feel of the fabric is so soft against the skin.
"So in a fabric you have various weaving practices which gives you different textures on the fabric, which gives you a certain slanting line, straight line, a dotted pattern. All these patterns come to play due to the weaves that you use. There are special machines for different types of materials."
It seems so simple when you hear the narrative; however, there is much work to this. All the combinations, textures, patterns, and colors are fed in digitally at the same time to produce the material we have at hand. And do these manufacturing mills like Thomas Mason and Soktas put in their best to give us their best!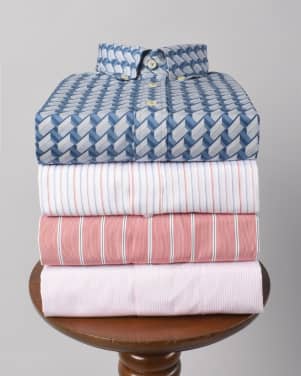 Thomas Mason and Soktas…the sources
The Bombay Shirt Company sources from the best, Thomas Mason and Soktas; and sources the best materials from them for the company.
The little books I mentioned earlier have samples of the materials the company has to offer. Each sample has a code, and details of the fabric, how the fabric is made, its ply, its thread count and its price of course.
The customer is kept informed at all times. Which is what a customer wants. To know what he is buying and why is he paying the price he is paying.
The new store in Pune showcases casual and formal shirts ranging from solids in a variety of textures, to stripes, checks and quirky prints in dynamic color palettes. Besides Thomas Mason and Soktas the store offers the finest Egyptian cottons, linens, denims, flannels and more, sourced from some of the finest mills in India, Italy, Japan, Portugal & Turkey.
Suddenly I was struck by a thought of how if one orders on line and the measurements are incorrect. What happens then?
No fear! my dear! The Bombay Shirt Company has thought it all out. They have the best tailors at your beck and call over the net. All you need to do is to explain to them your grievance and your shirt will be altered to fit.
The only hitch is that one needs to get back in a month's time after purchase with the issue. Your alteration will be done without charges. You would need to pay for the alteration if it is delayed.
Akshay Narvekar, Founder & Creative Director
Akshay Narvekar, the brainchild behind the concept launched the Bombay Shirt Company in 2012 in Mumbai. He always had a keen interest in the fashion and apparel industry. After spending 5 years at BCBG Max Azria in Los Angeles in their strategy and operations' team, he moved back to India to work with a private equity firm. His career came full circle a few years later when he launched BSC with a view for high quality and accessible custom-made shirts.
The company is on a mission to reinforce world-class quality and product.
The Bombay Shirt Company has grown to 10 stores across the country. Akshay was able to achieve his long-standing dream of creating a global brand by opening doors in both New York City and Dubai in late 2017. BSC is all set to open close to 10 new stores in 2018.
Bombay Shirt Company's young and energetic team comprises creative marketers, innovative tech geeks, seasoned product experts and customer service genies. Marrying contemporary product design and technology with old school tailoring techniques, Bombay Shirt Company brings customers a seamless shirt-buying experience to produce a high quality yet affordable product.