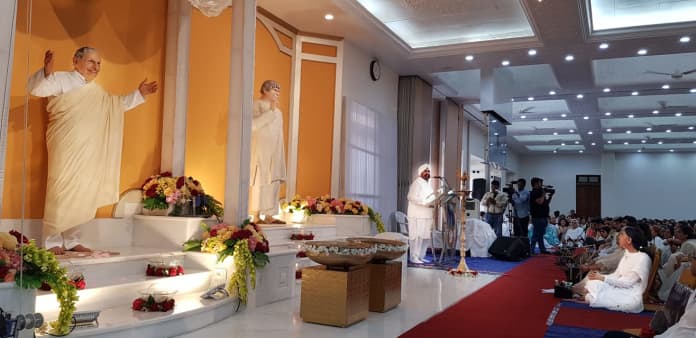 As I walked into Sadhu Vaswani Mission on the 4th of June 2019 hundreds and thousands of devotees were seated in and around the Satsang Hall. Tears were rolling down the cheeks of some, some looked eagerly at the screen that was placed outside. In the hall the lady anchored in her soothing voice. All were waiting expectantly for the unveiling of the statue of Rev. J.P. Vaswani. Maharaj Rajinder Singh, a great Spiritual Head of the Sawan Kirpal Ruhani Mission was to do the honours.
Shlokas from the Man Prabodh and Sukhmani Sahib were being sung. Singers in their mellifluous voice sang bhajans such as Swagatam Dada, Sharnagatam Dada and Aaj Morey Ghar Dada Padahare. This was followed by Om Gurudev Kirtan.
While holy songs were being sung compassionate hearts continued their seva towards the needy. Compassion, humility and love were Dada's teachings. The ceremony of the Unveiling of the Statue would have been incomplete without the act of true and meaningful charity.
The artificial limb seva beneficiaries along with prosthesis were given cash, bath soap, washing soap, coconut oil, toothpaste, towels, napkins and bedsheet. The needy were given a month's ration which included cash, rice, moong dal, sugar, tea, poha, suji, kala chana, soyabean, sewai, besan, toothpaste, bathing soap, washing soap, coconut oil, cooking oil and flour.
This was followed by the reading of a vachan from the Nuri Granth, a Holy Scripture written by Gurudev Sadhu Vaswani, which gave the message of awakening today, "Awaken! Arise! O seekers. Let us march towards the feet of saints. They are the jewel of our lives. Let us abide by their feet day and night."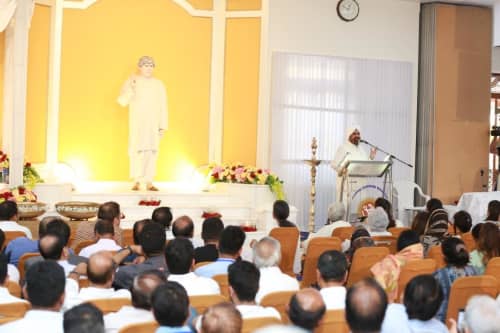 A spiritual awakening is what Gurudev Sadhu Vaswani was calling for.
Many of us today are embarking on a spiritual path, seeking for peace and answers in life. Some of us are yet trying to understand the meaning of spirituality. A lot of us are confused between spiritualism and spirituality. A spiritual luminary and a philosopher with great simplicity, humility, love, and compassion in his heart Rev. J P Vaswani, or lovingly called Dada, several years ago took to the path of awakening us and guiding us by his tips on a happy, peaceful, and joyous living.
About Rev. J. P. Vaswani
'Rev J.P. Vaswani's heart and soul were drawn to his Master, Sadhu Vaswani.'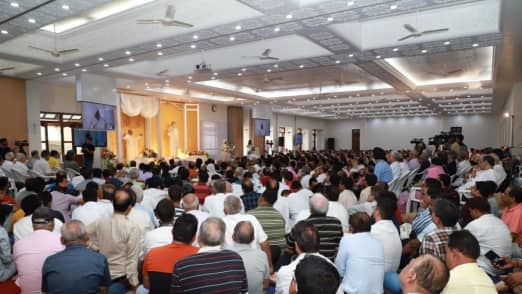 It was at the age of 21 that Rev. J.P. Vaswani resolved to renounce the worldly pleasures and devote his life to the welfare of society stirring the chords of the hearts of several thousand with his teachings. Dada a gifted writer authored more than a 100 books.  An eminent and excellent orator, he addressed audiences world wide.
Rev. J.P. Vaswani was an educationist who believed that we have to have a strong value based education system, thereby creating a new world, a new race. A new race built on the teachings of selflessness, simplicity, service and sacrifice. He always emphasized on humility and equality. He spread the message of love, compassion and peace wherever he went stealing the hearts of thousands around the world.
Most importantly Rev. J.P. Vaswani said, "Forgiveness is the golden key to peace. It is a bridge over which one can get to any human heart. Never does a man stand so tall as when he forgives an injury and pardons a revenge."
Rev. J.P.  Vaswani was born on August 2nd 1918 in Hyderabd and it is on this day Global Forgiveness Day is observed at 2 p.m., the Moment of Calm when all forgive those who have wronged them.
The Program Continues
The program continued with a welcome speech to all the dignitaries and representatives of spiritual organisations gracing the occasion. An audio-visual of 'Be love, live love' was played for the audiences.
Shlokas and a havan lit by world religious leaders commenced the moment all were waiting for…
The Unveiling of the statue of Rev. J.P. Vaswani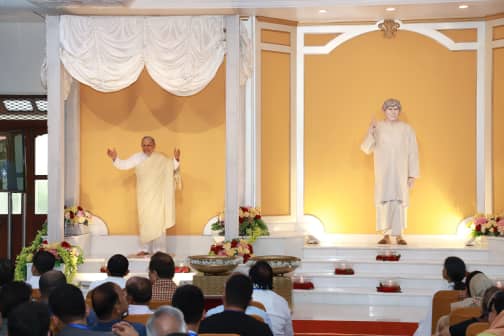 A life like statue is what took your breath away. It was as if Dada was amongst us alive with his arms open wide beckoning us to come be with him, follow him and his teachings.
It was only natural for tears to roll down our cheeks, such was the magic of the statue.
About the statue and the Sculptor
Rev. Dada's statue is a mix of wax and other alloyed materials with 80 per cent of it being wax. Sunil Kandalloor, Celebrity Sculptor has worked on the statue and completed it in a record time of one month. Speaking on his experience of working on the statue he said, "I was drawn to Dada, the moment I heard of him. By the grace of God, I had the opportunity to sculpt many saints and I consider it to be my fortune that I could make one of Dada. When I met him and requested that I be allowed to have one sculpture of his at my Wax Museum in Lonavala, he humbly agreed and today, owing to it, I got the opportunity to ready one for the Mission's Satsang Hall. It's truly a privilege."
Kandalloor says, "a lot many have been saying that the statue looks life-like as if he were here. But I know my limitations, I can beautify and sculpt the exterior, the grace that is seen is his miracle."
Rev. J.P. Vaswani…Dada's message to us all was played
'How to make impossible, I'm possible.' Rev. Dada said how one must be free from the concept of 'impossible'. "There is nothing a man cannot do. Swami Vivekananda would say, with God, you can sail through the seas but without God, you cannot cross the threshold. All that is needed is the triple faith. Faith in oneself, the universe around and God. This triple faith can take you anywhere. The power is within you. Release the power, the power of spirit, the power of God. It is a great tragedy that man is unaware of it. Many are the ways of unfolding it. But the simplest is to surrender yourself to God and say to him, 'Hari me jeso, teso tero,' accept me. Every morning and if possible at night too sit and silence and try to touch and contact the reality within you. Sink deeper and deeper within you and nothing will be impossible."
The sculptor of the statue of Rev. J.P. Vaswani, Sunil Kandalloor, was felicitated.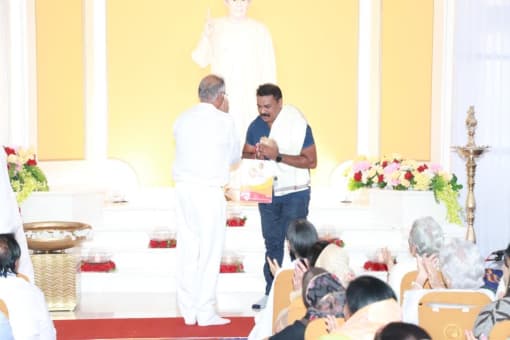 The compere then concluded the event, while extending an invitation to all present for the 1st Mahayagna of Rev. Dada scheduled from 11 July — July 13, 2019.
Dignitaries present at the occasion included government officials, leading academicians, doctors, and senior bank officers.
Dr K. H. Sancheti, Founder, Sancheti Hospital, Pune said, "Dada is with us and with the statue being unveiled today, we will continue to see him every day. Throughout his life, he has inspired us and will continue to inspire us in the lifetimes to come."
Thomas Dabre, Bishop of Pune said, "I feel truly honoured to be invited to this holy function and for the lighting of the lamp. I have great admiration for Dada. The world is in need of such a leader who is loving, humble and simple."
Dr Purvez Grant, Ruby Hall said, "I feel great to be here, it is a fantastic feeling and given my association that has been for over 30 years, it is all the more special. Dada was, is and will be great."
Rasavigraha, a representative of ISKCON said, "He was a great spiritual leader. I believe we need to now remember his teachings and follow his footsteps. This statue is a great tribute and offering to him for decades to come.
The function concluded to serving of langar Prasad- fellowship meal
4th June 2019 at Mission's Healthcare Institute:
Inauguration of Cardiac Care Unit (CCU) and new wards of Fabiani & Budhrani Heart Institute held today, the 4th of June, 2019. This coincides with the 13th Anniversary 'Tera' of the Heart Institute.
4th June 2019 also marks the 86th year of Mira Movement In Education, the seeds of which were sown in Hyderabad Sind at the holy hands of Gurudev Sadhu Vaswani. That day and today, Mira Movement In Education has grown from strength to strength taking the ancient practice of blending character and virtues with modern education.