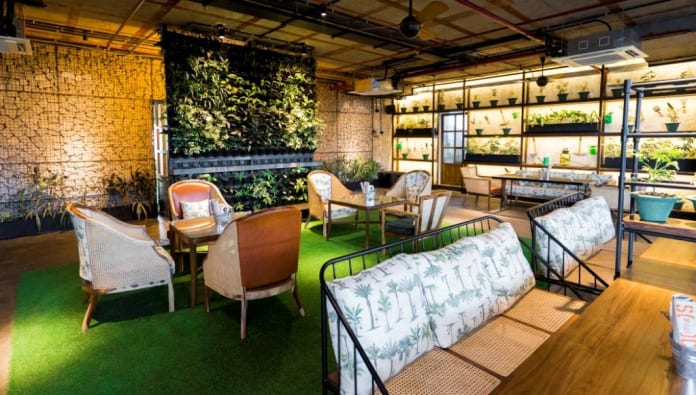 Anyone who isn't living underground in a bunker, in outer space, or on the ocean bed cannot imagine a life minus social media and socializing. To make the cut one has to be seen and known. Is why it came as no surprise to me when a few years ago I heard of a known hospitality group play on the same concept and launch their then latest venture – Social. Aptly named, one can experience mingling in the best of environments with yummy, unique and creatively curated food and beverage. Buzzing all across the nation they have captured the party hopper, the intellectual, family, friends, and just about everyone who likes to unwind with delicious dishes and refreshing drinks. A youthful, relaxed vibe and themed sections provide different settings for different requirements. The FC SOCIAL located on Pune's iconic Ferguson College road is a new outlet, and second to open, the first being in Viman Nagar. With Chhat as in roof in Hindi, Social, … they have 3 ambiances to choose from. The good news is, though the food menus are different, one can call for either in the section they choose to enjoy. Is why, whether you are social or not, do visit SOCIAL on FC Road or even Viman Nagar. Everybody would sure find what they're looking for.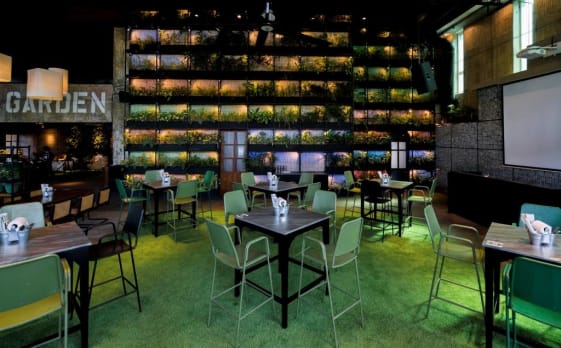 Chef Sharad who is the city chef and heads hospitality for Pune was kind enough to spend the evening suggesting, educating and being extremely generous. The staff well trained and exceptionally attentive helped make the evening a super one. Common to all Socials is a brilliant concept that speaks for 2 sections. Social, is the chilled out restaurant/café that serves a funky continental and fusion menu which off course as per the brands process is customized keeping in mind the city they open in. Though a few popular items remain the same everywhere. With an industrial, and if I may say trippy vibe (I'd owe that to the lighting) it is the perfect hang out for the 18 to 40 age bracket. Even their washrooms spell a funny visual with the photo of a rooster and a baby cat outside the doors. Cock and pussy if you would pardon my French. The bar has some crazy cocktails along with the regular ones and most are served in exclusive quirky props which too chef designs himself. One that fascinated me was a replica of the compass box we carried to school. However this one unlike the math apparatus had two sections, one for serving the drink and other to stack up munchies. Carry it around, take a sip, and pop a peanut.  With the nightmares math gave me, never thought seeing that box again would make me smile.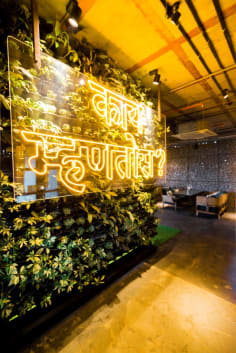 Beyond is the open air seating fittingly called Chhat or roof. With swings that can seat 2 to 3, lounge worthy sofas and comfy chairs, this makes for the perfect place to relax while you dig into their enjoyable menu. Chat – a loved and vastly consumed Indian street food is available here in its most hygienic form yet retaining its spunk and spice. Our meal began with an interesting thali – papdi chat, dahi bhalla, raj kachori and  two differnt types of pani puri pooris. One made of sooji(semolina) and the other from moong dal served with sweet and tangy spicy water to fill with. The pani puri was tempting and I had to force myself to stop lest I am unable to savor the fare. The kachori chat took me back to karol baug while Papdi chat was heroed by the mint chutney. We were served a spicy guava juice, and some fresh watermelon and sugarcane juice which was befitting for the summer day.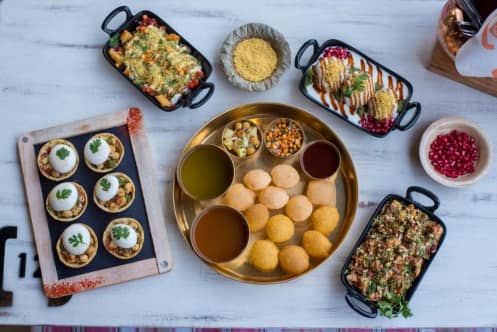 A very attractive concept is the High on Life Menu. Everything on this one is non-alcoholic. We tasted the 'Na – real' whiskey. The ice cubes have been formed of tender coconut water served with some and on the side you are also served earl grey tea which when mixed, voila, it looks as if you are sipping at whiskey on the rocks! This high on life menu is for designated drivers who come in here to unwind and sip on drinks made without alcohol. Even the non-drinkers do not feel left out and are spoilt for choice.
They also have their own coffee brand, its beans roasted and brewed at their Versova Social in Mumbai.  We were served the cold brew in a funky cough syrupy bottle that said 'brew for the day'. This was my personal favorite and my pick for the evening.  Made of 5 different coffee beans The Dark Matter was a hit that evening with all at the table.
What I found novel was being able to choose your own coffee beans and the method in which they can be brewed. Your coffee is brewed on the spot…come in any time during the day and at night till 1 a.m.
Dope LLIT the Longest Long Island Tea made of Jagermeister and Jim Beam is an all time favorite coffee with  some of the regulars who come to FC Social.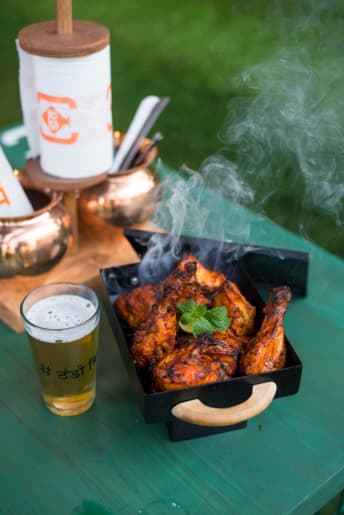 The Chicken magic kebab was delicious, served in a cone and was deep fried yumminess. The marinade is a secret recipe from Bangalore which sure knew how to spin its magic.
Next was the Mutton goda masala. Mutton boti, succulent and oh so flavorful made with a popular Maharashtrian spice mix, which is them tailoring to Pune's essence.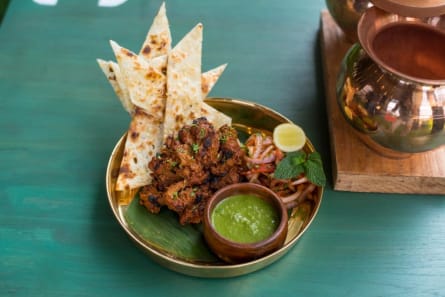 The main course that consisted of chicken korma cooked on slow fire for 6 hours; along with minty naan and lal mirch paratha that just melted in your mouth, a flavorful truffled mushroom pulau, left us satiated. The lal mirch paratha went well with the Korma, it just balanced the flavors of the korma made of cashews, dry pomegranate seeds, and coarsely ground pepper. The truffled oil lent a beautiful flavor to the rice leaving it buttery and moist.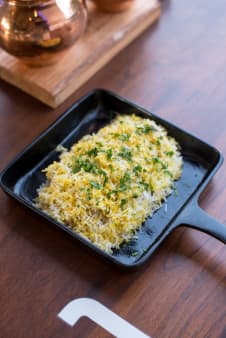 Along with this were grills and tandoors that simply melted in your mouth. And one of the major attractions is the goli soda that they make here from scratch and serve it not only in its original form but as cocktails inspired from them as well.  The patiyala peg served with sugar cane juice they say is not for the faint hearted.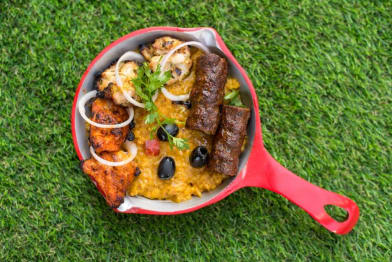 Besides this they have a dance floor and a party area which they are to open soon for exclusive events only and a chef's herb garden which will be replanted now as monsoon approaches. Our tour over, we went back to our table.
The oblong dish with two scoops, one a mousse and another was an inviting chocolate ice cream arrived leaving us very stupefied. How were we going to finish this sinful desert? The dish had chocolate truffle, a huge piece of chocolate brownie, chocolate fudge, chocolate sauce!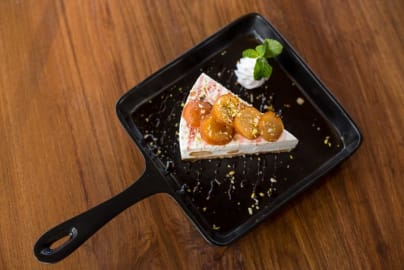 Whether you want to enjoy a yummy meal, savor some funky cocktails, lounge on the roof, or party the night away; this surely is your one stop for a fun filled evening.